Rhubarb-Strawberry-Parfait Mother's Day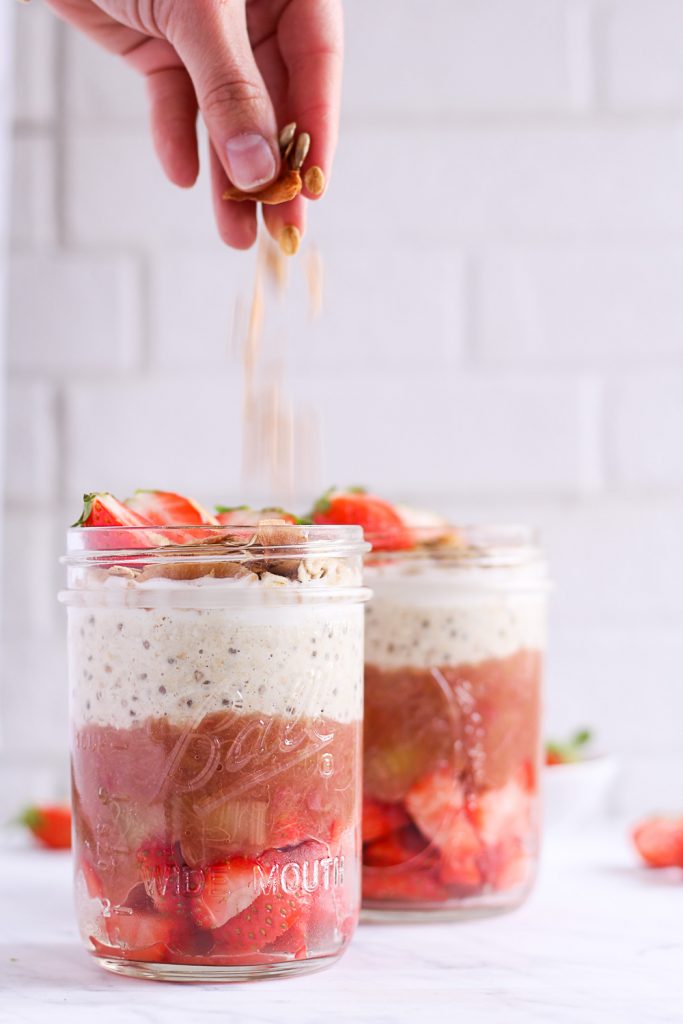 3 cups (300g) of fresh or frozen rhubarb
2 - 3 tablespoons of coconut blossom sugar, more if desired
the inside of one vanilla pod or half a teaspoon of vanilla powder
2 tablespoons of water
3 cups (300g) of strawberries
1 cup (100g) of oats
1½ cups (375ml) of oat milk
2 tablespoons of chia seeds
one teaspoon of honey or maple syrup
homemade granola, I love my almond coconut granola
½ cup of coconut yoghurt
The night before, or at least 30 minutes before, make the overnight oats. Simply mix the oats with the oat milk, chia seeds and honey and let sit in the fridge for at least 30 minutes, preferably overnight (it makes the oats better digestible).
The next morning, make the rhubarb compote. Cut the ends of the rhubarb and cut the reddish parts of it into bite-sized pieces. Place them into a pot with the water, vanilla and vanilla pod and let simmer on medium heat until soft. This might take between 5 and 7 minutes. Make sure to watch it the whole time, so it does not burn. Add more water if desired. Once the rhubarb is soft, sweeten with the coconut blossom sugar according to your taste. You want it to be sweet but still a bit sour.
To make the parfait, cut the strawberries into pieces and layer the strawberries, overnight oats, rhubarb compote, coconut yoghurt and granola in two jars.
Recipe by
Heavenlynn Healthy
at https://www.heavenlynnhealthy.com/rhubarb-strawberry-parfait/