Quick Mexican-Inspired Salad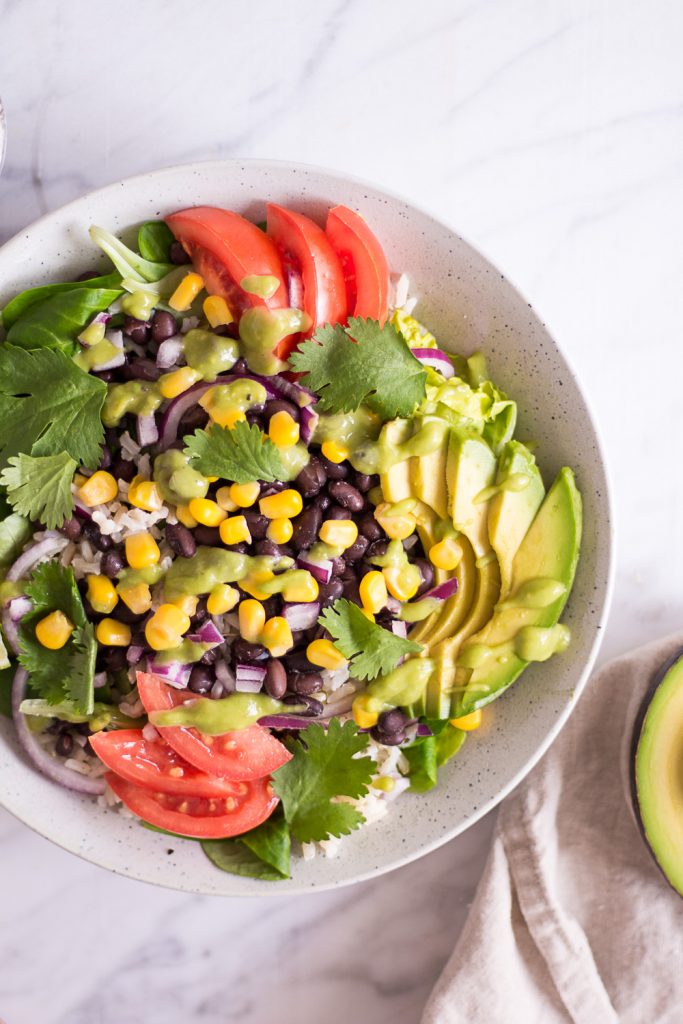 300g of salad mix (about six handful) such as mache, rocket, baby spinach or romana
200g (1 cup) of brown rice or quinoa
1 can / glas of black beans or kidney beans, 240g drained
1 red onion
1 ripe avocado
1 can / glas of corn, about 150g (1 cup) drained
200g (1 cup) of cherry tomatoes
3 tablespoons of extra-virgin olive oil
2 tablespoons of white balsamic or apple cider vinegar
the juice of one lime
1 ripe avocado
1 teaspoons of honey or maple syrup
sea salt and pepper
Cook the brown rice according to package details. Try to use the uncooked version, not the pre-cooked kinds. Normally, brown rice needs to cook for 25 minutes.
Wash and dry the salad, and place it into a salad bowl. Wash the cherry tomatoes and cut them in half. Cut the avocado, remove the stone and scoop out the flesh and then cube it. Drain the beans and the corn and wash thoroughly under running water.
Mix all ingredients in the salad bowl.
For the dressing, mash the avocado with a fork or place all ingredients into a blender or food processor. Sprinkle over the salad and enjoy.
Recipe by
Heavenlynn Healthy
at https://www.heavenlynnhealthy.com/quick-mexican-inspired-salad/