Coconut Peanut Butter Waffles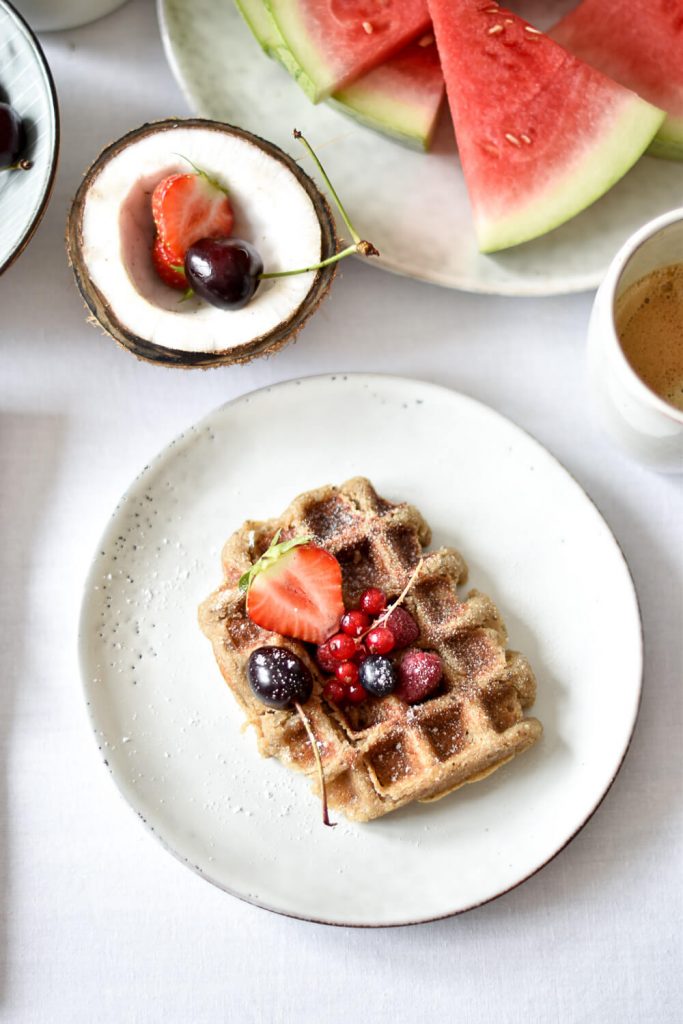 110ml of Alpro coconut drink original
150ml of sparkling water
150g of gluten-free buckwheat flour
100g of oats
2 teaspoons of aluminum-free baking powder
2 tablespoons of raw honey
1 tablespoon of chia seeds + 3 tablespoons of water
60g of peanut butter
60g of extra-virgin coconut oil
a pinch of sea salt
Place the oats into a blender and pulse until a flour forms. Mix the chia seeds and the water and let sit for 10 minutes. You might need to stir the mixture once after 5 minutes.
Add the ground oats, buckwheat flour, baking powder and sea salt in a mixing bowl and mix well. In a separate bowl, combine the coconut drink, peanut butter, coconut oil, chia egg and honey and mix well until a liquid paste forms. Add the wet mix to the dry mix and stir using a hand mixer or food processor. Finally, stir in the sparkling water and let the batter sit for at least 30 minutes in the fridge.
Heat the waffle maker. Use about half a teaspoon of coconut oil for each waffle. Place about three tablespoons of batter into the waffle maker for each waffle and bake until crisp.
Recipe by
Heavenlynn Healthy
at https://www.heavenlynnhealthy.com/coconut-peanut-butter-waffles-alpronista-friends/