Quick Mushroom-Millet Stir-Fry and a visit to a local mushroom farm with REWE*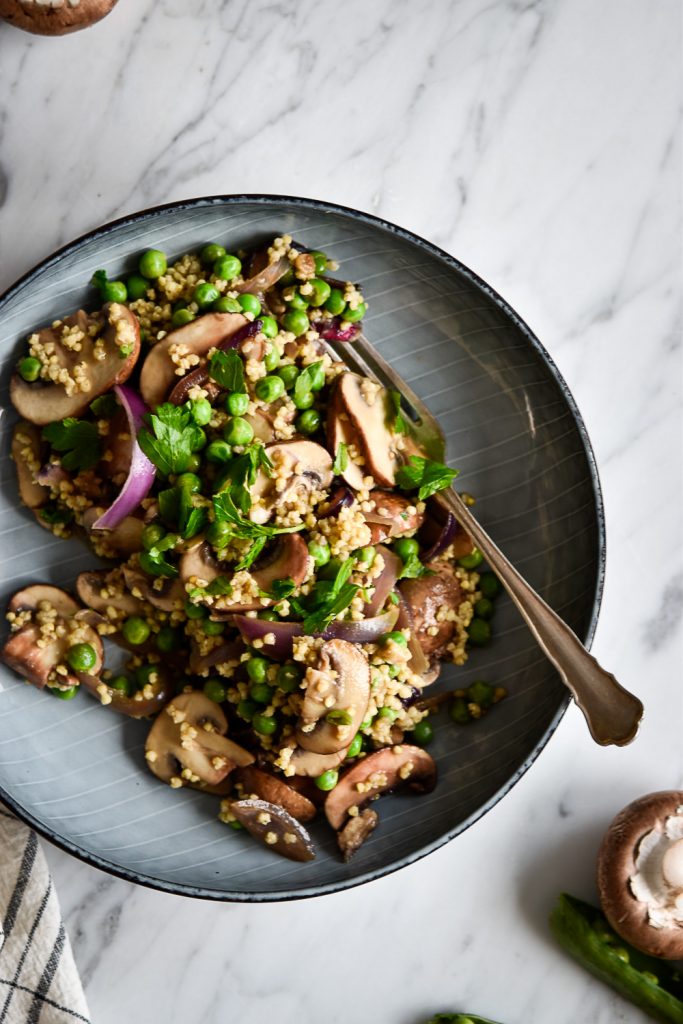 1 cup of millet
1 teaspoon of apple cider vinegar
500g of mushrooms
1-2 tablespoons of Ghee or coconut oil
½ cup of frozen peas
1 clove of garlic
1 small piece of fresh ginger
2 tablespoons of cashew butter
2 tablespoons of tamari or soy sauce
1 tablespoon of raw honey
½ lemon
Half a bunch of fresh parsley, chopped
Cover the millet with water, add the vinegar and let soak for 6 hours. If you don't have 6 hours, then soak it for a minimum of 30 minutes.
Drain the millet, add 600ml of water and bring to a boil. Reduce the heat, place the lid on the pot and let it simmer for about 12 - 14 minutes. Remove the pot from the heat and let it sit for another 10 minutes with the lid on.
Slice the mushrooms. Finely shop the garlic and ginger. Heat the Ghee in a saucepan and sauté the garlic and ginger until golden brown and fragrant. Add the mushrooms and cook until they start to lose their water. Now add the frozen peas and cook for about 2 more minutes until the peas are done.
Finally, add the millet and all ingredients for the sauce and mix well. Let it simmer over medium heat for another 2 minutes or so until it's warm enough to eat.
Season with tamari and/or lemon juice and sprinkle with chopped the parsley.
Recipe by
Heavenlynn Healthy
at https://www.heavenlynnhealthy.com/quick-mushroom-millet-stir-fry-visit-local-mushroom-farm-rewe/