Roasted tomato soup with beetroot and rosemary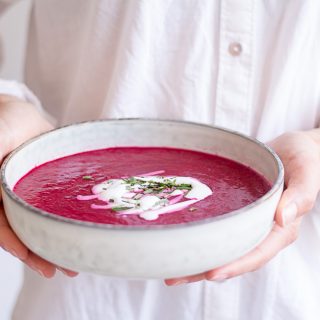 3 shallots
2 gloves of garlic
250g of beetroot
750g of tomatoes
1 tablespoon of raw honey
2 tablespoons of extra-virgin olive oil
2 strangs of rosemary
1 teaspoon of dried thyme
600ml of homemade vegetable broth
a bit of coconut milk and chopped rosemary to garnish
Peel the shallots and and garlic and cut the shallots in half. Peel the beetroot and rougly cube it. Quarter the tomatoes. Place all of these ingredients on a baking tray aligned with baking paper or into a baking dish. Drizzle with one or two tablespoons of olive oil, the honey and season with sea salt, pepper and thyme. Add the strang of rosemary and cook at 200°C (400°F) for about 30 minutes.
Place the roasted veggies and their juice in a saucepan, add the vegetable broth and bring to a boil. Puree the soup using a hand mixer or blender and season with salt and pepper and more honey if needed. If you want you can strain the soup with a colander to get rid of the skin and seeds of the tomatoes. I like my soup a little chunky, but that's up to you.
Serve the soup on four plates, and garnish with 2 tablespoons of coconut milk and chopped rosemary.
You can also eat this soup ice cold as a gazpacho. Simply let it cool completely and store in the frige before serving it with coconut milk and rosemary as a topping.
Recipe by
Heavenlynn Healthy
at https://www.heavenlynnhealthy.com/roasted-tomato-soup-beetroot-rosemary-2/