Healthy Plum Muffins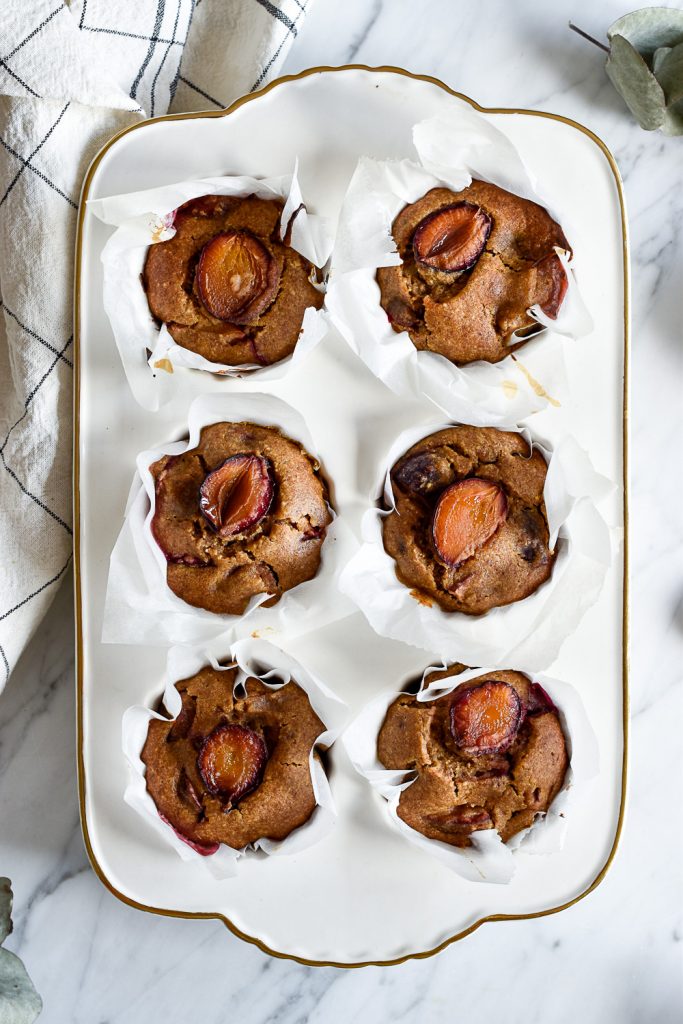 100g of almonds
200g of buckwheat flour
2 teaspoons of aluminium-free baking powder
1 teaspoon of arrowroot powder
1 teaspoon of cinnamon
¼ teaspoon of ground ginger
a pinch of cardamom
a pinch of salt
150 ml of almond milk
1 teaspoon of apple cider vinegar
1 ripe banana (ca. 110g)
65g of neutral rapeseed oil
50ml of sparkling water
100g of coconut blossom sogar
200g of plums
Pre-heat the oven to 180°C.
Start by mixing the almond milk with the apple cider vinegar and set aside. Using a fork or a blender, smoush the banana.
Ground the almonds to a flour using a blender or food processor. Add the buckwheat flour, baking powder, arrowroot powder, the spices and sea salt and mix until combined.
In a seperate bowl or food processor, mix the rapeseed oil with the coconut blossom sugar, almond vinegar milk, sparkling water, and banana. Stir until combined.
Add the wet ingredients to the dry ingredients and stir until just combined. Do not overprocess, or the muffins might not start to rise.
Wash the plums, remove the stone, and cut them in small squares and mix into the batter using a spatula.
Align a muffin form with baking paper or muffin holders and put two tablespoons of the batter into nine molds. I prefer my muffins larger, so I only get nine out of the batter, but you can make 12 small ones. Slightly press half a plum on top of the muffins if you want them to look like in the pictures.
Bake the muffins for 30 minutes and then set them aside to cool before removing them from the molds.