Healthier Apple Cinnamon Rolls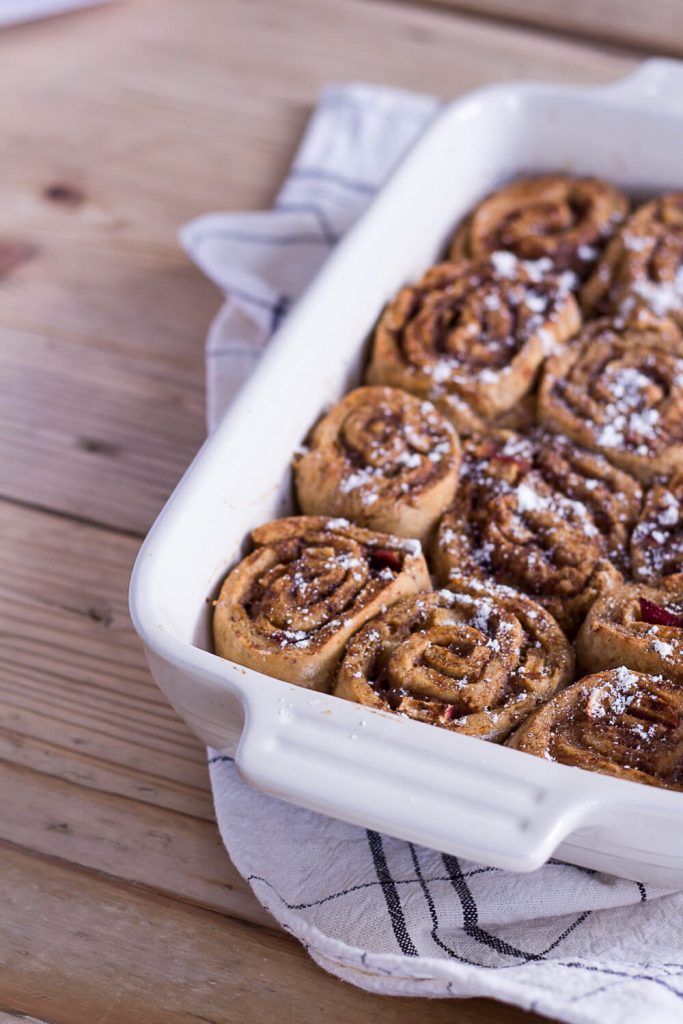 1 pack of fresh or instant yeast, make sure it is labeled gluten-free if you are a celiac
250ml of (gluten-free) oat milk
50g of extra-virgin coconut oil + 1 tablespoon to grease the pan
2 tablespoons of ground flax seeds + 3 tablespoons of water
35g of coconut blossom sugar + more to top
400g of Alnavit basic baking mixture or 300g of brown rice flour, 50g of corn stach and 50g of millet flour)
1 teaspoon of psyllium husks
100g of homemade apple sauce (or store-bought without added sugar)
1 teaspoons of cinnamon
1 apple
Combine the yeast, 2 tablespoons of oat milk and one tablespoon of coconut blossom sugar. Set aside to activate.
Combine the flax seeds with the water and set aside to thicken.
Melt the coconut oil and then add the remaining oat milk. Let sit to cool for a few minutes. Then add the coconut blossom sugar and flax seed mix and mix well with a wooden spoon.
In a mixing bowl, combine the flour mix with the psyllium husk. Add all the wet ingredients and knead with a hand mixer dough hooks for five minutes or use your hands to knead the dough. I let my Thermomix kneading it for five minutes,
Place the dough into a clean mixing bowl with a little bit of flour on the bottom. Let it rise on a warm place for 90 minutes until the dough as doubled in size.
In the meantime, mix the apple sauce with cinnamon and set aside. Remove the core from the apple, and cut it into tiny pieces. Grease a round baking pan or baking dish with coconut oil.
Pre-heat the oven to 180°C. Roll out the dough on a floured surface into a rectangle either in one or in two parts. Don't forget to flour the rolling pin, too.
Using a brush, spread the apple sauce filling on the dough. Add the apple pieces. Start to roll the dough as tight as possible and sprinkle a bit of oat milk on the ends so it does not open. Cut the rolls into 3cm thick rolls, and place them in the baking dish. They should touch each other.
Repeat this procedure with the second part of the dough. Brush the rolls with two tablespoons of oat milk, sprinkle them with a bit of coconut blossom sugar and cinnamon before baking them for 25 – 30 minutes.
The apple cinnamon rolls taste best when they are fresh, especially since they are gluten-free and become dry after a day in the fridge.
Psyllium husks make the dough a little less crumbly. However, it does work without them.
I've tried making the dough without the corn starch, but it was simply too crumbly to roll. I found that the recipe works best with Alnavit Basic Mixture.
Since the rolls are gluten-free they should be eaten within a day or they become too dry.
Recipe by
Heavenlynn Healthy
at https://www.heavenlynnhealthy.com/healthier-apple-cinnamon-rolls-visit-local-apple-farm-rewe/