Anti-Flatulence Vegetarian Chili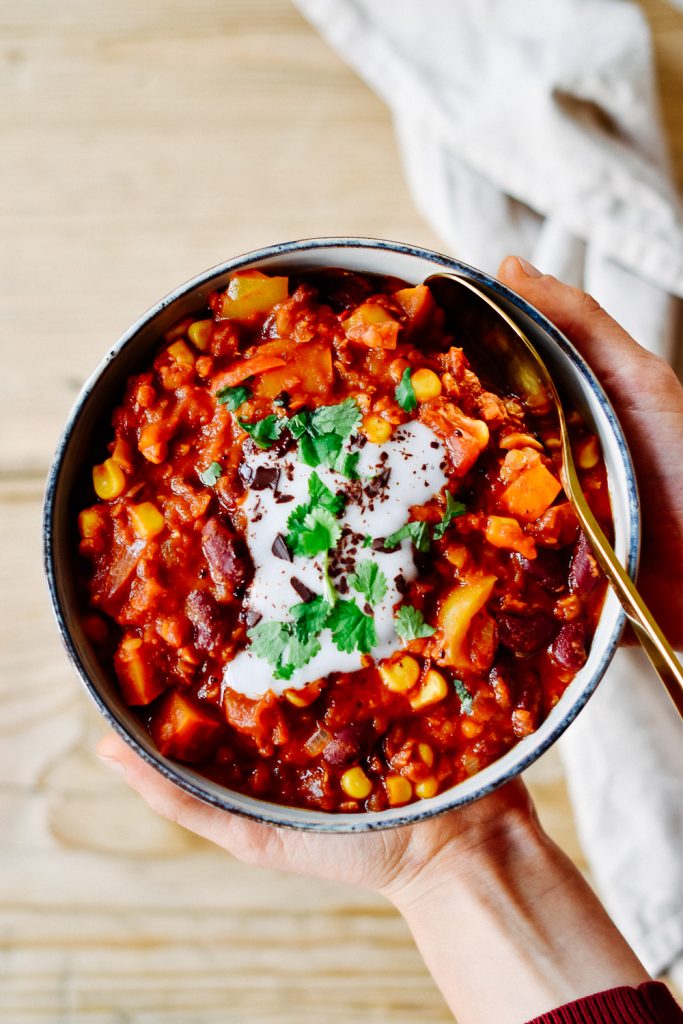 2 onions
2 cloves of garlic
1 chili, 2 if you like it hot (alternatively ½ teaspoon chili flakes)
3 teaspoons of sweet paprika
80g of tomato puree
2 bell peppers
½ hokkaido pumpkin (about. 300g)
2 cans of kidney beans (à 400g)
3 cans of diced tomatoes (1200g)
1 can of corn (160g)
200g of red lentils
500ml (2 cups) of water
50g of dark chocolate, 70% cacao or higher
1 teaspoon of fennel seeds Fenchelsamen
1 tablespoons of cumin (ground)
1 teaspoon of ginger (fresh or ground)
2 tablespoons of extra-virgin olive oil
sea salt & pepper
1 tablespoons of raw honey
1 tablespoons of vinegar, such as apple cider vinegar or balsamic vinegar
a large dollopf of yoghurt (normal or coconut if vegan) for topping
Chop the onions and garlic. Roughly chop the veggies and pumpkin. Heat the olive oil in a large pot or dutch oven.
Sauté the onions, garlic and spices (of your choice) for about a minute. Add the tomato puree and sauté for another minute or so until fragrant.
Add the kidney beans, corn, tomatoes, lentils and pumpkin and two cups of water. Let everything simmer for about 25 - 30 minutes. Stir frequently and add more water if needed.
While the chili cooks, roughly chop the chocolate. Add it to the chili with honey, vinegar and sea salt and pepper to taste.
Garnish with more chopped chocolate, a dollop of yoghurt or cilantro or parsely.
Recipe by
Heavenlynn Healthy
at https://www.heavenlynnhealthy.com/anti-flatulence-vegetarian-chili/