Healthy Chocolate Vanilla Crescent Christmas Cookies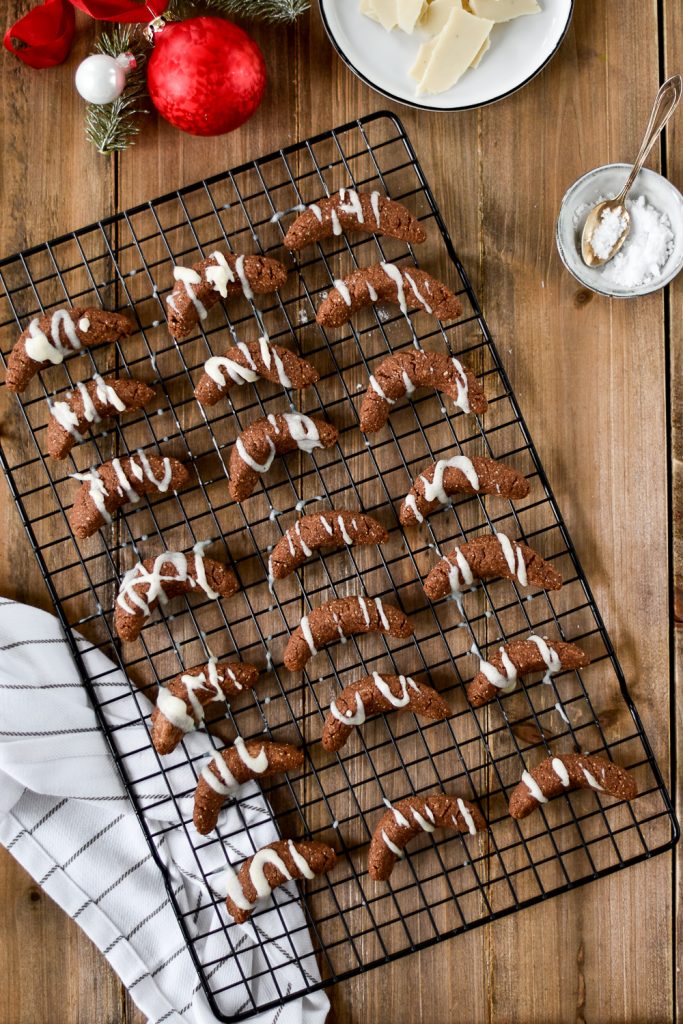 100g of buckwheat flour (of whole-grain spelt four, but then not gluten-free)
50g of ground almonds
75g of almond butter
1 tablespoon of flax seeds + 2 tablespoons of water
40ml of maple syrup
½ teaspoons of ground vanilla
¼ teaspoon of aluminum-free baking powder
1 tablespoons of raw cacao
50g of cacao butter
40g of white almond butter
1 tablespoon of maple syrup (or xylit if you want it to be really white)
For the chocolate, melt the cacao butter over steaming water. Let it cool down a bit, then add the almond butter and maple syrup or xylit with a whisk. Pour the mix over a baking sheet aligned with baking paper and let coo.
Pre-heat the oven to 180°C (160° C fan)
Mix the flax seeds with the water and let it sit for 10 minutes to thicken.
Place all ingredients together with the thickened flax-mix in a mixing bowl, and mix with a hand mixer or use a food processor. Quickly knead the batter with your hands. Take out about a tablespoon of the batter, roll it into a sausage-like shape, and then form it into little crescents. Repeat with the rest of the batter, and place the little crescents on a baking sheet with baking paper.
Bake them for about 12 minutes, then take them out to cool.
Melt the white chocolate again over steaming water. Let it cool a bit, then sprinkle it on top of the crescent cookies with a spoon.
Let the chocolate dry and enjoy!
Recipe by
Heavenlynn Healthy
at https://www.heavenlynnhealthy.com/healthy-chocolate-vanilla-crescent-christmas-cookies/