Winter Roasted Brussels Sprouts, Pumpkin & Pecans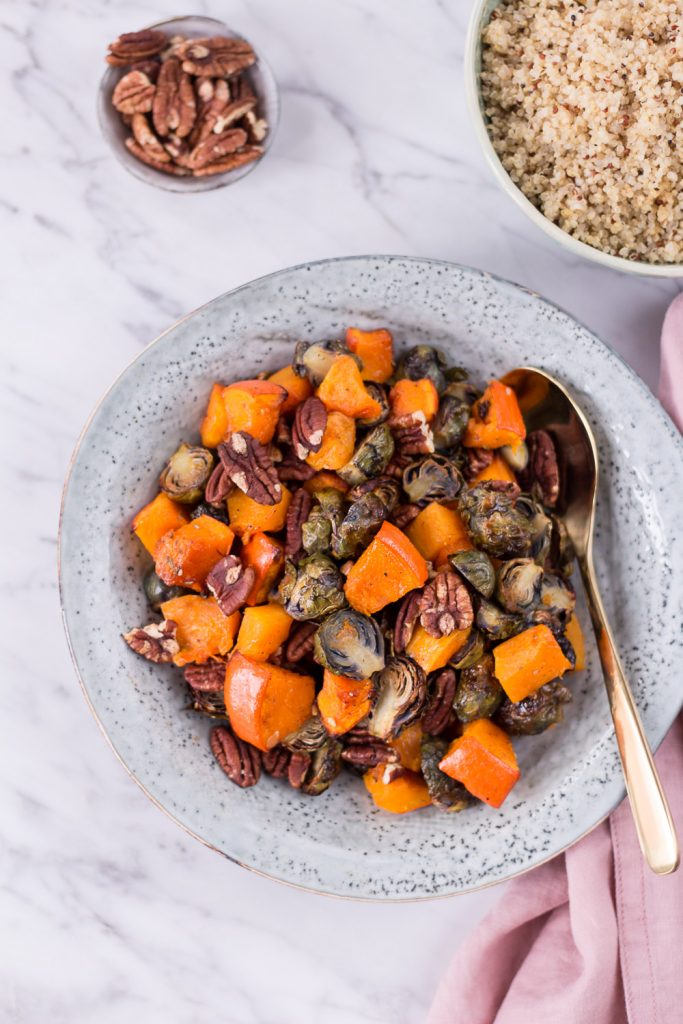 500g of brussels sprouts
500g of pumpkin (I used hokkaido and butternut)
2 tablespoons of extra-virgin olive oil
1 teaspoon of dried rosemary
½ teaspoon of cinnamon
2 tablespoons of maple syrup
½ teaspoon of sea salt
50g of pecans
300g of cooked quinoa (optional, to serve)
Pre-heat the oven to 200°C (180°C fan).
Cut off the ends of the brussels sprouts and cut the sprouts in half. Cut the pumpkin in bite-sized pieces. If you're using butternut, then you need to peel it first.
Combine the sprouts, pumpkin and all other ingredients except for the pecans. Place everything on a baking tray aligned with baking paper and bake for about 30 minutes until almost done.
Add the pecans right before it's all cooked through and roast them with everything for about 5 minutes. Not too long or they will burn.
Serve with quinoa or enjoy as it is.
Recipe by
Heavenlynn Healthy
at https://www.heavenlynnhealthy.com/winter-roasted-brussels-sprouts-pumpkin-pecans-5/