Persian-Inspired Lentil and Kale Soup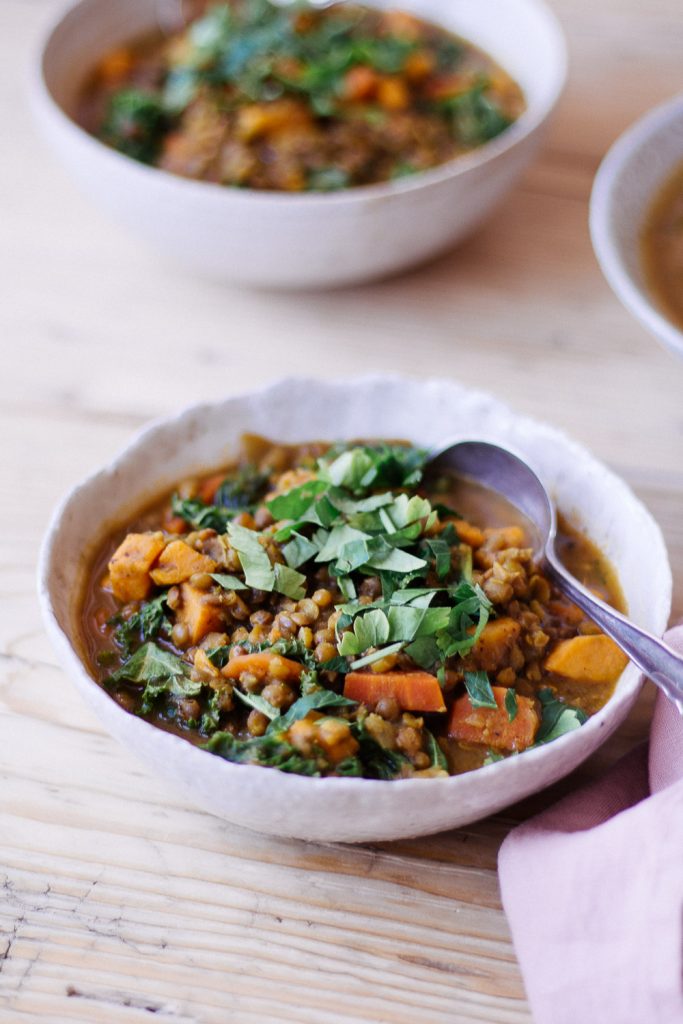 3 tablespoons of extra-virgin olive oil
1 red onion
3 carrots
1 sweet potato
½ cup (100g) of yellow split-peas
1 cup (150g) of green lentils
1 teaspoon of turmeric
1 teaspoons of paprika
2 teaspoons of sumach
2 strangs of dill
2 strangs of parsley
6 (1.5 liters) of cups of water
3 tablespoons of vegetable stock paste
1 lemon
3 handful of kale
sea salt & pepper
Finely chop the onion. Peel the carrots and sweet potato and cut into cubes. Finely chob the dill and parsley and set some aside to garnish. Mix the dried spices in a small bowl.
Heat the olive oil in a big pot and sauté the onions for about a minute. Add the dried spices, carrots, sweet potato and lentils and sauté for another two minutes. Then add the fresh herbs, the water, vegetable stock paste and let everything simmer for 30 – 40 minutes. If you like your soups creamy, puree two cups of soup in a blender and add it back to the soup. This is optional.
Wash the kale and remove the hard middle part. Right before the soup is ready, add the kale and let it wilt. Season the soup according to taste with sea salt, pepper and fresh lemon juice. Serve immediately.
Recipe by
Heavenlynn Healthy
at https://www.heavenlynnhealthy.com/persian-inspired-lentil-and-kale-soup/