Comforting Self-Love Stew with Beluga Lentils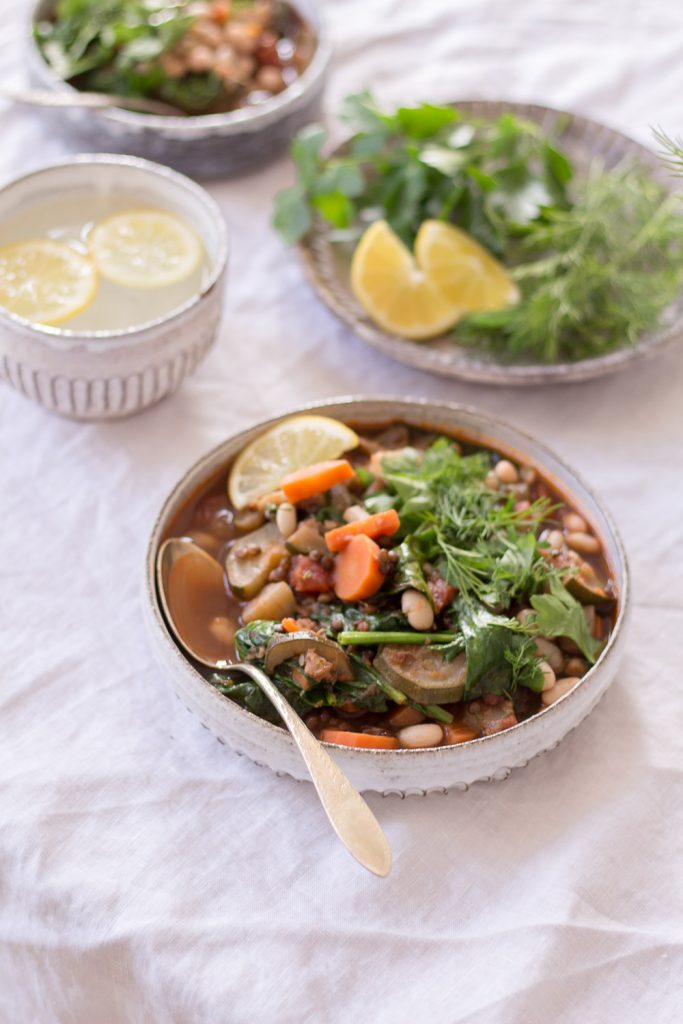 1 large onion
2 cloves of garlic
4 carrots (about 350g)
3 zucchini (about 600g)
1 fennel
2 tablespoons of extra-virgin olive oil, coconut oil or ghee
2 tablespoons of ground ginger
½ teaspoon of ground cardamom
1 tablespoon of ground paprika
1 tablespoon of cumin
½ teaspoon of cinnamon
750ml of water (about 3 cups)
1 400g can of tomatoes
1 jar of small white beans
200g of beluga lentils (about 1 cup)
3 handful of spinach
chopped fresh herbs, mint, or dill (in my case all of the above)
the juice of one lemon
sea salt and freshly ground pepper
Finely chop the onion and garlic. Cut the carrots and zucchini in half moons. Remove the green leaves from inside the fennel, and then cut into bite-sized pieces.
Mix all of the spices in a small bowl.
Heat the oil on high heat, and saute the onion and garlic for about a minute. Add the spices, and saute for another minute until fragrant. Add the vegetables, and saute for about one or two minutes until they are completely covered with the spices.
Add the lentils, vegetables, vegetable broth paste, and tomotoes and bring to a boil. Reduce the heat and let it cook for about 20 minutes.
Now add the beans, and cook for another 10 minutes. Stir in the spinach shortly before serving.
Season with the lemon juice, sea salt and pepper according to taste.
Serve with fresh herbs – the more, the better.
Recipe by
Heavenlynn Healthy
at https://www.heavenlynnhealthy.com/comforting-self-love-stew-beluga-lentils/