Healthy Carrot Cake Cupcakes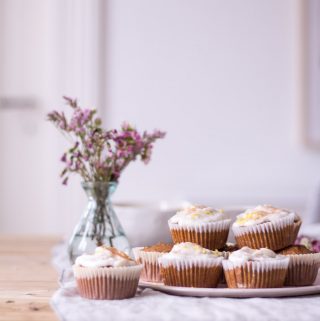 100g of almonds
200g of brown rice flour
1 tablespoon of arrowroot powder
1 teaspoon of cinnamon
1 teaspoon of ginger
½ teaspoon of vanilla powder
a pinch of sea salt
50g of extra-virgin coconut oil
1 ripe banana
50g of coconut blossom sugar
120ml of oat milk
100ml of sparkling water
the peel of one organic lemon
100g of carrots
45g of pecans
150g of coconut joghurt
the juice of half a lemon
1 tablespoon of maple syrup
a sprinkle of cinnamon for each cupcake
Pre-heat the oven to 160 °C fan.
Place the almonds into a food processor or blender and ground into a fine flour. Add to a mixing bowl.
Add the brown rice flour, arrowroot powder, baking powder, spices and sea salt and mix well with a whisk.
Slowly warm the coconut oil on a pan. Place it into a food processor with the banana and coconut sugar, oat milk, sparkling water and lemon peel. Add the dry ingredients to the wet ingredients and slowly mix well.
Wash and grate the carrots. Roughly chop the pecans. Add both to the batter and quickly mix with the batter.
Grease 12 muffin folds with coconut oil or align them with baking paper.
Bake the mufins for 25-35 minutes until you can pull a wooden stick out of the center o fit clean.
Let them cool completely before making the frosting.
Fort he frosting mix all of the ingredients and cover each cupcakes with about one or two teaspoons and sprinkle with cinnamon.
Recipe by
Heavenlynn Healthy
at https://www.heavenlynnhealthy.com/healthy-carrot-cake-cupcakes/