Quick and easy tomato spinach pasta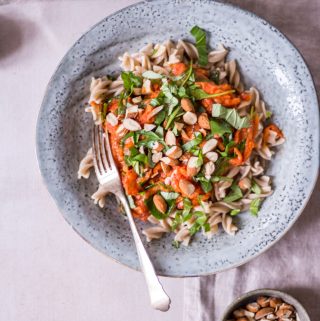 3 cups (300g) of lentil pasta or pasta of choice
1 clove of garlic
1 red onion
1 carrot
2 tablespoons of extra virgin olive oil
2 cans of tinned tomatoes (400g each)
2 tablespoons of tomato puree
sea salt and pepper
coconut blossom sugar to taste (about 1 teaspoon)
3 handful of baby spinach
1 heaped tablespoon of sunflower butter (or almond butter)
¼ cup (30g) of almonds
a handful of basil to serve
Cook the pasta according to instructions.
Finely chop the garlic and onion. Grate the carrot. Wash the spinach. Roughly chop the almonds and basil.
Heat the olive oil in a medium-sized pan. Sauté the garlic and onion in the olive oil, then add a splash of balsamic vinegar. Now add the tomato puree and tinned tomatoes and let it simmer for a few minutes. Season with sea salt, pepper and a bit of coconut blossom sugar or maple syrup.
Stir in the sunflower butter if using and stir well so it blends with the sauce.
Right before serving, add the spinach and stir until wilted.
Serve the pasta with the sauce and the chopped almonds and basil.
Recipe by
Heavenlynn Healthy
at https://www.heavenlynnhealthy.com/quick-easy-tomato-spinach-pasta-30-minutes/