Spicy Vegan Cauliflower Wings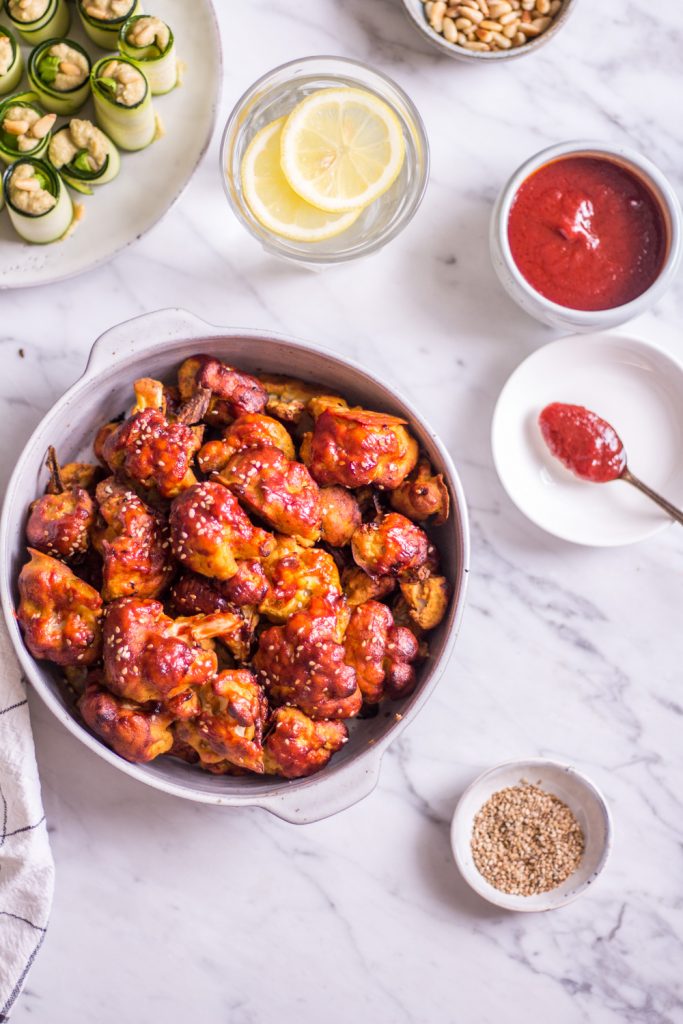 1 cauliflower
1 cup (150 g) of brown rice flour or chickpea flour
1¼ cups (150 ml) almond milk
5 - 7 tablespoons of water
2 teaspoons of paprika powder
1 teaspoon of cumin
½ teaspoon of turmeric
¼ teaspoon of cayenne pepper (depending on how spicy you like it)
sea salt and pepper
2 tablespoons of tamari
1 tablespoon of balsamic vinegar
2 tablespoons of maple syrup
1 tablespoon of sesame oil
40 g of tomato paste
½ teaspoon of cayenne pepper (or less, depending on how spicy you like it)
Pre-heat the oven to 200°C fan setting.
Wash the cauliflower, remove its leaves and cut the cauliflower into bite-sized pieces.
To prepare the batter, mix the brown rice flower with the spices, then add the almond milk and one tablespoon of water at a time until you reach the desired consitency. It should be quite thick, but not too thick and also not too runny. If it is too runny, add more brown rice flour and vice versa, add more water if it is too thick. It should almost look like runny hummus.
Dip each cauliflower floret into the batter, shaking off any access batter. Place each "wing" on a baking sheet with baking paper, leaving enough space between each wing, so they do not touch. I used two baking sheets for one whole cauliflower.
Bake the wings for 25 minutes.
In the meantime, prepare the sauce by adding all of the ingredients in a bowl and whisking everything together with a whisk.
After 25 minutes, take the wings out of the oven and brush each wing with the sauce using a kitchen brush. If you don't have a brush, slightly dip each wing into the sauce and place them back on the baking sheet. Bake them for another 15 - 20 minutes, checking in during the last minutes to make sure they do not burn.
Serve the cauliflower wings hot with the sauce and enjoy!
Recipe by
Heavenlynn Healthy
at https://www.heavenlynnhealthy.com/spicy-cauliflower-wings/