Mediterranean vegetable skewers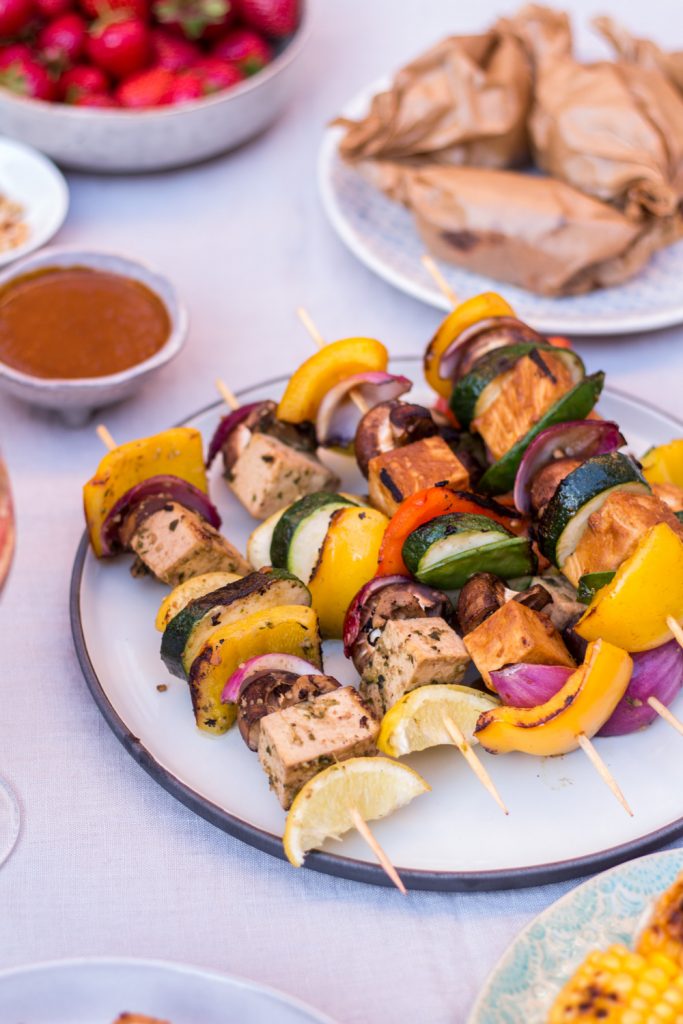 1 bunch of arugula, washed and dried
10 mint leaves, washed and dried
30 g of walnuts (or use any other nut if allergic)
1 clove of garlic, peeled
80 ml (1/3 cup) of extra-virgin olive oil
the juice of ½ lemon
sea salt and pepper
2 zucchini (courgettes)
2 bell peppers
½ red onion
a handful of snap peas
6-8 mushrooms
100g of tofu
1 small organic lemon
Mix all ingredients for the pesto in a blender or food processor.
Wash the vegetables, slice them or cut them into bite-sized pieces. Cut the onion into single layers. Cut the mushrooms in half. If you're using tofu, wrap it into kitchen paper and place it between two plates. Add some books on top to squeeze out the liquid for at least 15 minutes.
Marinate the tofu in about half of the pesto, as long as possible, preferably two hours. Marinate the vegetables in the other half of the pesto.
Now stack the vegetables onto the skewers, alternating between vegetables and tofu. Be careful, as both the tofu and the veggies are quite slippery.
Grill the skewers on a round grill for about 20 – 30 minutes until well done. The exact time will vary depending on your BBQ.
Serve with the remaining peanut sauce.
Recipe by
Heavenlynn Healthy
at https://www.heavenlynnhealthy.com/healthy-vegetable-bbq-ideas/