Asian Sesame Noodles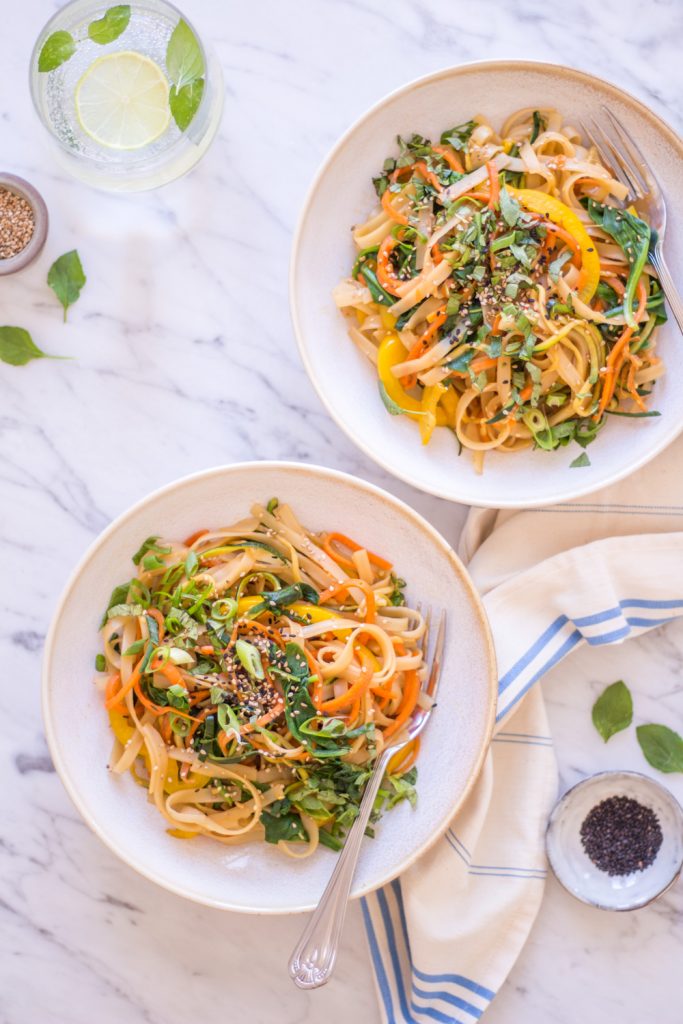 250 g of rice noodles
1 zucchini
2 carrots
1 yellow bell pepper
1 lime
1 garlic clove
1 small piece of ginger
5 tablespoons of tamari (or soy sauce)
2 tablespoons of sesame oil
1 tablespoon of apple cider vinegar
2 teaspoons of coconut blossom sugar (or maple syrup, rice syrup, date syrup)
½ teaspoon of chili flakes (use less is you're sensitive to spice)
Sesame oil
Basil, thai basil, cilantro, lemon mint (a mild kind of mint)
White and black sesame
Spring onions
100 g of baby spinach
Tamari-sautéd mushrooms
Peanut-coated tofu
Soak the noodles in boiling water for about 7 – 10 minutes, depending on the noodles that you chose.
Wash and spiralize the veggies. Finely slice the bell pepper. If you use spinach, wash it now. Slice the spring onion.
For the sauce, finely chop the garlic and ginger or grate it in a food processor (for the lazy like me).
Heat 1 tablespoon of sesame oil in a large pan or wok and sauté the veggies for about 2 minutes. Add the drained noodles, the sauce and spinach and bring to a boil quickly. Reduce the heat and let the noddles soak in the sauce for about a minute. You do not want them to get too moushy. Add some lemon juice according to taste and more tamari if needed. Add spinach now, if you're using it.
If you're using fried tofu or sautéd mushrooms, add them now. Serve the noodles with sesame seeds, spring onions and fresh herbs.