Refreshing Avocado-Ginger Soup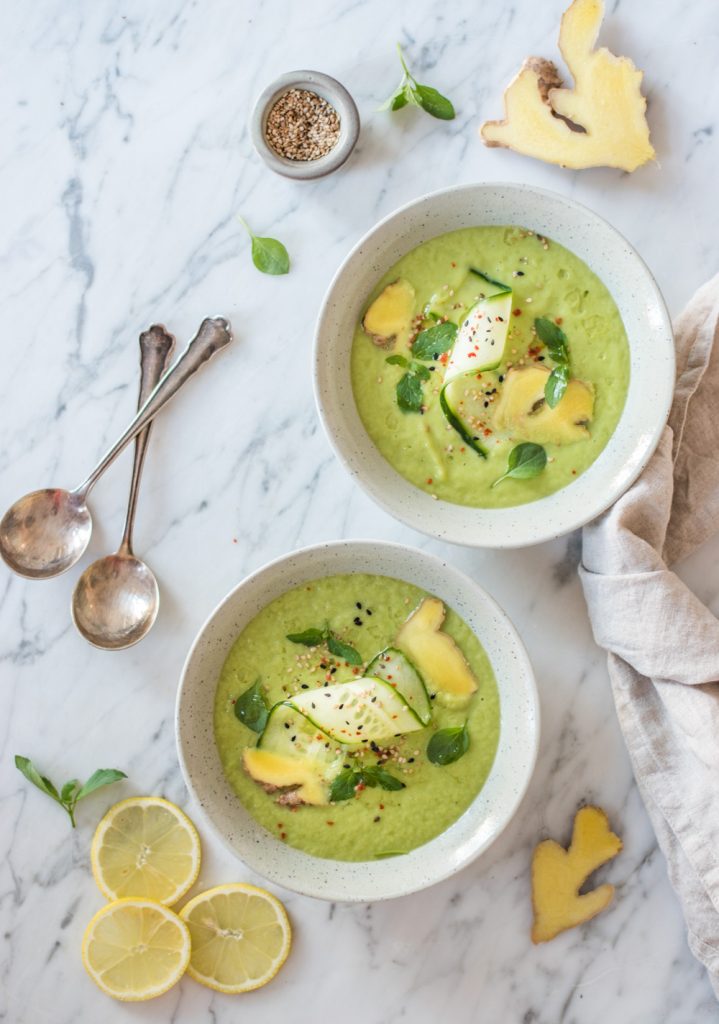 1 clove of garlic
5 g of fresh ginger
5 mint leaves, I used lemon mint that I found at my organic supermarket
400 g of cucumber
300 g of peach
1 avocado
100 ml of cashew or almond milk
the juice of ½ lemon
1 tablespoon of sesame oil
1 teaspoon of sea salt
lots of freshly ground black pepper
140 g of ice cubes
sesame oil
black and white sesame seeds
Pre-heat the oven to the hightest temperature possible. Place the garlic with the peel into the oven, and bake for about 10 minutes. You can omit this step, but I feel like it gives the soup a much less aggressive garlicky taste. Let it cool down, then remove the peel from the garlic.
Cut the avocado in half, remove the stone and scoop out the flesh. Peel the peach and remove the stone, so you're left with the flesh only.
Place all ingredients except for the ice cubes into a blender and blend until you have a fine texture. Add the ice cubes and blend once again until smooth.
Transfer into bowls and garnish with a few drops of sesame oil, sesame seeds and some mint leaves.
Recipe by
Heavenlynn Healthy
at https://www.heavenlynnhealthy.com/refreshing-avocado-ginger-soup/