Quick and easy summer bruschetta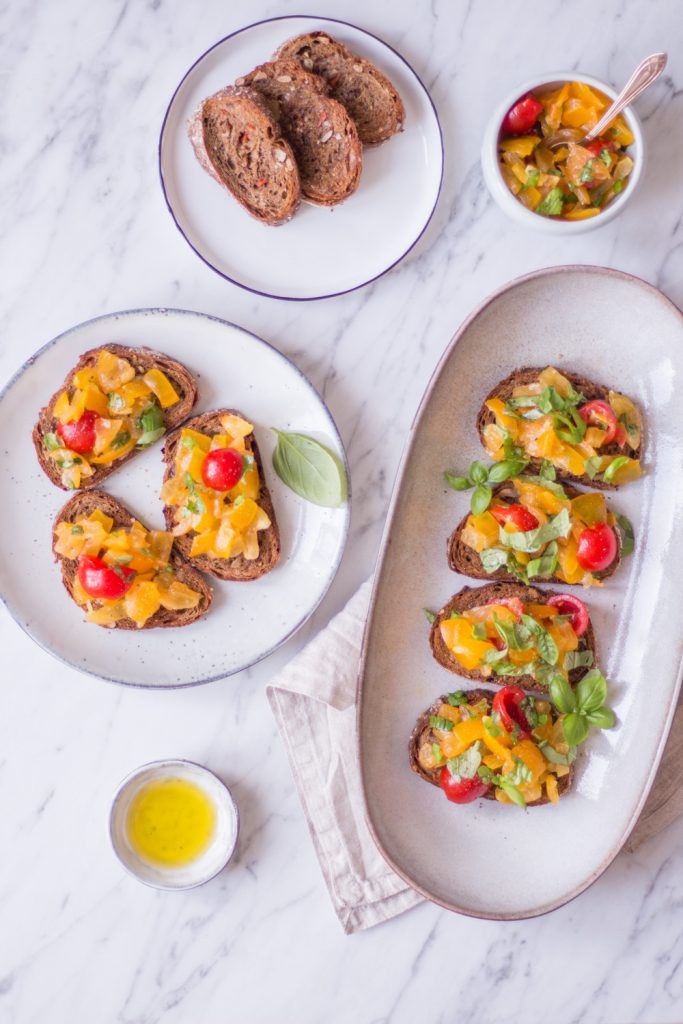 500 g of cherry tomatoes
1 clove of garlic
6 – 8 slices of whole-grain rye bread or gluten-free bread
1 tablespoon of extra-virgin olive oil, more for the bread
1 tablespoon of white balsamic vinegar (apple cider vinegar or white whine would work too)
sea salt and pepper
Cut the tomatoes in half and remove the seeds with a small spoon. Roughly cube the tomato flesh. Mix the tomatoes with the olive oil, vinegar, chopped basil, sea salt and pepper.
Pre-heat the oven to 180 °C. Drizzle a bit of olive oil on each slice of bread and roast the bread for 7 minutes. Place the clove of garlic next to the bread to roast it. Flip the slices and roast for another four to five minutes. The exact time will vary depending on the thickness of your bread slices.
Finely chop the roasted garlic and add it to the tomato mix.
Scoop about a tablespoon of the tomato mix on each bread slice and sprinkle with additional basil.
Recipe by
Heavenlynn Healthy
at https://www.heavenlynnhealthy.com/quick-easy-summer-bruschetta/