Pumpkin Spice Granola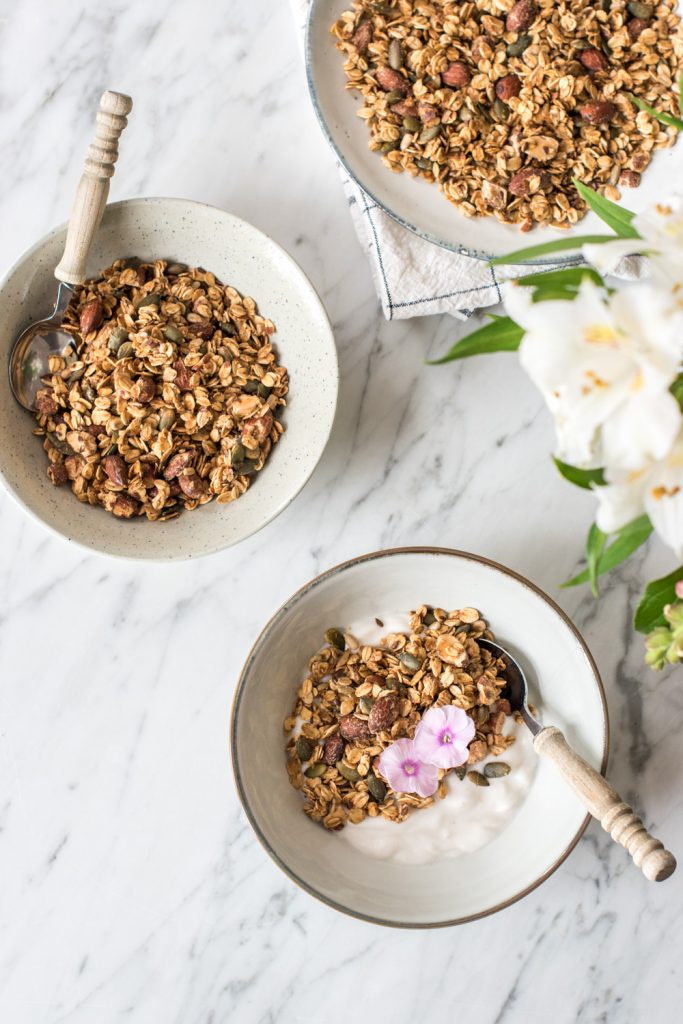 70 g of almonds
200 g (gluten-free) oats
30 g of flaxseed
30 g pumpkin seeds
2 tablespoons of native coconut oil
2 tablespoons of maple syrup (or brown rice syrup)
2 tsp Pumpkin Spice (see below)
2 tablespoons of cinnamon
1 tsp ginger
½ tsp allspice
½ teaspoon nutmeg
¼ tsp cloves
Preheat the oven to 160 ° C fan.
Chop the almonds roughly or pulse briefly in a food processor. Mix almonds, rolled oats, flax seeds and pumpkin seeds in a mixing bowl.
Heat the coconut oil in a small pan on a low level. Add maple syrup and pumpkin spice and stir well. Add the sticky mix to the dry ingredients and mix well with a wooden spoon.
Spread the granola evenly on a baking sheet lined with baking paper and roast for about 20 minutes. Remove the baking sheet and loosen the granola a little, giving it a good stir. Put the sheet back in the oven and roast for another 10 minutes.
Remove the granola from the oven, allow to cool completely and then store in an airtight glass container.