Creamy chanterelle pasta with cashew dill sauce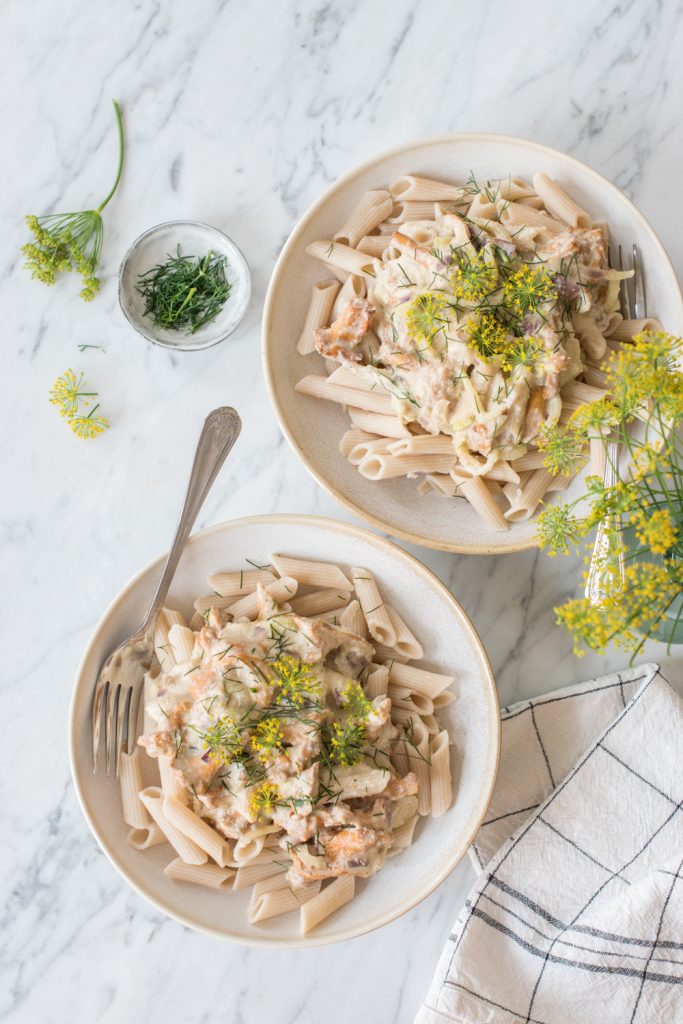 100 g of cashews
150 g of water
2 teaspoons of lemon juice
2 tablespoons of nutritional yeast (optional)
1 red onion
2 cloves of garlic
2 tablespoons of olive oil, coconut oil or ghee
1 fennel
250 g chanterelles (or mushrooms of your choice)
100 g of water
2 teaspoons of vegetable broth paste
2 teaspoons of fresh dill
Sea salt and pepper
250g of whole-grain pasta (e.g., brown rice pasta, buckwheat lentil pasta)
Soak the cashews in clear water for at least 2 hours. If you don't have time, boil the cashew nuts in the saucepan for about 5 minutes.
Mix the soft cashews with 150 ml of water, lemon juice and nutritional yeast in a blender into a smooth sauce. Add a little more water if the mixer is not strong enough. If this is necessary, reduce the amount of water further down in the recipe.
Chop the onion and garlic cloves and clean the chanterelles and cut the large ones into smaller bites. Cut the fennel into fine rings.
Cook the pasta according to the package instructions.
In a saucepan, sauté the onion and garlic clove in 2 tablespoons of oil. Add the fennel and the chanterelles and fry until the mushroom liquid evaporates. Add the cashew cream, water and vegetable broth paste and cook for about 6-8 minutes.
Drain the pasta and add it to the sauce. Sprinkle with fresh dill according to taste and enjoy immediately.
Recipe by
Heavenlynn Healthy
at https://www.heavenlynnhealthy.com/quick-creamy-chanterelle-pasta-cashew-dill-sauce/