Life-changing plant-based lasagna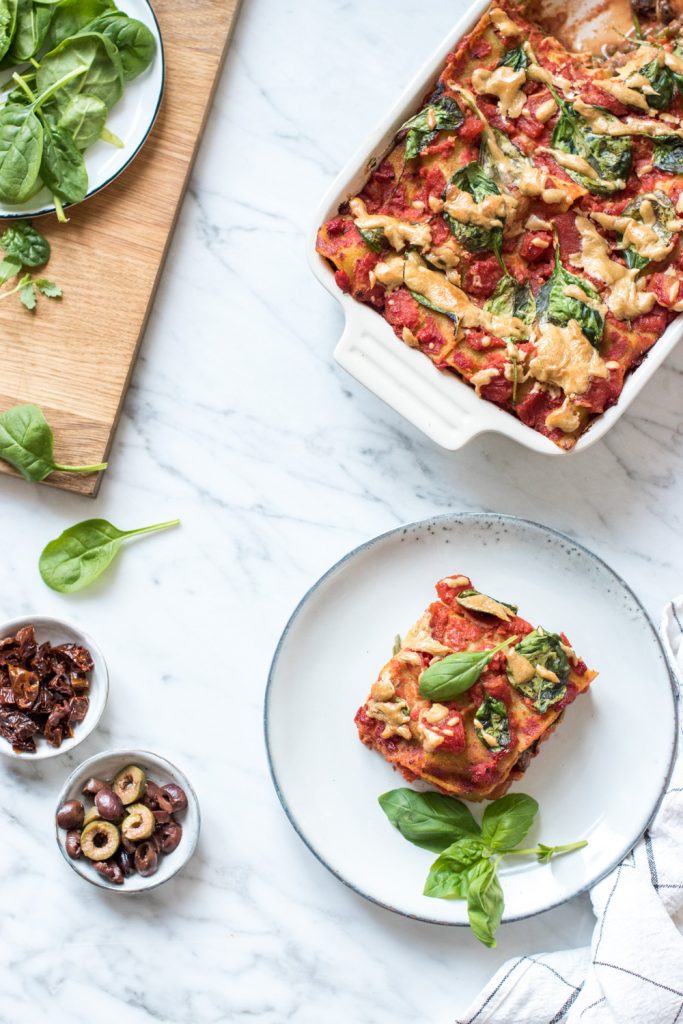 2 cloves of garlic
3 cans of tomatoes, crushed
3 tablespoons of extra virgin olive oil, more for greasing
1 tbsp balsamic vinegar
1 red onion
250 g mushrooms
1 tbsp of tamari
250 g of baby spinach
the shell of an organic lemon, and 2 tsp of juice
½ tsp sea salt
1 pinch of chilli flakes
gluten-free lentil lasagna sheets
For the sunflower seed butter mix:
3 tablespoons of sunflower seed butter (or almond or cashew butter)
2-3 tablespoons water
1 tablespoon of nutritional yeast
100 g of sun-dried tomatoes
4 tablespoons of olives, sliced
1 can of lentils
Finely chop the garlic clove and onion. Mix the garlic with the the canned tomatoes, 2 tablespoons of olive oil and ½ teaspoon of salt in a bowl. Mix the sunflower seed butter with 2-3 tablespoons of water, nutritional yeast (optional) and 2 teaspoons of lemon juice. It should not be too thick, but a little creamy and runny. If it is too thick, gradually dilute it with additional tablespoon(s) of water.
Slice the mushrooms. Heat 1 tablespoon of olive oil in a pan and sauté the onions for about a minute. Add the mushrooms and sauté briefly over high heat. Reduce the heat and deglaze the mushrooms with 1 tablespoon tamari. Add the spinach and wait until it has wilted. Remove the spinach mushroom pan from the heat.
Grease a baking dish with a little but of olive oil. Cover the bottom with tomato sauce. Briefly dip the lasagna plates in cold water and distribute over it. Cover with another layer of tomato sauce and spread a layer of mushrooms and spinach over it. Spinkle 1 tablespoon of olives, sun-dried tomatoes and about 3 tablespoons of lentils (if using) over them. Then sprinkle a bit of sunflower seed butter mix over it.
Repeat everything: a layer of water-dipped lasagne plates, tomato sauce, mushrooms and spinach, dried tomatoes, olives, lentils and sunflower seed butter mix. Finally, cover everything with lasagna sheets, tomato sauce, spinach and sunflower seed butter mix and bake for about 35 - 40 minutes.
Recipe by
Heavenlynn Healthy
at https://www.heavenlynnhealthy.com/life-changing-plant-based-lasagna-everyday-life/