Gluten-free seed crackers with rosemary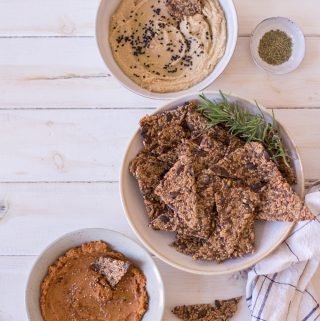 70 g of sunflower seeds
60 g of gluten-free organic oats from Alnavit
40 g of sesame seeds
40 g of flaxseeds
30 g of pumpkin seeds
15 g of chia seeds
½ teaspoon of sea salt
250 ml of boiling water
some wholegrain rice flour or (gluten-free) all purpose-flour of your choice
1 teaspoon of dried rosemary (delicious !!)
Preheat the oven to 160 ° C circulating air (180 ° C top and bottom heat). Mix all dry ingredients in a mixing bowl. Pour in the hot water and mix well with a wooden spoon. Let it swell for 15 minutes.
Spread a baking tray with parchment paper, sprinkle with wholegrain rice flour and thinly spread the batter with a dampened spatula on the sheet. The thinner the crispier the crackers will be.
Bake the crackers in the pre-heated oven for 10 minutes, take the tray out of the oven and cut the batter into triangles or rectangles with a sharp knife or pizza roller.
Bake for another 40-50 minutes (depending on the thickness of the dough). Remove and allow to cool. Airtight, the crackers keep for up to two weeks.
Recipe by
Heavenlynn Healthy
at https://www.heavenlynnhealthy.com/gluten-free-seed-crackers-rosemary/