Chai Waffles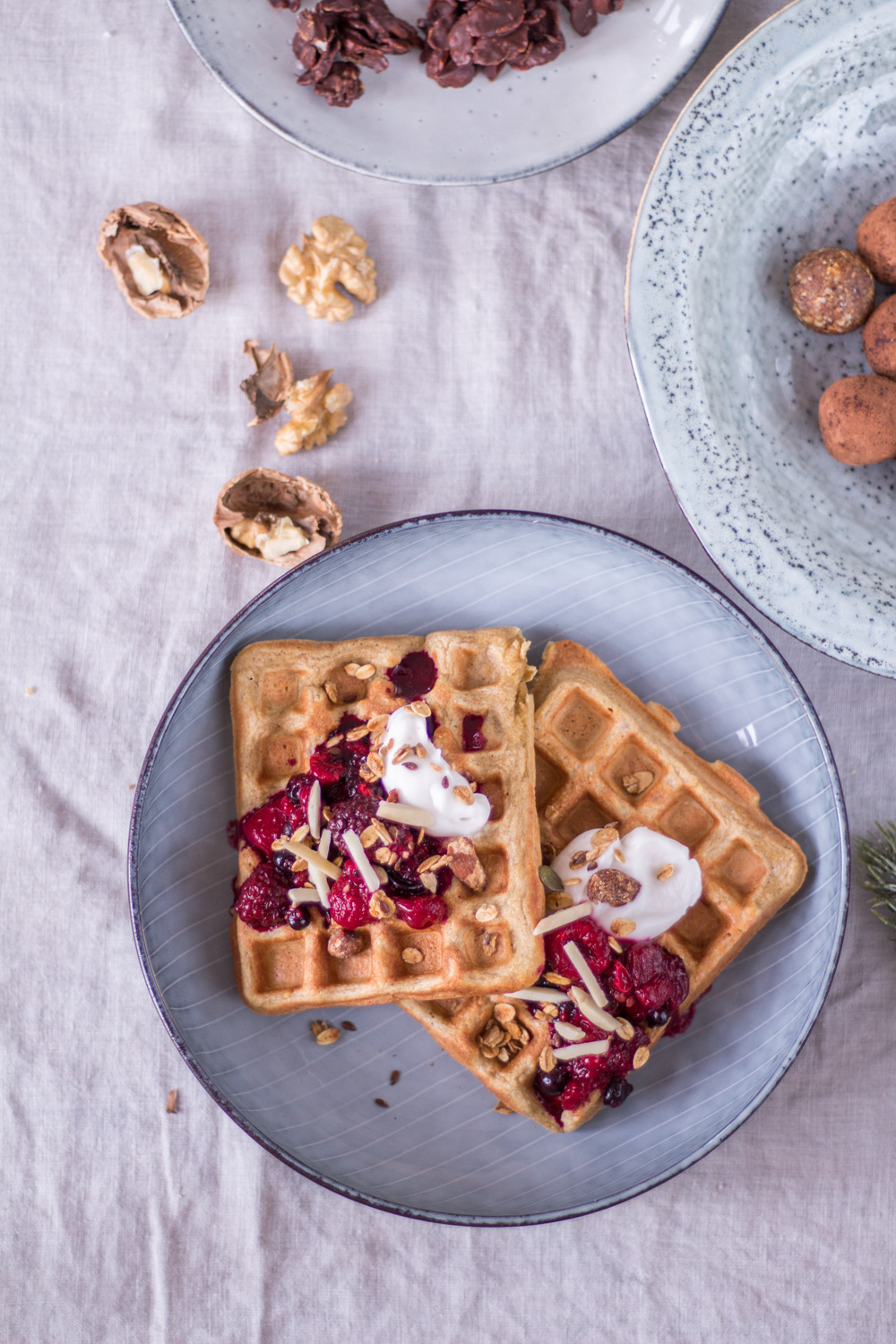 250 g of oats
2 tbsp coconut sugar
1 tbsp aluminum-free baking powder (this is baking powder without aluminum)
2 tsp chai spice (see below)
1 pinch of sea salt
150 ml coconut yoghurt (or normal yoghurt)
100 ml of oat milk
100 ml of mineral water
3 organic free-range eggs (or 3 tbsp chia seeds + 9 tbsp water for the vegan option)
grated peel of 1 organic lemon
Butter or coconut oil for baking
about 300 g of frozen berries
1 tsp chai spice (see below)
chopped nuts (eg almonds or hazelnuts)
(Coconut) yoghurt for serving
2 teaspoons ground cinnamon
1 tsp ginger, ground
1 tsp allspice, ground
½ teaspoon of clove, ground
½ tsp cardamom, ground
½ teaspoon nutmeg, ground
For a vegan version, mix the chia seeds with the water and set aside to swell. Mix all ingredients for the chai spice and store in an airtight glass container as you won't need it all for this recipe.
Preheat the waffle iron at medium heat.
Ground the oats into a fine flour in a food processor or blender. In a bowl, mix the ground oats, coconut sugar, baking powder, chai spice and sea salt well. Mix the (coconut) yoghurt, the oat milk, the three eggs (or chia eggs) and the lemon peel with a whisk in another mixing bowl. Then stir in the sparkling mineral water.
Add the wet ingredients to the dry and stir everything with a whisk into a smooth batter. Let the batter rest for about 30 minutes. During this time, slowly heat the frozen berries in a pan and mix with a little chai spice. Leave in the warm pan to keep the berries warm for later.
Heat the waffle iron a little more and add about 1 teaspoon coconut oil and distribute the oil thoroughly with a brush at the top and bottom.
Add a ladle of batter per side (for a Belgian waffle iron) and bake for about 5 minutes. With a European heart-shaped waffle iron you need less batter and the baking time per waffle has to be reduced accordingly. The waffles are ready when they are baked golden brown and can be easily removed from the waffle iron. I even like to let them get a bit browner and crispier.
Serve the waffles with the warm berry compote, yoghurt and chopped nuts.