Mini-Crumbles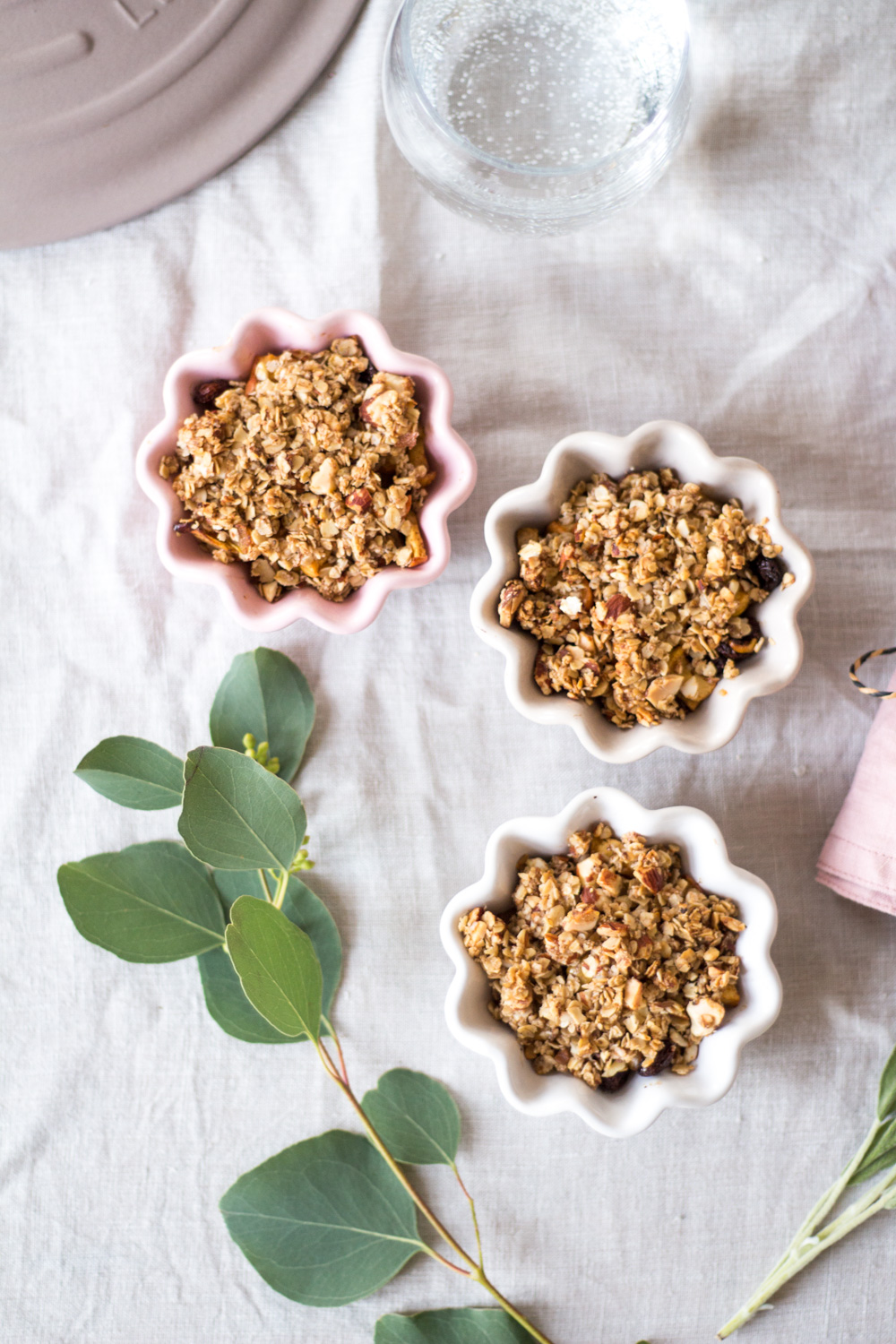 2 apples
1 pear
75 g raisins
the juice of an orange
the zest of a ½ organic orange
the zest of a ½ organic lemon
½ teaspoon ground cinnamon
½ teaspoon ground ginger
a pinch of ground vanilla
a pinch of ground or fresh nutmeg
a pinch of ground cloves
200g fine (gluten-free) porridge oatmeal
100 g roughly chopped almonds
3 tablespoons of coconut oil (or flavorless vegetable oil or butter)
3 tablespoons of rice syrup or maple syrup
1 teaspoon cinnamon
a pinch of salt
For the filling, core the apples and pears and cut into small pieces. Put all the ingredients in a pot and let it simmer over medium heat for about 10-15 minutes, so that the ingredients will become beautifully soft. Set the filling aside and let it stand while preparing the crumble topping.
For the topping, lightly heat the coconut oil with the rice syrup and cinnamon in a small saucepan. Mix the oats and the chopped almonds with the sticky mix and a pinch of salt in a mixing bowl. If it does not get sticky enough, add some rice syrup.
Preheat the oven to 160 ° C circulating air (180 ° C top and bottom heat). Grease 4-5 small oven-proof bowls, mine are meant for crème brûlée, with a little coconut oil and divide the filling to the small bowls. Spread the topping evenly over the filling using your hands. Bake the mini-crumbles for about 15 - 20 minutes (the same time depends on the oven). After about 10 minutes, take a look at how browned the oatmeal topping is and adjust the baking time if necessary.
Serve the mini crumbles either neat or with some natural or coconut yoghurt.