Lentil-millet patties with cranberry sauce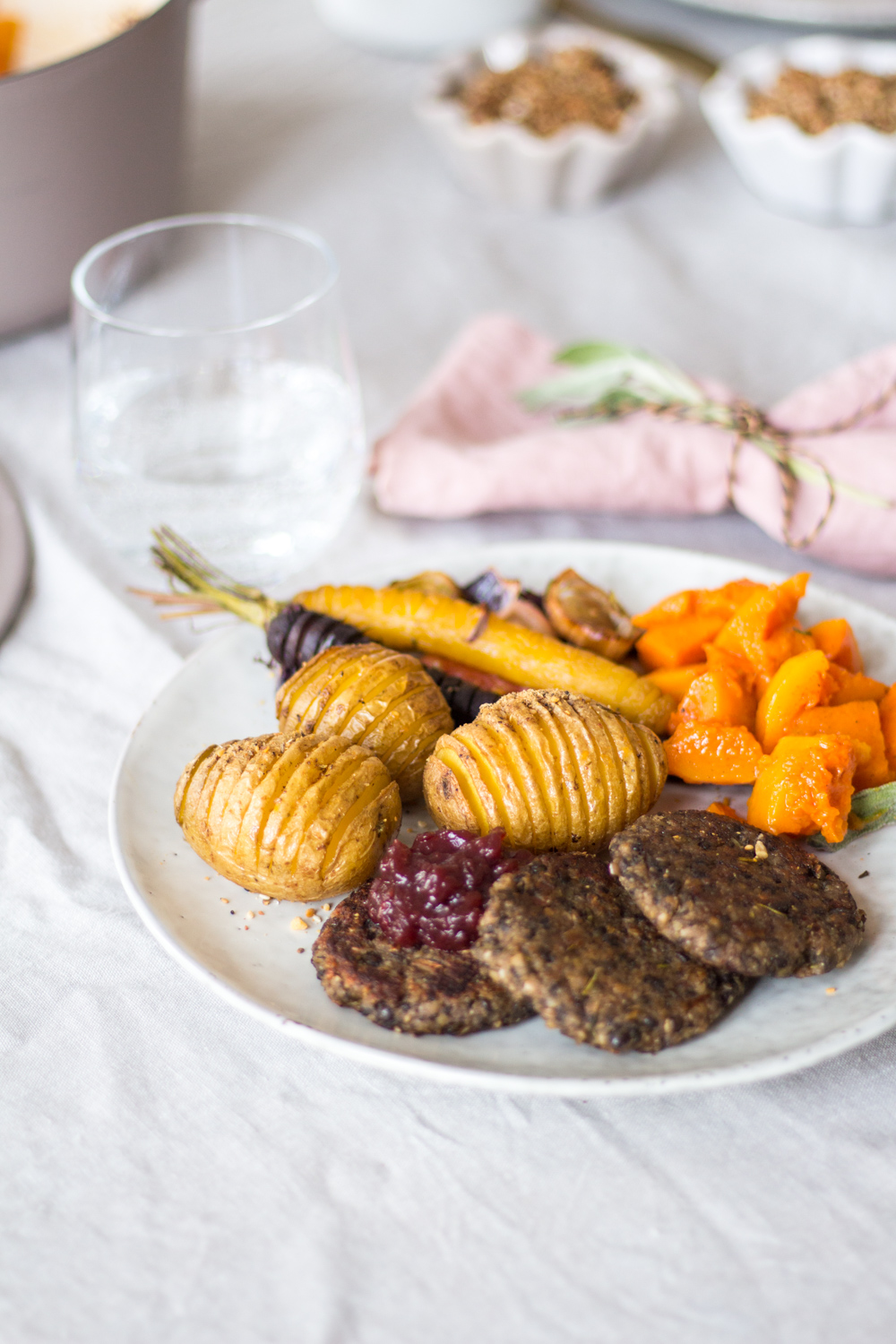 125 g dry Beluga lentils
150 g boiled millet (otherwise 120 g of uncooked millet)
200 g mushrooms
3 cloves of garlic
1 red onion
2 big, juicy dates
2 tablespoon coconut oil (or olive oil or ghee)
1 tablespoon fresh rosemary, chopped
1 tablespoon fresh thyme
2 tablespoons Tamari (or normal soy sauce)
1 tablespoon of Dijon mustard (I also recommend coarse-grained mustard with turmeric from the organic shop)
1 tablespoon of virgin olive oil
70 g fine (gluten-free) porridge oats
Freshly ground black pepper
100g fresh cranberries
125ml of freshly squeezed orange juice
2-4 tablespoons of maple syrup, rice syrup or honey (to taste)
the zest of half an organic orange
Wash the cranberries and place in a saucepan.
Add orange juice, orange zest and sweetener of choice (start with 2 tablespoons) and simmer for about 15 minutes on medium heat. During this time, the liquid is reduced and the sauce will slowly begin to thicken.
When the sauce is well thickened, turn off the heat and set the sauce aside to cool. Sweeten more according to taste.
Fill the cranberry sauce in airtight jars and enjoy for Christmas dinner.
A little tip: cranberry sauce also tastes great in apple and red cabbage.
Wash the Beluga lentils and millet if you have not already cooked the millet for the salad Put the lentils and the millet into two different saucepany and cover both with twice the amount of water. Add ½ teaspoon of vegetable stock (or my vegetable broth paste paste) to the water of the lentils.
In the meantime, clean the mushrooms and slice the mushrooms, garlic and onions. Core the dates and finely chop them.
Heat a little bit of coconut oil in a pan. Fry the onions and garlic for about two to three minutes. Then add the rosemary and thyme, sauté briefly and then add the mushrooms. Fry the mushrooms for about 4-5 minutes in the pan from one side, then deglaze with tamari (or soy sauce). Stir well again so the mushrooms are completely covered with tamari and then remove the pan from the heat.
In a large bowl, mix the beluga lentils, millet, the contents of the mushroom pan, date pieces, Dijon mustard, olive oil, oatmeal and pepper. Be generous with the pepper. Mash everything with a hand blender. If you own a food processor, you of course pulse everything in it for a short time. The mixture should not be completely pureed and the individual ingredients should still be recognizable. However, the individual components must be well mixed in order to form patties.
Form about 10-12 patties from the mixture. Fry the patties either in a pan with a little coconut oil (or ghee) from each side for about 5 minutes or roast them in the oven at 180 ° C for about 10 minutes from one side and then 10-12 minutes from the other side. On the baking sheet should either be glazed some olive oil or sprinkled with a little bit of (gluten-free) flour so that the patties do not stick to the baking tray.
Enjoy while still hot.
Recipe by
Heavenlynn Healthy
at https://www.heavenlynnhealthy.com/healthy-christmas-dinner-menu/