Grain-free & refined sugar-free granola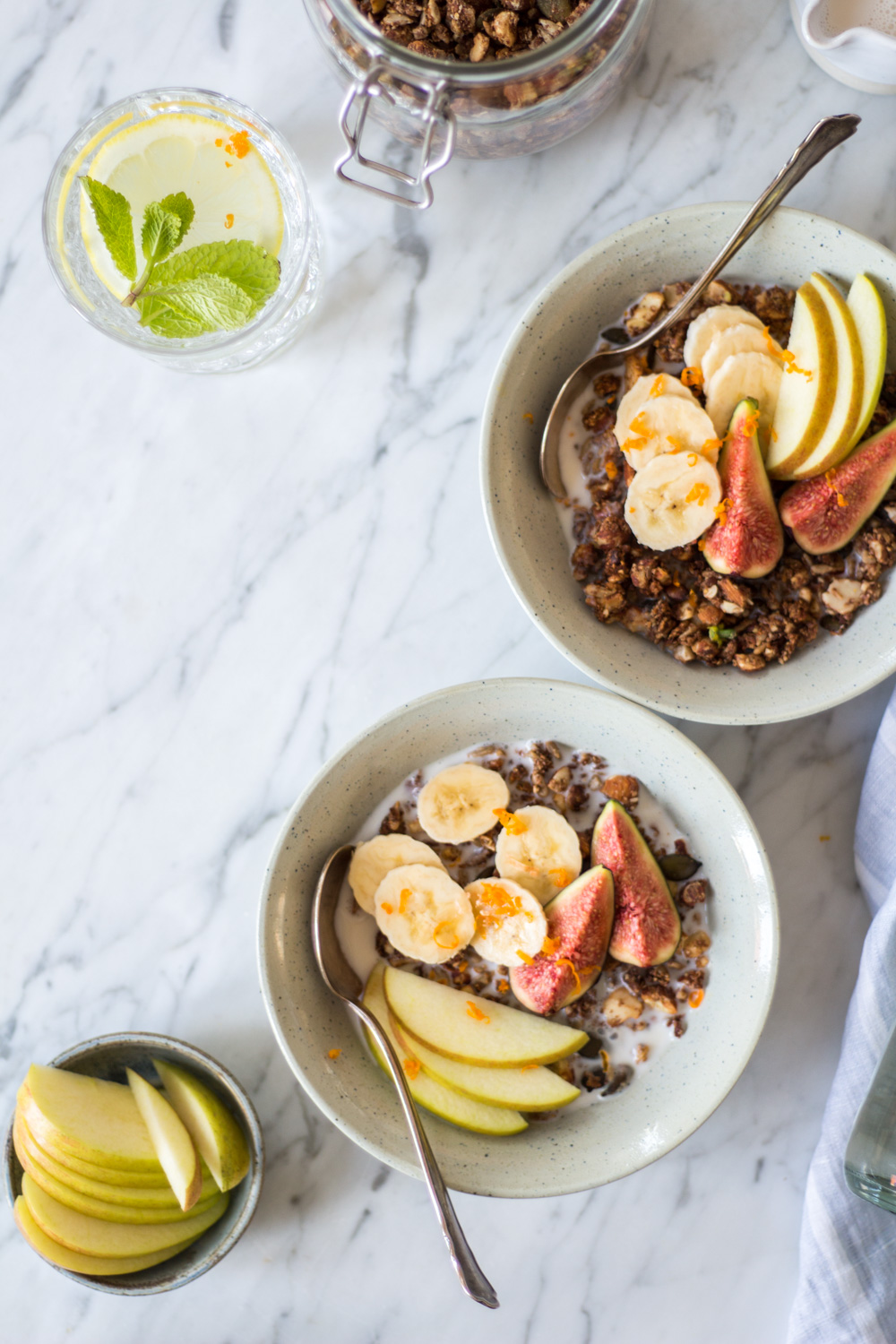 100 g of hazelnuts
100 g of almonds
100 g sunflower seeds
30 g pumpkin seeds
50 g of shredded flaxseed (preferably freshly shredded, otherwise store-bought ground flax)
2 tablespoons of native coconut oil
80 grams of apple sauce
1 tbsp raw cacao
1 teaspoon ground cinnamon
½ tsp ground cardamom
a pinch of sea salt
the peel of 1 organic orange
Preheat the oven to 160 ° C circulating air (180 ° C top and bottom heat).
Chop the nuts roughly or pulse briefly in a food processor. Mix the chopped nuts, sunflower and pumpkin seeds and shredded flax seeds in a mixing bowl.
Heat the coconut oil in a small pan on low heat. Add the apple sauce, cacao powder, cinnamon and cardamom and mix everything to a sticky paste.
Add the paste to the dry ingredients and mix well with a wooden spoon so that everything is well covered with the sticky mix. Spread the granola on a baking sheet lined with baking paper and roast for about 20 minutes.
Remove the baking tray, loosen the granola a little and stir. Turn the baking sheet around, and bake for another 5-10 minutes in the oven.
Just before the end, add the orange peel and spread it over the granola. Roast everything for another 1-2 minutes until the orange peel becomes fragrant.
Remove the granola from the oven, allow to cool completely and store in an airtight glass container.
Recipe by
Heavenlynn Healthy
at https://www.heavenlynnhealthy.com/grain-free-refined-sugar-free-granola/