Quick miso-vegetable stir fry with quinoa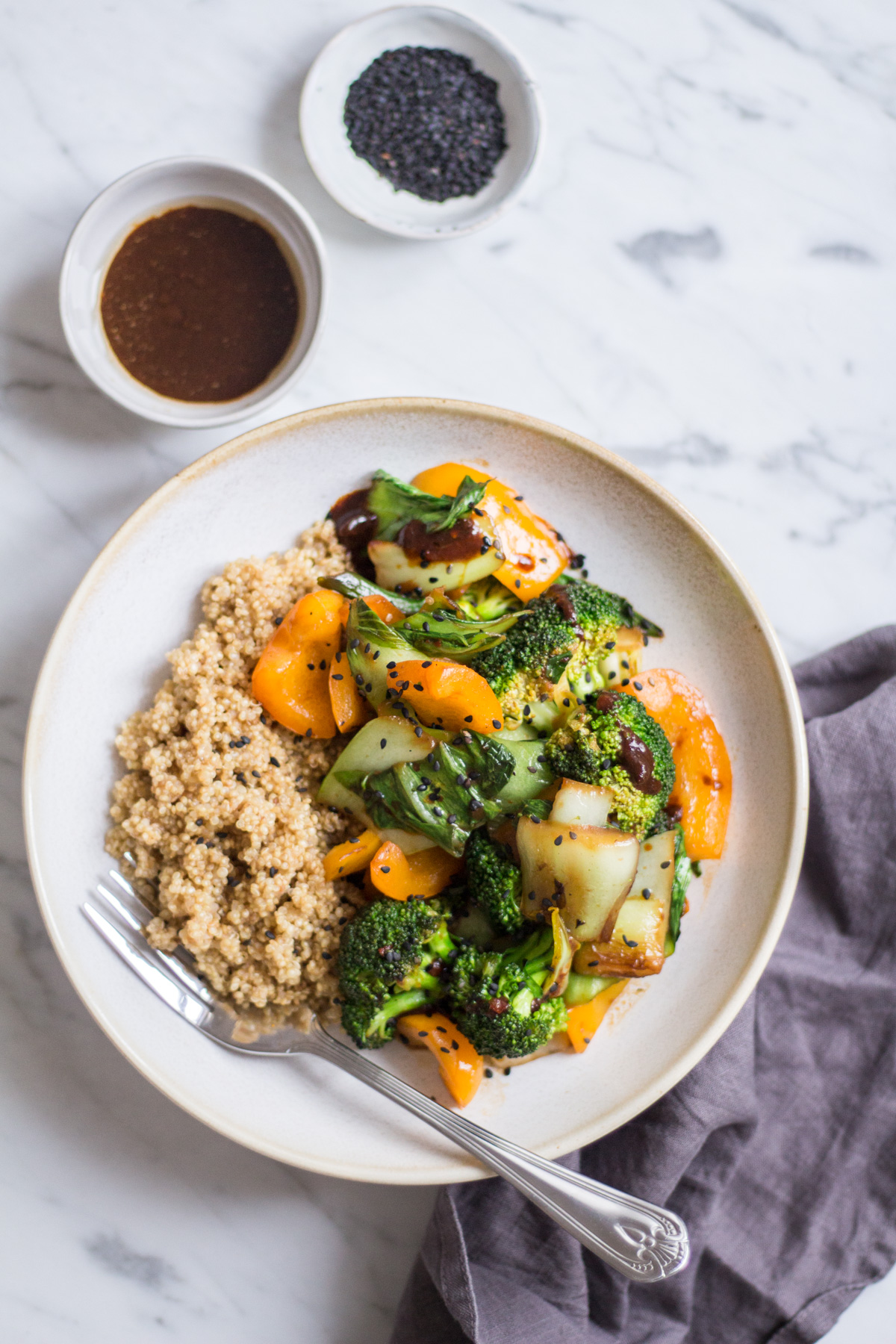 200 g of quinoa
1 pak choi
2 peppers
1 big broccoli
2 tablespoons of miso paste
2 tablespoons of sesame oil
2 tablespoons of tamari
1 lime
1,5 cm of fresh ginger
1 teaspoon of sambal oelek or ¼ tsp chili flakes to taste
Black or white sesame seeds (optional, but a nourishing decoration)
mushrooms
kale instead of pak choi
carrots
zucchini
Wash the quinoa and bring to a boil with approx. 600 ml of water. Simmer for approximately 12-15 minutes.
Wash the vegetables and cut into bite-sized pieces. Place the pak choi across the cutting board lengthwise and cut into strips from right to left. Separate the front part with mostly green leaves from the stem parts. Add the stems to the remaining vegetables and keep the green leaves in a separate bowl.
For the sauce, mix together miso paste, 1 tablespoon sesame oil, tamari and sambal oelek, 1 teaspoon of lime juice. Optionally some grated ginger (only if you have the time).
Heat 1 tablespoon of sesame oil in a large pan or wok. Sauté the vegetables in it for about 2 minutes. After about 2 minutes, add the green leaves of pak choi. Cook the vegetables for another 2-3 minutes until tender.
Add the sauce to the vegetables and pan in the pan.
Serve the vegetables with the cooked quinoa.
Recipe by
Heavenlynn Healthy
at https://www.heavenlynnhealthy.com/quick-easy-miso-vegetable-stir-fry-quinoa/