Almond, chickpea and beetroot salad with dill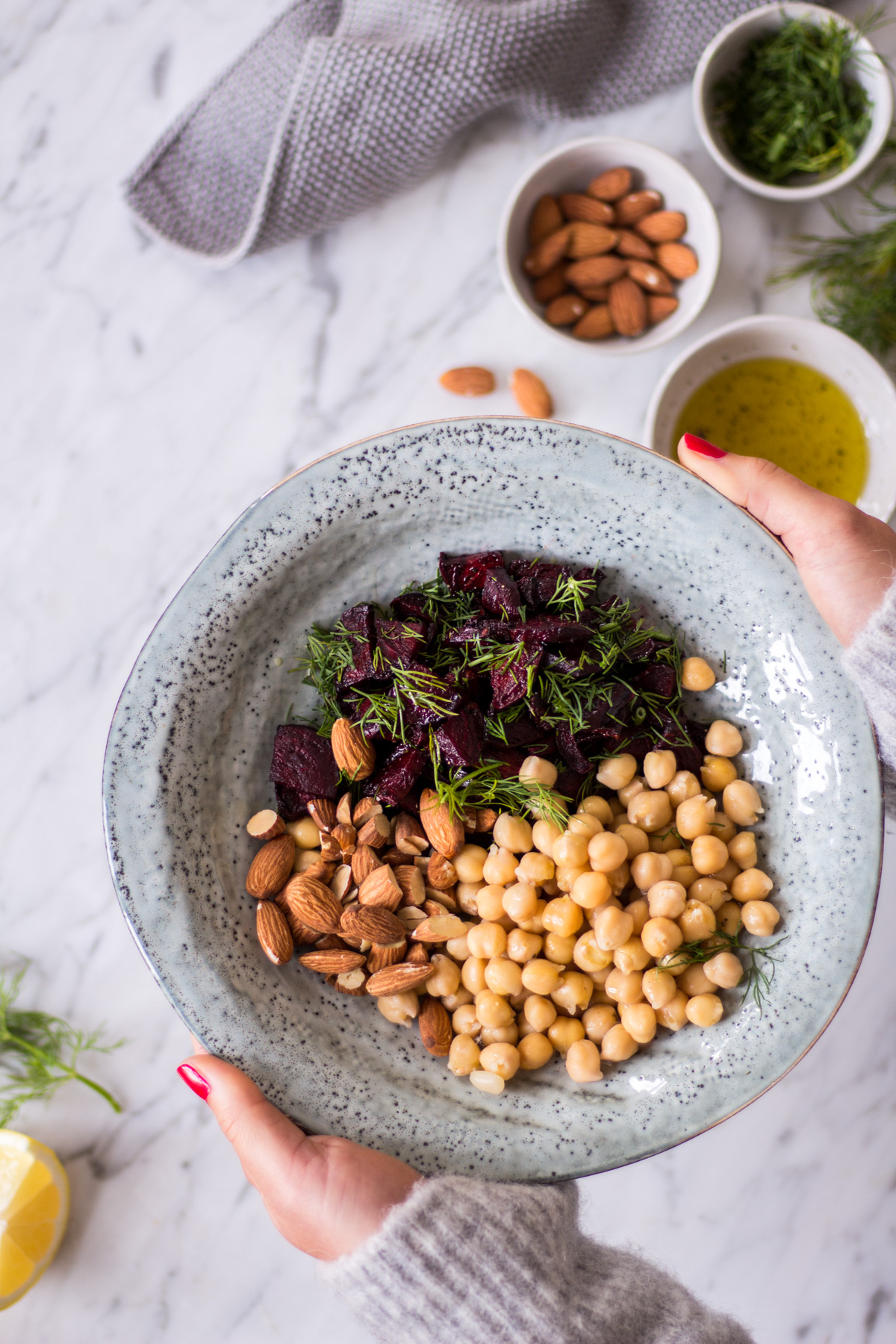 500 g of fresh beets (not the cooked ones)
60 g of almonds
1 glass (350 g) of chickpeas, drained and washed
3 stalks of fresh dill
3 tablespoons of virgin olive oil
3 tablespoons of balsamic vinegar (without additives or added sugar)
1 tablespoon of fresh lemon juice
Sea salt and pepper, as needed
Peel the beetroot, cut it into bite-sized pieces and place in a mixing bowl. Marinate with 1 tablespoons of olive oil and 1 tablespoons of balsamic vinegar, sea salt and pepper and place on a baking tray with (reusable) baking paper and roast at 180 ° C circulating air for about 25-30 minutes. The baking time may vary depending on the oven. So feel free to check it out after 20 minutes.
In the meantime, wash the chickpeas and add them to a salad bowl. Chop the dill and almonds roughly and add to the chickpeas.
Stir up a dressing from the remaining olive oil and vinegar, the lemon juice and a little sea salt and pepper.
Put the roasted beetroot in the salad bowl and spread the dressing over the salad. Stir well and serve immediately.
This salad is the perfect meal or even snack during the day and can also be taken to work the next day in a lunch box or a mason jar.
Recipe by
Heavenlynn Healthy
at https://www.heavenlynnhealthy.com/almond-chickpea-beetroot-salad-dill/