Better than takeout thai peanut noodle soup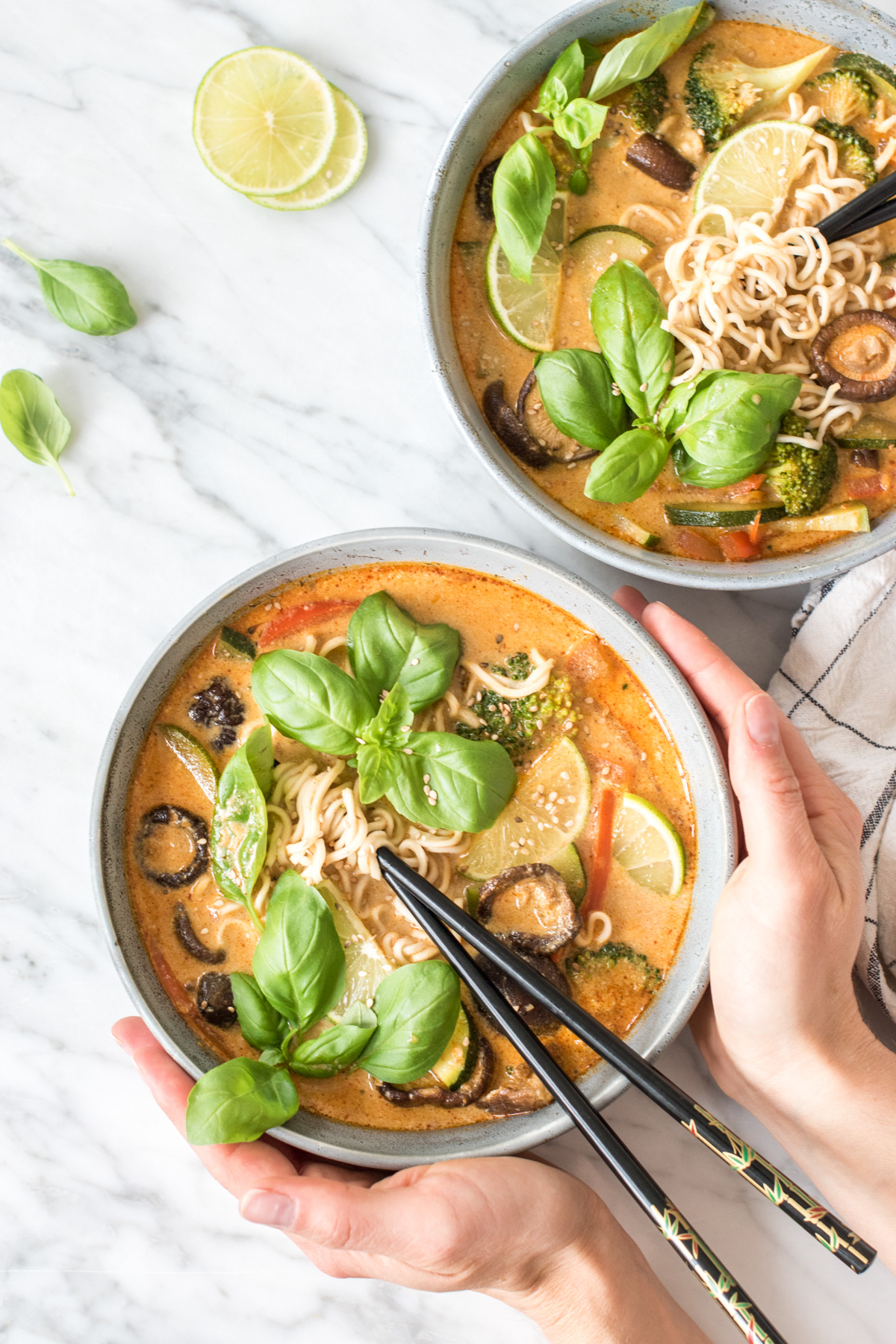 40 g of dried shiitake mushrooms, or 150 g of fresh shiitake
1 clove of garlic
2 cm of fresh ginger
2 tablespoons of red Thai curry paste
1 red bell pepper
1 zucchini
½ brokkoli
1 tablespoon of virgin coconut oil
1 liter of water
2 tablespoons of vegetable broth paste
1 can of coconut milk
1 teaspoon of maple syrup, rice syrup or honey (I prefer honey in this soup)
2 tablespoons of no-fish-sauce
4 tablespoons of tamari or soy sauce (not gluten-free)
60 g peanut butter, no additives
3 squares of Mie noodles (I use the Spelled-Mie noodles from Albgold), use gluten-free rice noodles for a gluten-free option
1 lime
fresh thai basil to serve, or cilantro or normal basil if you don't have an Asian supermarkt near you
If you use dried mushrooms, they must be soaked in water at least 1 hour before. If you are using fresh shiitake mushrooms, slice them.
Finely chop the garlic clove and ginger. Core the pepper and cut into strips. Cut the zucchini into pasta with a spiralizer or cut into thin strips with a peeler. Cut the brokkoli into bite-sized pieces. Put the Mie noodles in a large mixing bowl and pour boiling water over them. Let them soak for 5-8 minutes, drain the water and put the noodles aside.
Heat the coconut oil in a saucepan. Fry the garlic, ginger and add the Thai curry. Add the water, the vegetable stock paste (or 1 liter vegetable stock) and the coconut milk. Bring to a boil, reduce the heat and add the honey, no-fish sauce, tamari and peanut butter. Let it simmer for 10 minutes, then add the sliced vegetables and mushrooms and cook for about 5-7 minutes. Stir in the noodles right and warm them for about a minute or so.
Season the soup with the lime juice and possibly more tamari and serve with fresh herbs.
Recipe by
Heavenlynn Healthy
at https://www.heavenlynnhealthy.com/better-than-takeout-thai-peanut-noodle-soup/