Kimchi Summer Rolls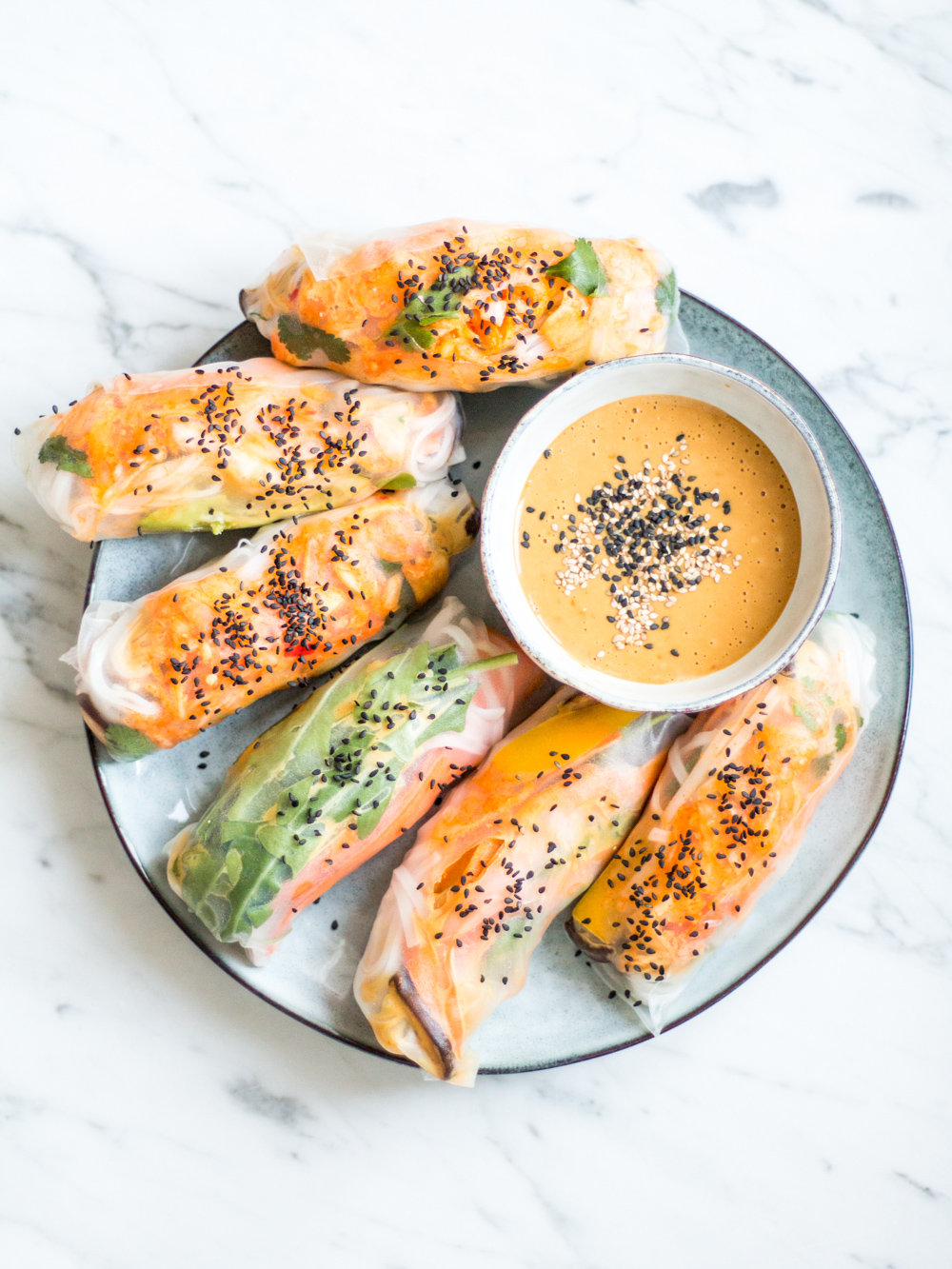 10-15 g (whole-grainl) rice noodles
75 g shiitake or regular mushrooms
1 carrot
1 avocado
½ cucumber
½ bell pepper pepper
100 g of rocket
6-8 leaves of rice paper
100 g of kimchi, more as needed
1-2 teaspoons of tamari (for the mushrooms)
1 clove of garlic
2 cm of organic ginger
2 tablespoons of coconut milk
2 tablespoons tamari (gluten-free soy sauce or normal)
1 teaspoon maple syrup, rice syrup or coconut blossom sugar
Juice ½ lime
85 g peanut or almond purée
2 tablespoons cold water (optional)
Cover the rice noodles with hot water and soak for about 10 minutes. Drain the water and put the pasta into a bowl.
Slice the shiitake or mushrooms and place in a pan. Roast them without fat for a few mintues and then deglaze with about 1-2 teaspoons of tamari.
Cut the vegetables into long strips, wash the rocket.
Peel the garlic and ginger. I do not necesarrily peel the ginger, it depends on your preference. Put all the ingredients for the dip into a Food Processor or blender and puree into a smooth sauce. Alternatively, chop the garlic and ginger and mix with the other ingredients using a whisk. Depending on the desired consistency, add water until it's perfect for you.
Place one rice paper in a bowl of warm water to soften it.
Once soft, put the paper on a large plate and top with some vegetables, rice noodles, rocket, shiitake and kimchi and 1-2 teaspoons dip. Turn over the rice paper, fold and roll up. Repeat with the other rice papers.
Enjoy the summer rolls with the dip.