Almond Coconut Granola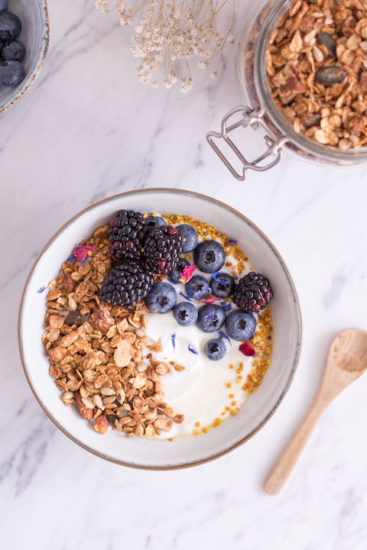 2 cups (160g) of rolled oats, use certified gluten free if allergic
1 cup (120g) of sunflower seeds
½ cup (60g) of pumpkin seeds
½ cup (75g) of raw unpeeled almonds
½ cup (50g) of pecans
½ cup (60g) of flax seeds
2 tablespoons of shredded coconut
2 tablespoons of virgin coconut oil
3 tablespoons of maple syrup
2 teaspoons of cinnamon
Preheat the oven to 180°C (360 °F).
Start by putting the almonds and pecans into a food processor and crush for 2-3 pulses until they are broken into pieces. They should not be completely crushed, you still want to be able to identify them as nut pieces. Place the crushed nuts into a large bowl. Add all the dry ingredients except cinnamon, and stir well until the ingredients are combined.
Next, melt the coconut oil in a small sauce pan. Add the agave and cinnamon, and stir well until everything is dissolved.
Now pour the sweet coconut cinnamon mix over the dry ingredients and mix well until everything is slightly sticky.
Pour the granola on a baking sheet which you have aligned with parchment paper, and bake for about 20 - 25 minutes. After 10 minutes or so, take the pan out and stir well so the outer edges do not get burned. Repeat this every 5 minutes for the rest of the time.
Take out the tray and leave it to cool for about 20 minutes. By this time the granola should be nicely crunchy but not burned and your kitchen should smell divine.
Serve with non-dairy milk, greek or non-dairy yogurt, and top with fruits. Stored in an air-tight container it should taste amazing for up to 6 weeks.