Heavenly Healthy Nutella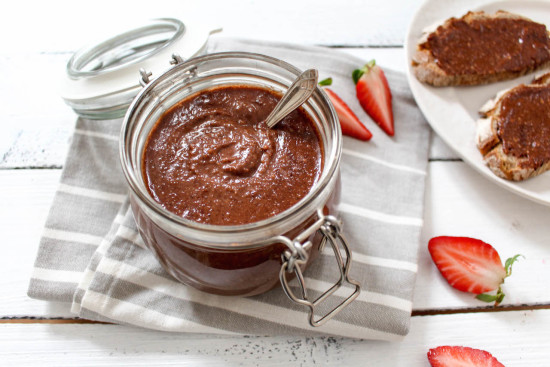 2 cups (270g) hazelnuts
½ cup (120ml) maple syrup
½ cup (120ml) hazelnut or almond milk
3 tbsp raw cacao
the insides of a vanilla pod
Start by preheating the oven to 180°C (360°F).
Pour the hazelnuts into a baking sheet and bake them for 10 minutes so they can develop their unique nutty flavor. Remove from the oven and let them cool for another 10 minutes.
Once they have cooled down, add the hazelnuts to a food processor and blend them for about 5 minutes until they are broken down nicely. This may take longer or less time depending on the strength or your food processor.
Now add the maple syrup, the cacao and the vanilla and blend for another one or two minutes.
Then gradually add the almond milk and blend again until the nutella is nicely smooth. Add more maple syrup or almond milk if desired.
Stored in an air tight container and in the fridge it should last for about 1 week.