Re-Energizing Lentil Bolognese with Zucchini Noodles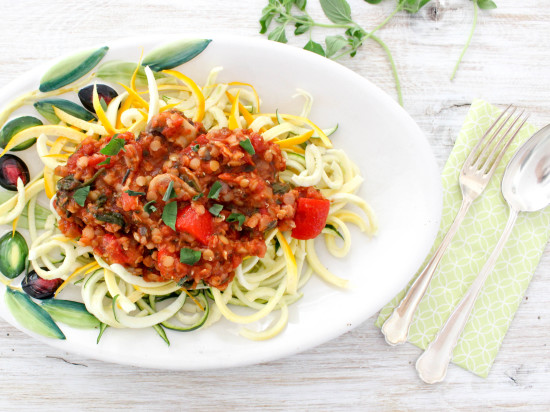 2 onions, chopped
1 clove garlic, minced
2 cans diced tomatoe
8 tbsp (200ml) tomato paste
½ cup (100g) uncooked red lentils
3 large handful of spinach, chopped
2 cups (about 10) sliced mushrooms
1 red pepper, diced
1 cup of fresh basil leaves, chopped
2 tbsp olive oil
2 tsp dried oregano
1 tsp dried thyme
¼ tsp cayenne pepper
½ tsp chili flakes (optional)
4 zucchini squash or whole-wheat (glutenfree) pasta
½ tsp salt
salt and pepper to taste
Cook the lentils according to the directions on the package. Red lentils should normally cook for no longer than 15-20 minutes or they will lose texture and fall apart.
Heat the oil in a large saucepan. Add the onion and minced garlic and sauté for about 2 minutes. Season with salt and pepper.
Add the mushrooms and red pepper and raise the heat to medium-high. Cook for about 5-10 minutes until the liquid released by the mushrooms has evaporated. Now add the spinach and cook for another 5 minutes or until the spinach has welted.
Now add the basil, the diced tomatoes, tomato paste, salt, oregano, and thyme. Stir everything well to combine. Then add the cooked red lentils, chili flakes and cayenne pepper, and stir to combine.
Reduce the heat to medium-low and let the sauce simmer for 10-15 minutes.
In the meantime, prepare the zucchini noodles by running them through a spiralizer. Heat the vegetable broth in a medium or large saucepan, and cook the zucchini noodles for about 3-4 minutes until they have heated up.
Serve the sauce with the zucchini "zoodles" or with your favorite kind of pasta or rice.
Recipe by
Heavenlynn Healthy
at https://www.heavenlynnhealthy.com/re-energizing-lentil-bolognese-with-zucchini-noodles/