Thai Coconut Soup (Tom Kha Veggie)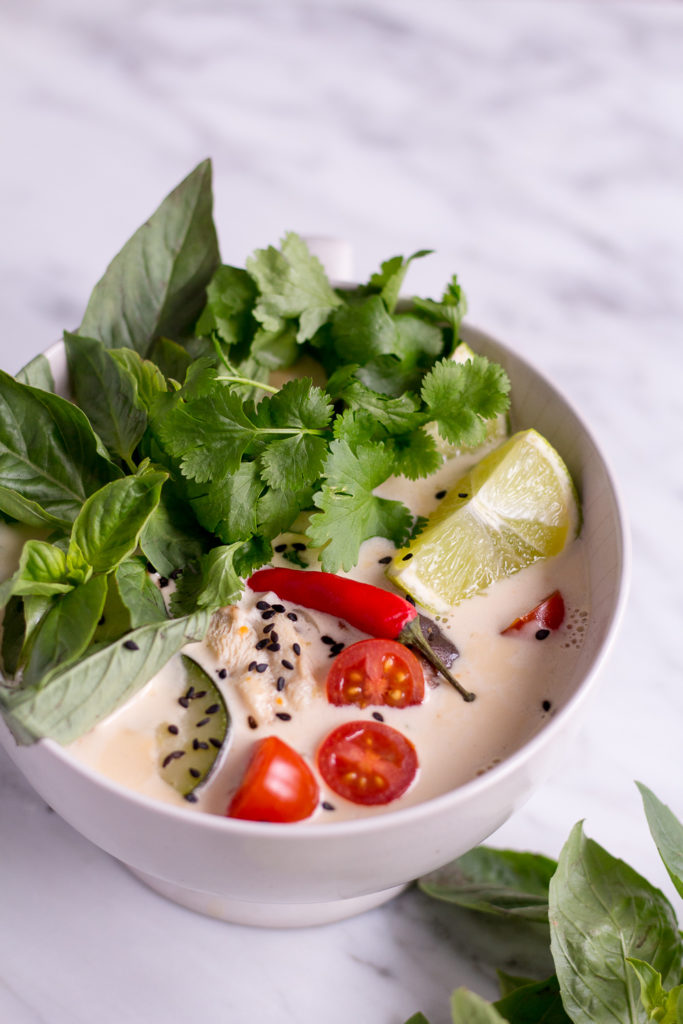 4cm (1.5 inches) fresh ginger
4 stalks of lemongrass
4 dried lime leaves
3 cups (750ml) of coconut milk
1 cup (250ml) of water or vegetable broth
1 - 2 tablespoons of homemade vegetable stock paste if using water above
200g (2 cups) of shiitake mushrooms
150g (about 10) cherry tomatoes
1 red bell pepper
1 zucchini
1 chili
1 tablespoon of coconut sugar or honey
2 limes
sea salt to taste
fresh thai basil and cilantro to serve
Wash the red bell pepper and zucchini and cut cut them into bite-sized pieces. Wash the mushrooms and cut them into slices. Using household gloves, slice the chili, remove the seeds and finely chop it. Slice the cherry tomatoes.
Crush the lemongrass with a large knife, and cut into 1 inch (2-3cm) long pieces. Finely chop the ginger. Add both to a pot or dutch oven together with the coconut milk, water and veggie stock paste or vegetable broth and bring to a boil.
Lower the heat and add the red bell pepper and zucchini, mushrooms, cherry tomatoes and lime leaves and let simmer for about 10 minutes on low heat. Add the lime juice and coconut sugar or honey and let simmer for another 5 minutes.
Try to remove the lemongrass and lime leaves to your best abilities, so you won't bite on them.
Serve in medium sized bowls and garnish with fresh thai basil leaves, coriander and black sesame seeds.
Recipe by
Heavenlynn Healthy
at https://www.heavenlynnhealthy.com/thai-coconut-soup-tom-kha-veggie/