Healthy Peanut Butter & Jelly Christmas Cookies (German Spitzbuben)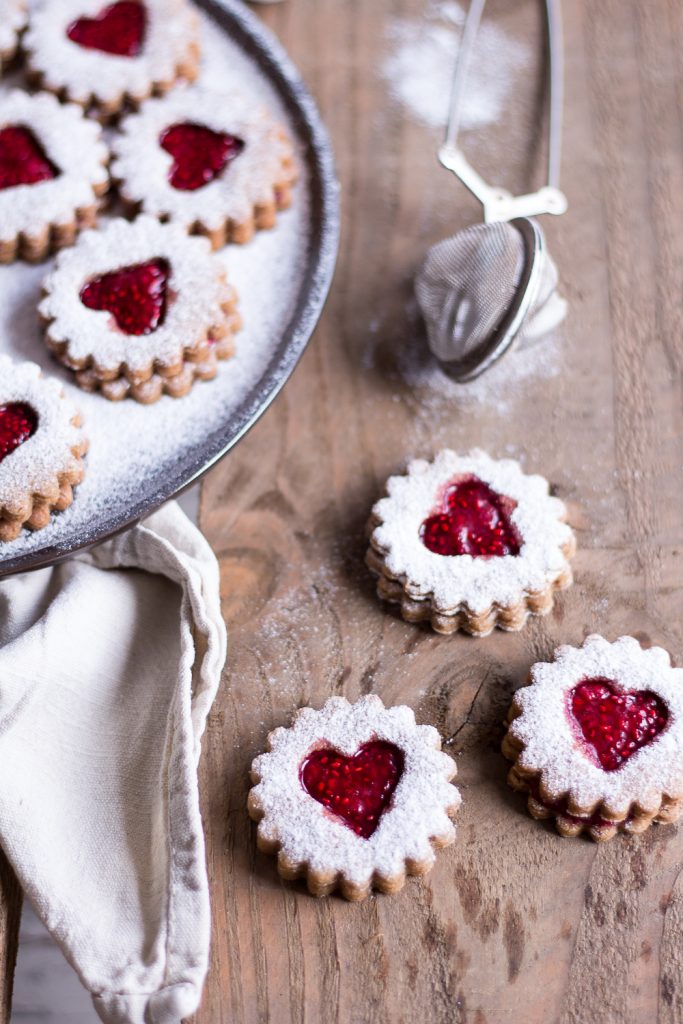 100g of (gluten free) oats
100g of buckwheat flour or spelt flour (spelt is not gluten free)
70g of ground almonds
90g of coconut sugar
70g of extra-virgin coconut oil
60g of peanut butter
1 tablespoon of of ice water
1 tablespoon of chia seeds + 3 tablespoons of water
1 vanilla bean
1 teaspoon of aluminum-free baking powder
a pinch of salt
a bit of powdered xylit to sprinkle
Place the oats into a food processor or mixer and until ground to a flour. Set aside.
Place the chia seeds and water into a small bowl, stir and set aside to thicken for about 10 minutes. Stir it at least once again.
Heat the coconut oil in a small pot, and then fill it into a mixing bowl or food processor. Add coconut sugar, peanut butter, chia-mix, the inside of the vanilla bean and mix until well combined, for about 30 seconds to one minute.
Now add the ground oats, ground almonds, buckwheat or spelt flour and mix well. If the dough is too dry, add one tablespoon of ice-cold water. Place the dough into the fridge for one hour.
Pre-heat the oven to 180°C.
Place the dough on the kitchen counter that you sprinkled with buckwheat flour. Knead it quickly, then roll out the dough with a rolling pin. Cut out circles with cookie cutters. Cut smaller shapes into the middle of half of the circles. (I used hearts, but circles would work just as well).
Place the cookies onto a baking sheet aligned with baking paper and bake for 8 - 12 minutes. Be sure to check them after 8 minutes to determine the final baking time. They burn quickly.
Let the cookies cool for a bit, then place about half a teaspoon of healthy chia jam on the cookies without the whole in them. Place the cookies with the whole on top of the chia jam and gently press them down.
Recipe by
Heavenlynn Healthy
at https://www.heavenlynnhealthy.com/healthy-peanut-butter-jelly-christmas-cookies-german-spitzbuben/