Healthy Apple-Cinnamon Muffins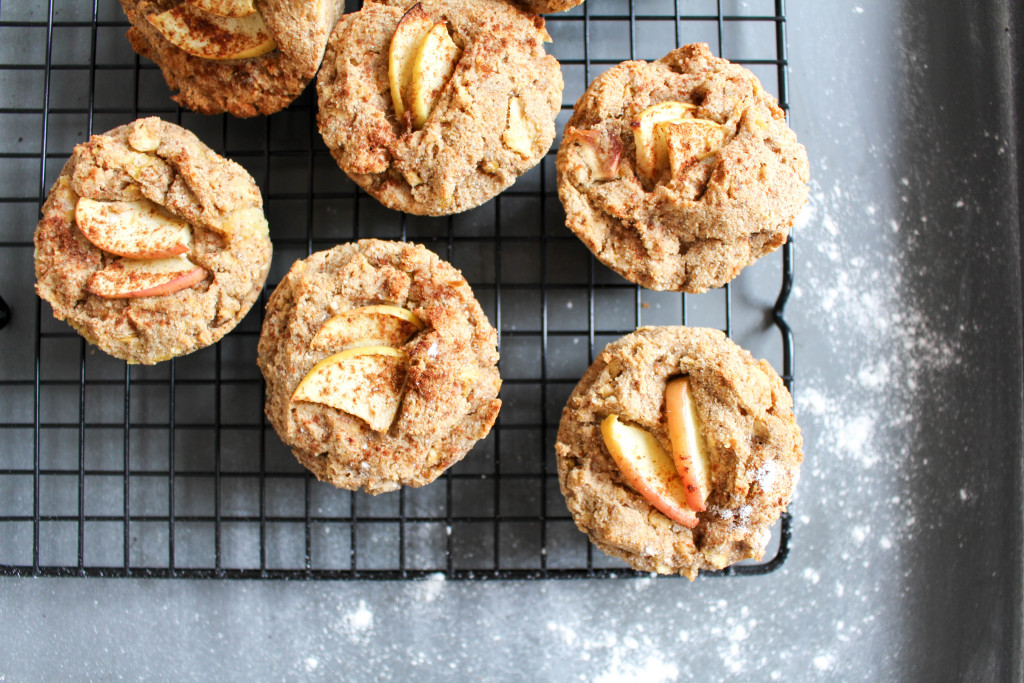 1 cup (100g) of ground almonds
1 cup (100g) of (gluten-free) buckwheat flour (or coconut flour)
¾ cup (75g) of (gluten-free) oats
1 cup (150g) coconut sugar
1 cup (240ml) of almond milk ( (gluten-free) oat milk or rice milk)
2 apples (mine weighed 150g each)
½ cup (120g) of homemade apple purée
⅓ cup (80g) of extra-virgin coconut oil (+ 1 or tablespoons for greasing )
2 tablespoons of chia seeds + 6 tablespoons of cold water
2 teaspoons of cinnamon
1 teaspoon of apple cider vinegar
1 tablespoon of arrowroot powder (or any other plant based thickener)
1½ teaspoons aluminium free baking powder
½ teaspoon of baking soda
a pinch of salt
Start by pre-heating the oven to 200°C (400°F). Grease the muffin tin with coconut oil.
Add about three tablespoons of the almond milk and the arrowroot powder to a bowl and whisk well until the powder has completely dissolved. Then add the rest of the almond milk and the teaspoon of apple cider vinegar and set aside.
Now add the chia seeds and water to another bowl and let it thicken for about 10 minutes.
Grate one of the apples and cut about half of the other one into thin strips. This will be used to decorate the muffins. You can either eat the other half or store it in the fridge for breakfast.
Now add the oats to a food processor or strong blender, and break them down to a flour. Add all the other dry ingredients and mix well. Now add the chia-egg, almond milk, coconut oil and about ⅓ a cup (80g) of the apple purée. You can either mix it in your food processor or you can use a hand mixer to do so. Now add the grated apple and carefully mix it into the dough. If you are using a food processor, be careful not to use too much power or the apple will completely dissolve in the dough.
Next, add the dough to the muffin tin, only filling the holes half way up. Add about a teaspoon of the remaining apple sauce to each muffin, and cover with the rest of the dough.
Grease the apple slices with coconut oil, cut them in half and stick them into the muffins, gently pressing them down while you do so.
Bake the apple cinnamon muffins for about 25 minutes until they are golden brown and you can pull a fork out of it clean (you want to do the test somewhere around the sides, as the apple purée will still be wet in the middle, which is supposed to be this way.)
Enjoy!
Recipe by
Heavenlynn Healthy
at https://www.heavenlynnhealthy.com/healthy-apple-cinnamon-muffins/