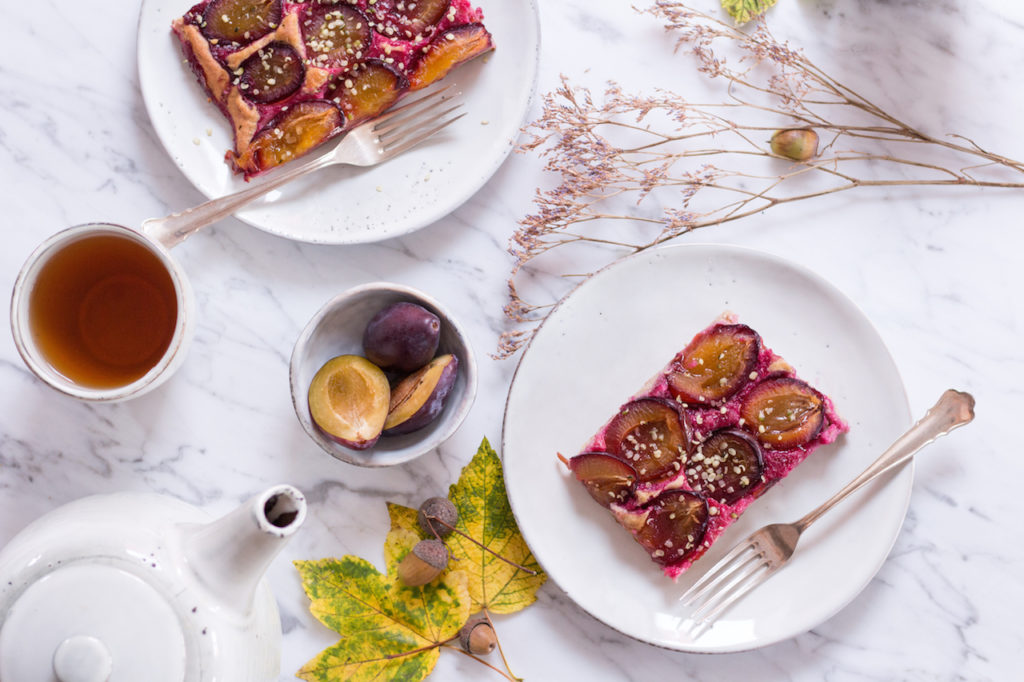 I've had some exciting few weeks, which is why it has been a bit quiet on the recipe side, but today, I'd like to introduce you to a German specialty: plum cake with buckwheat & spelt dough. The original dough is obviously not made with buckwheat or spelt, but normal white flour, but white flour isn't really nutritious, so whole-wheat it is. Germans eat their plum cake with a yeast dough – now, this might seem very strange to non-Germans, but trust me, it's divine. The dough is similar to that of bread: flour, yeast, almond milk and a bit of coconut oil, and you simply top it with fruit, but you normally only see it with plums, or damsons, a special and very sweet kind of plum that we get over here. 
The real hero of this post, however, are my new plates and mugs from Broste Copenhagen*, one of my favorite interior and pottery brands. It's funny, but you would think that I have a large cupboard of plates and bowls and could host a large number of people. However, I do have plenty of bowls and plates, but never more than two matching ones. So when Broste Copenhagen sent me this generous gift with their Nordic Sand collection, I did a long happy dance, because I am now finally able to host more than four people with matching plates and bowls. And look at how beautiful they are. I am madly, deeply in love with this brand. I already had a few of their items before, but I am now so proud of my collection – what a big step towards being a grown-up.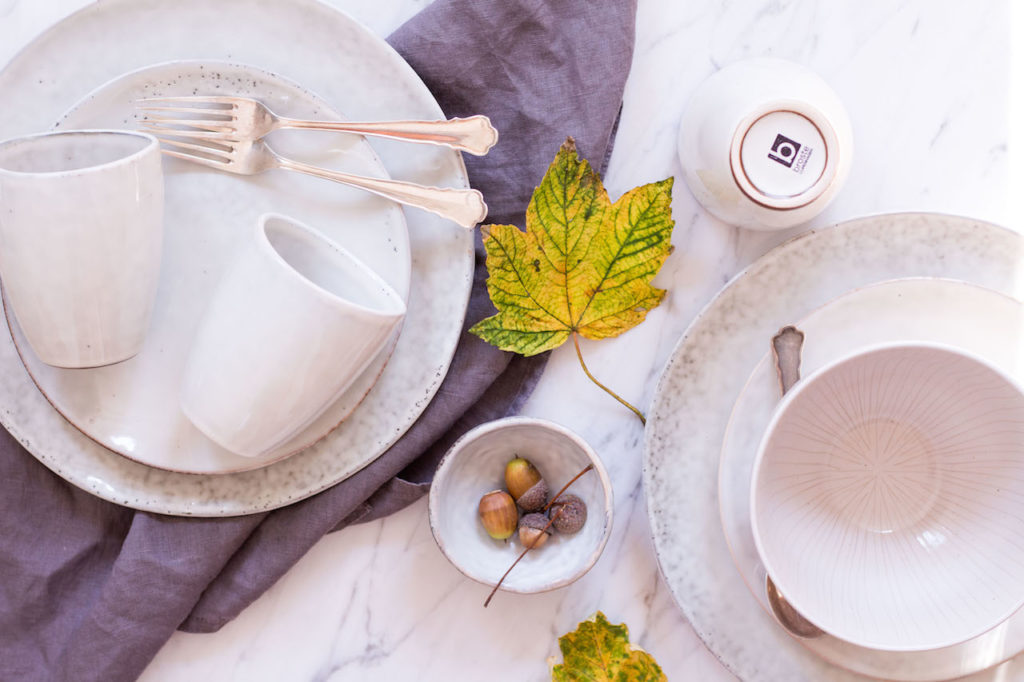 So now that we've briefly discussed my love for pretty tableware, let's get back to this plum cake with buckwheat & spelt dough. Plum cake brings back so many childhood memories. For me it means family time in my grandmother's garden. It means bees swirling around the cake, it means kids birthday parties, barefoot handstands and wheels on the grass. Those were the perfect summer days, and I remember it like it was yesterday. Now, unfortunately my grandmother is no longer with us, but I still feel the urge to make a plum cake every late summer according to her recipe.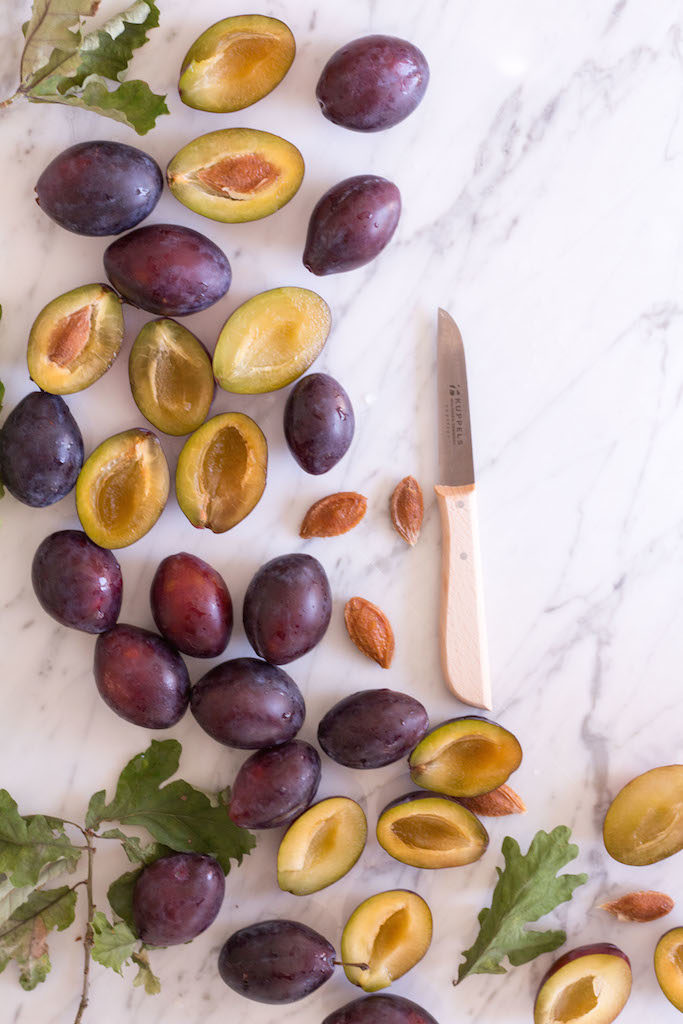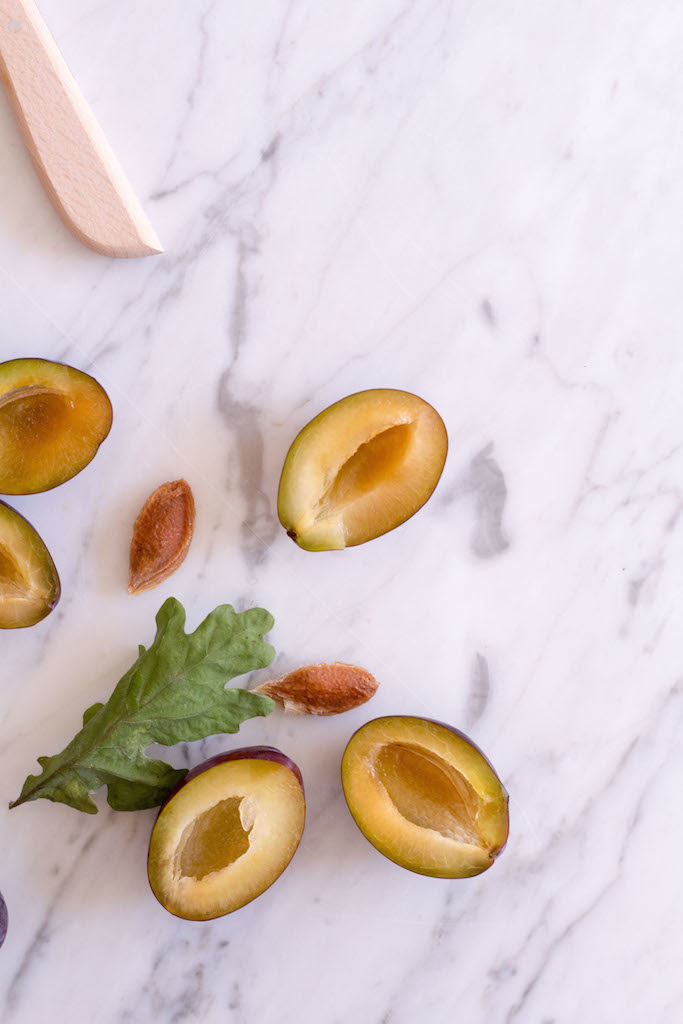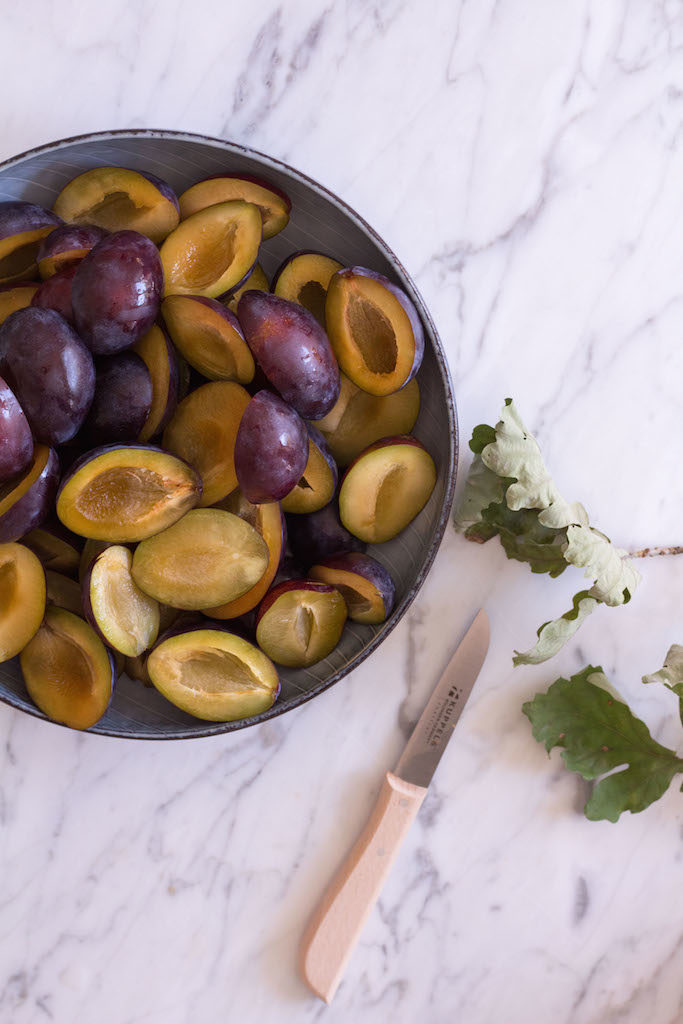 Of course the traditional recipe has been tweaked to healthify it: instead of white flour I used a mix of buckwheat and spelt flour to give it more fiber and protein. The dough is also made of delicious coconut oil, almond milk, rice syrup (or raw honey) sparkling water to make it fluffy, as well as yeast. All recipes add up to a warming, but not overly sweet base, which, topped with sweet plums make for the perfect goodbye-summer and hello fall cake.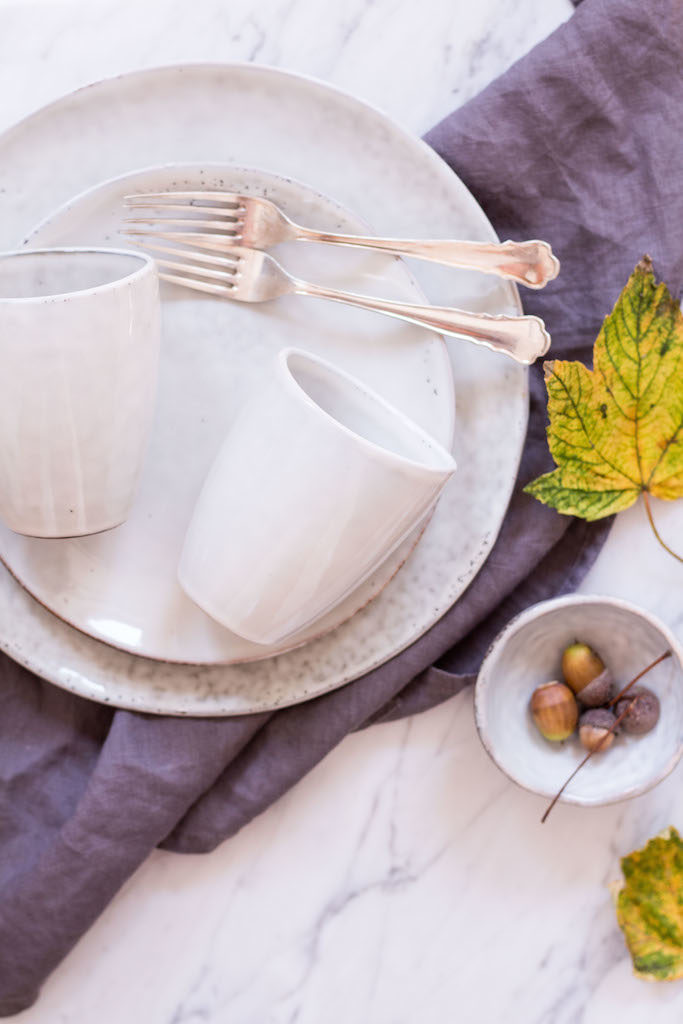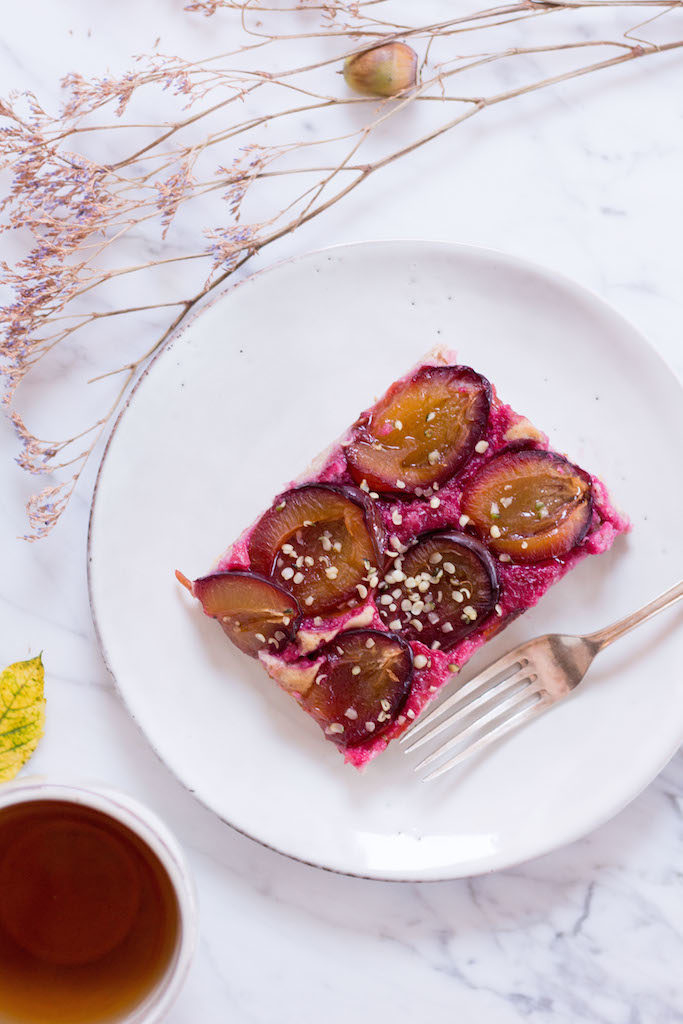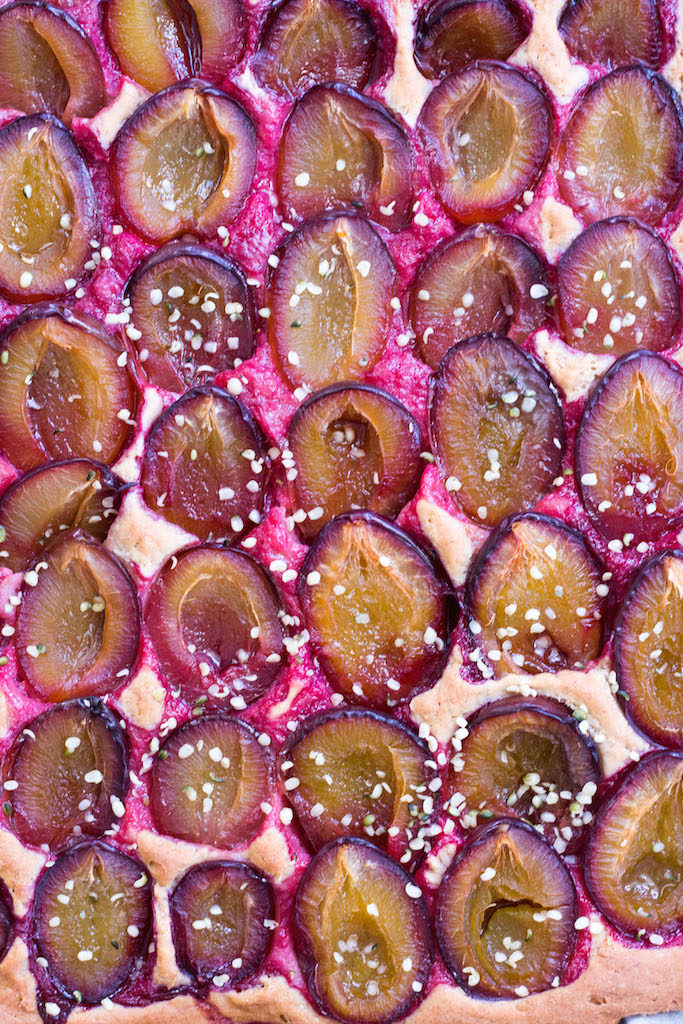 Now, to all my non-German friends, this plum cake with buckwheat & spelt dough is something to get used to, and they are not for everybody. I just wanted to tell you this straight up front, so you know not to expect a normal sweet cake dough. If you do decide to give it a try though, I promise that you will try something that you have never tried before.
Plum Cake with Buckwheat & Spelt Dough
Ingredients
250g buckwheat flour
250g spelt whole wheat or brown rice flour if gluten-free
1 package dry yeast or 40g of fresh yeast if available
2 tablespoons of lukewarm almond milk or water
5 tablespoons + 1 teaspoon of rice syrup or raw honey
250ml of sparkling water
50g extra-virgin coconut oil
1kg of plums
3 tablespoons of coconut sugar (optional)
hemp seeds for decorating (optional)
a pinch of salt
Instructions
Add the yeast to a small bowl. If you are using fresh yeast, then break it down into small pieces. Slowly add the lukewarm almond milk or water, as well as one teaspoon of rice syrup or honey. Set aside for 10 minutes. The yeast should start to form bubbles, then you know it's been activated.
Next, add all the dry ingredients to a large mixing bowl. Then add the rice syrup or raw honey, coconut oil and sparkling water. Finally, add the yeast mix and knead the dough with your hands or a kitchen machine for 5 to 6 minutes. The dough will be sticky, so using a machine will definitely help here.
Cover the dough with a clean kitchen towel and set aside for 30 minutes so it can double its volume. It helps if you place the bowl in a warm environment, such as the oven set on low heat (30°C or 86°F).
While the dough rests, wash the plums, cut them in half and remove the stones.
Once the dough has doubled its volume, spread it on a baking tray that you greased with coconut oil or aligned with baking paper. Using a spatula or your hands and spread the dough evenly. This will be quite tricky as the dough is very sticky. It helps if you wet your hands before spreading it. Be patient, you will be able to spread the dough eventually. Trust me.
Place the plums on the dough, row after row, until every inch of dough is covered.
Bake at 180°C (360°F) for about 40 minutes. The exact time will vary depending on your oven.
Once the dough is slightly browned, but not burned, take the cake out of the oven. Sprinkle it with coconut sugar if you have a sweet tooth while it's still warm.
I decorated my cake with hemp seeds, but this is totally optional (though a nice additional protein boost).
The cake tastes delicious with whipped coconut creak or coconut yoghurt.
Enjoy!
*A big Thank You goes out to Broste Copenhagen for equipping the Heavenlynn Healthy kitchen with a generous amount of their beautiful plates and bowls. Thank you, Sarah, for the wonderful gift!
---
DID YOU MAKE THIS RECIPE OR HAVE ANY SUGGESTIONS, QUESTIONS OR COMMENTS?
Feel free to leave a comment below, and don't forget to tag your creations on social media using #heavenlynnhealthy.
I'd love for this blog to be a dialogue.
---