Ok, here's the thing: The German cuisine is not really known for its healthy twist, and that, my friends, is not a prejudice, it's a fact. If you ever visit Germany, and you happen to leave any of the larger cities, chances are slim that you will find a vegetarian, let alone a vegan meal. Of course, times are changing in Germany as well, but Bratwurst, Currywurst, and other meaty dishes are still the most common traditional dishes you'll find in my country.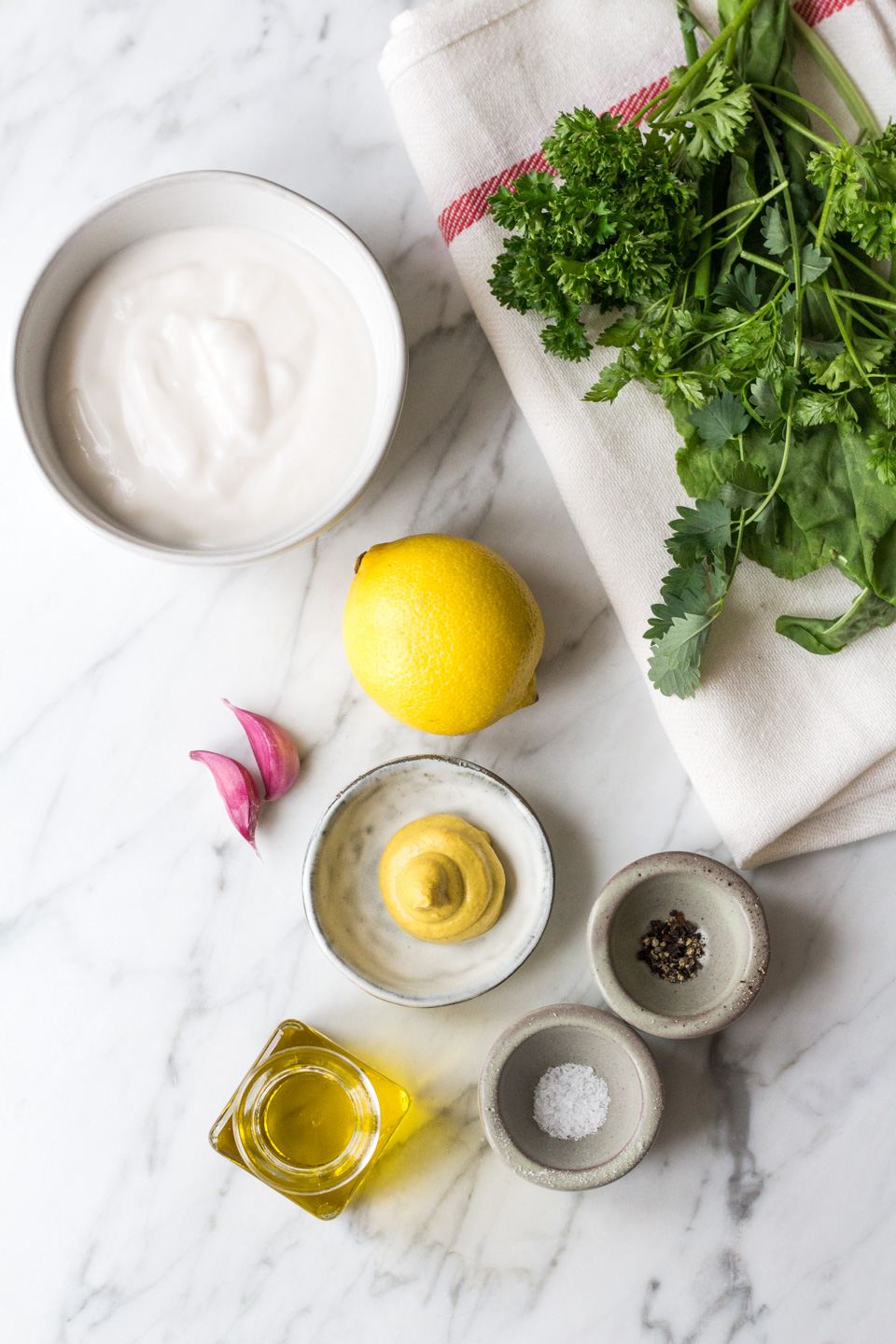 There are exceptions, however. One of them is the traditional so-called "Frankfurter Grüne Soße", which translates to "Frankfurt Green Sauce". This local dish originated in the Frankfurt area and has become quite popular in the entire country. Green Sauce is an herbed sauce that uses seven different herbs, which are pureed with yogurt, cream, eggs, and some other ingredients. While you could argue that the ingredient list of the original version is not exactly healthy, given the amount of heavy cream in it, the amount of herbs found in this sauce is, however, noteworthy.
It is noteworthy because the German cuisine is unfortunately not known for its excessive use of fresh or dried herbs. This is also true and not prejudice. The greatest amount of herbs are often found on the plate as a decoration, and frankly, most Germans leave them to be decoration. So the Frankfurt Green Sauce really stands out.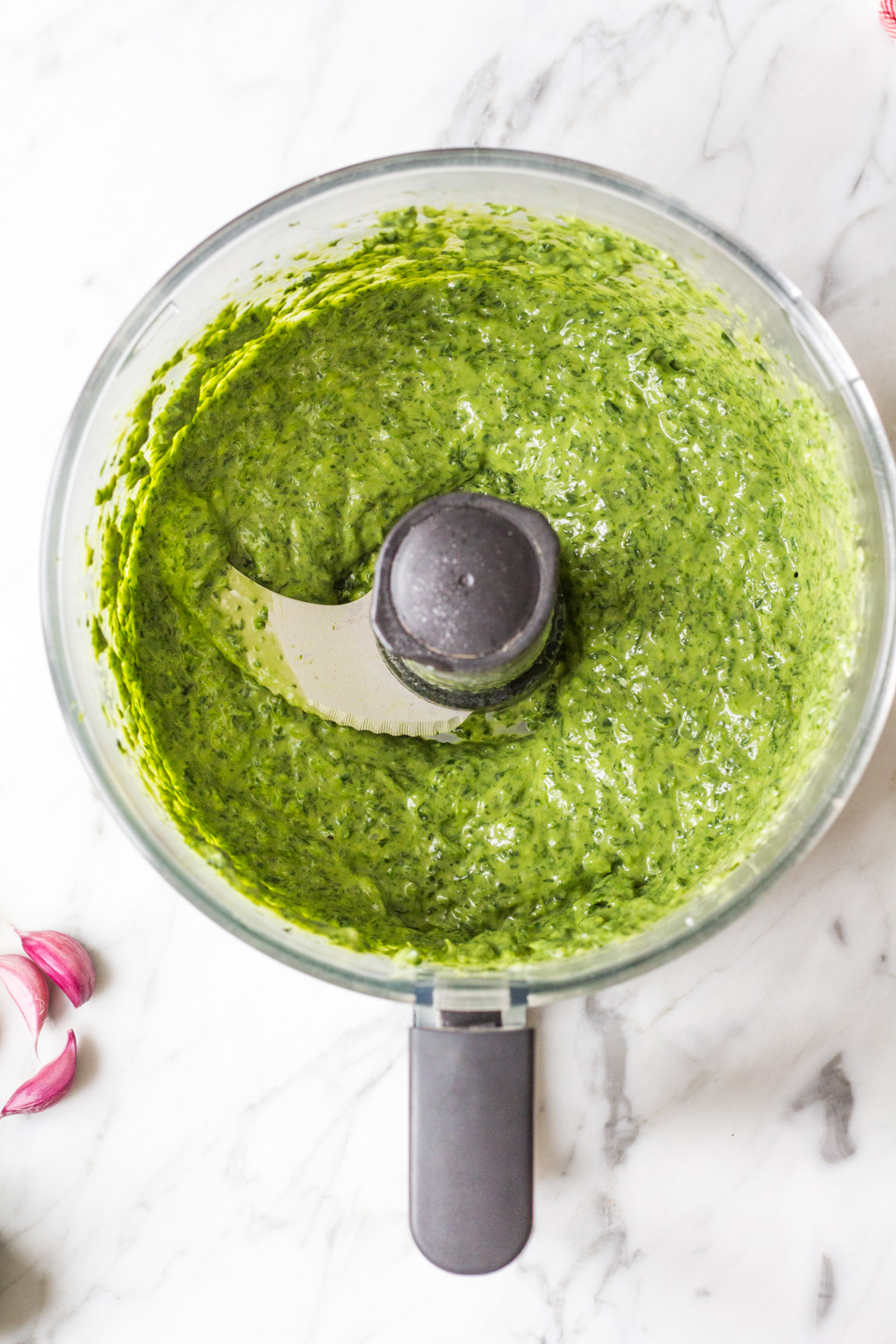 Obviously, I am slightly exaggerating right now. While our traditional dishes are not really high in nutrients, or fresh vegetables and herbs, many of my fellow Germans love good food and know how to cook delicious, and nutritious meals. Since traditional German foods aren't really popular amongst younger folks, and health-loving peeps (like me) anymore, many Germans eat quite international these days. I don't have any statistics to complement my statements, but from a feeling, I would say that the Mediterranean cuisine is the most popular one here, but the French, Thai, Vietnamese and American cuisine are also quite popular.
Back to this sauce. My version is plant-based, of course, and therefore I would say that it is definitely lighter than the original version. I used coconut yogurt, instead of cream, and I've omitted the boiled eggs completely. So really, the taste does not resemble the original recipe at all, but that's definitely not a bad thing in this case.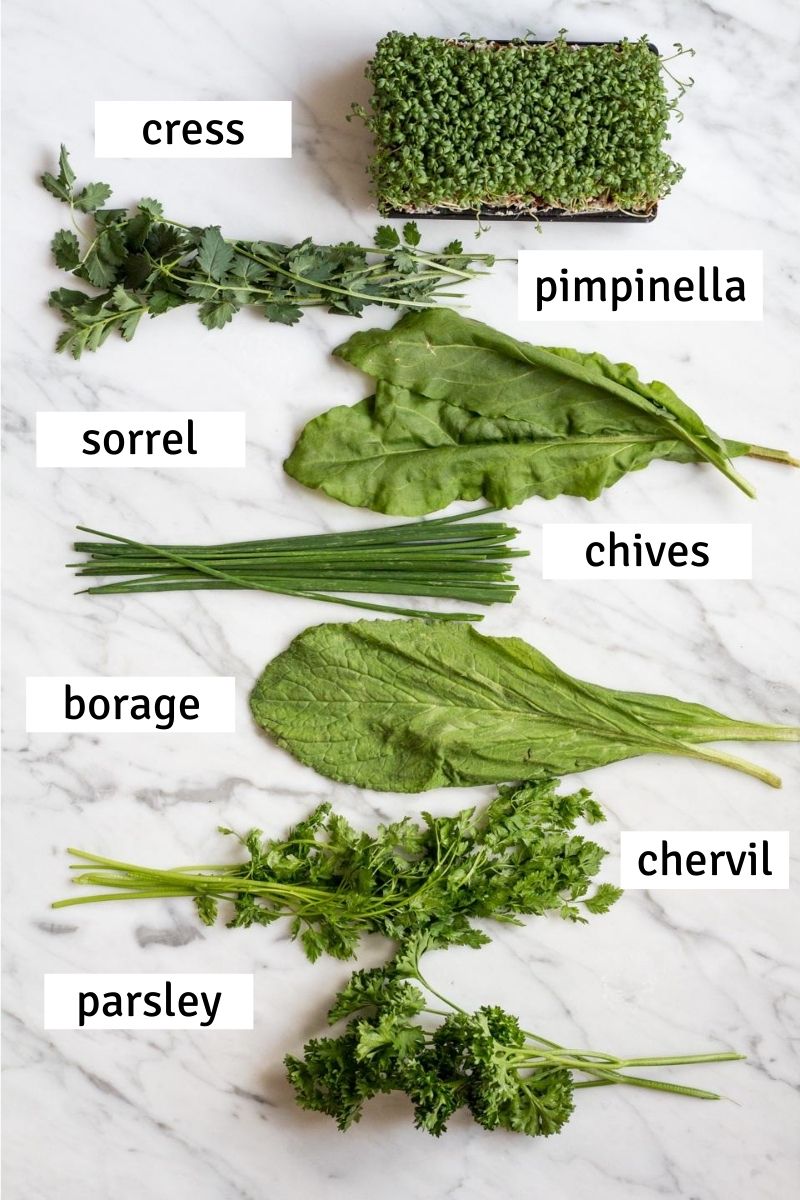 Let's have a look at the seven herbs, that make this sauce so special. You do not need to have access to all of these herbs in order to make this sauce. More about alterations in the recipe below:
Cress: The little leaves are so much more than just decoration. It contains a multitude of minerals and trace elements and even small amounts can really pay off.
Pimpinella: This pretty herb is also called "small meadow button" (at least in German) and it is very healthy for the body, especially because of its bitter substances. According to herbology, Pimpinelle has digestive, draining, and antispasmodic effects.
Sorrel: I was always proud of the fact that I knew early on where sorrel grows and how to identify and distinguish it from other herbs. What I didn't know then was that it is a medicinal plant rich in vitamin C and iron.
Chives: No, chives are not just a loveless decoration to garnish your meals. In herbal lore, it is said to reduce spring fatigue. Like most herbs, chives contain vitamin C and iron, but in quite small amounts.
Borage: In Germany, we call borage "cucumber herb", my guess is because it tastes delicious in cucumber salad. Borage has very fleshy, hairy leaves, and it grows from May to October. Particularly noteworthy is the high content of gamma-linolenic acid, a polyunsaturated omega-6 fatty acid, which among other things can strengthen the immune system, regulate blood pressure, and accelerate wound healing.
Chervil: This herb is also called "soup herb" here in Germany. Chervil is harvested from May to September and is recommended in herbology for colds, stress, and headaches.
Parsley: In the past (we are talking about ancient greek) parsley was much more than just decoration. It was valued as a medicinal herb and was used, among other things, to aid digestion. In the German cuisine, however, it is seldom more than a marginal garnish, something that we should change. Other cultures use parsley as a staple in their dishes (think Fattoush salad), which is so amazing! Parsley is surprisingly high in vitamin K (10 g cover the daily requirement by over 100%). Vitamin K is good for our keeping our bones healthy and it aids blood clotting.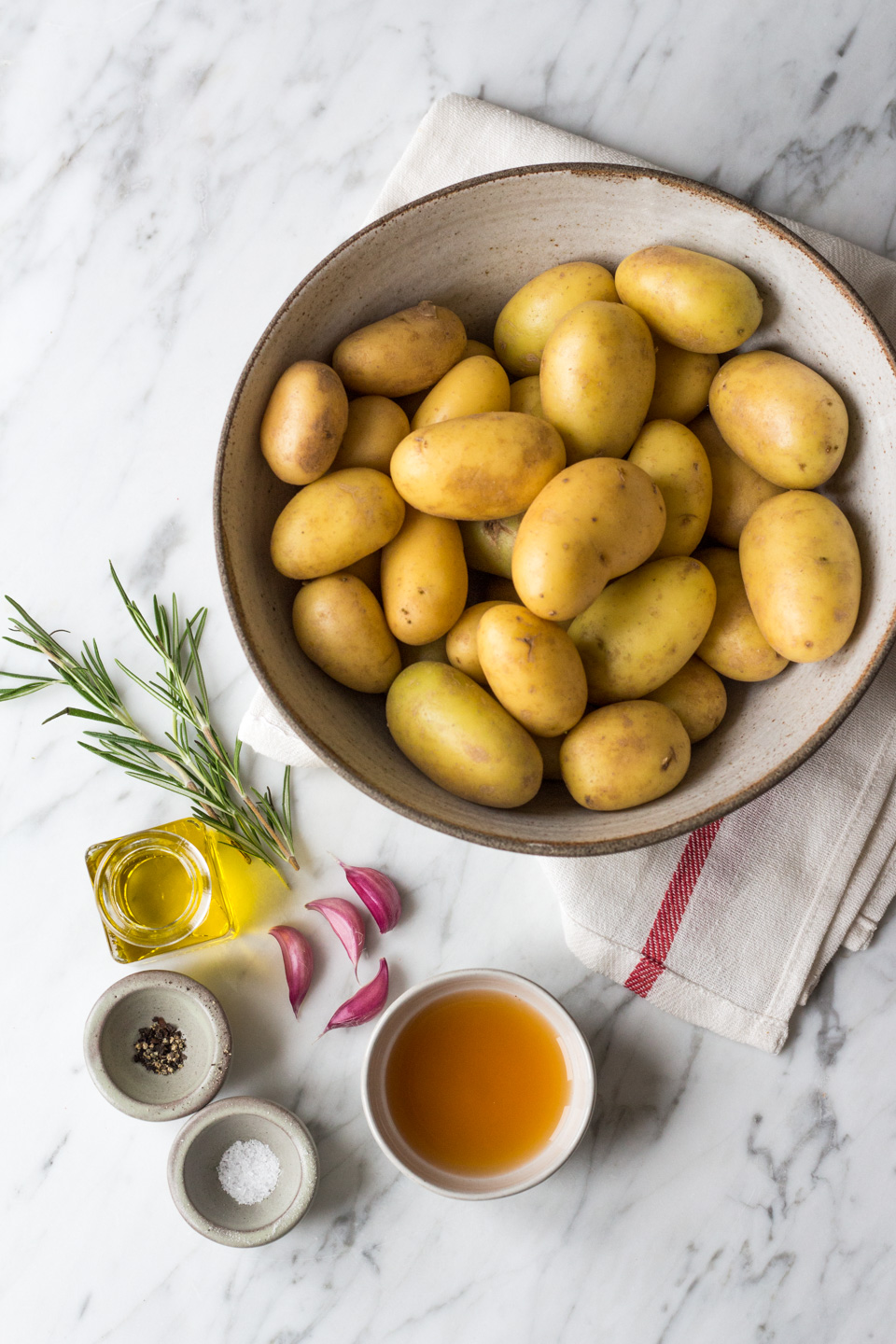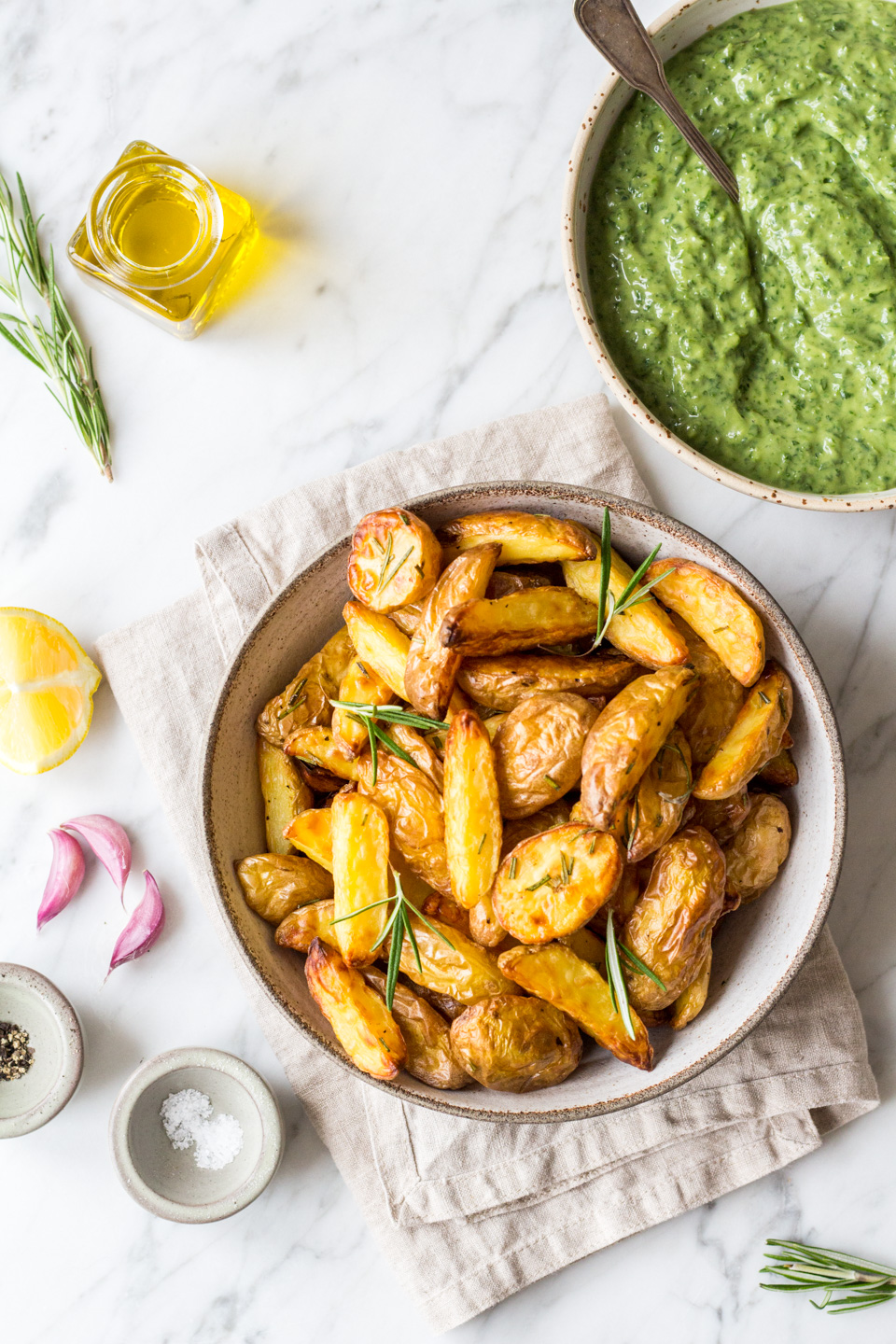 German Green Sauce is traditionally served with boiled potatoes, but I prefer them with roasted "salt and vinegar" & rosemary potatoes. You could of course also serve it with roasted vegetables or simply as a dip.
Enjoy!
xx
Lynn
Print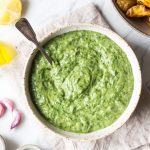 Plant-based German "Green Sauce"
---
Author:

Total Time:

10 minutes

Yield:

8

1

x
1

bunch of "Green Sauce" herbs  (see text above)

2

garlic cloves, peeled

400 g

of coconut yogurt
the juice of half an organic lemon + a bit of lemon zest

1 tablespoon

of dijon mustard

2 tablespoons

of extra-virgin olive oil

1/2

–

1

tablespoons of apple cider vinegar
sea or rock salt and black pepper to taste
---
Instructions
Wash and dry the herbs.
Place all ingredients into a food processor or mixer and finely puree everything. Season with lemon juice, salt, and black pepper and serve with roasted potatoes.
Notes
If you do not live in Germany or have access to the above-mentioned herbs, you can use different herbs. My favorite combination of herbs you find in all supermarkets is cilantro, mint, and parsley. Basil is also one of my favorites.
The bundels of herbs for German Green Sauce are quite large, which is why the recipe is enough for 8 portions. Half the recipe if you are using other herbs. You will need about a handful of each herb when you half the recipe (using 200 g of yogurt).
Print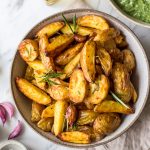 Salt and vinegar potatoes
---
Author:

Total Time:

55 minutes

Yield:

4

1

x
1

kg of small potatoes

3

garlic cloves

2 tablespoons

of extra-virgin olive oil

2 tablespoons

of apple cider vinegar
a few branches of fresh rosemary
sea or rock salt and black pepper to taste
---
Instructions
Half or quarter the potatoes, and add them to a mixing bowl. Pre-heat the oven to 200 °C. Roughly chop the rosemary.
Mix the olive oil with the vinegar, salt, and pepper, and add the mix to the potatoes together with the peeled garlic cloves. Place the potatoes onto a baking tray (or two).
Bake the potatoes for about 40-45 minutes, switching the baking trays halfway through if you are using two trays.
Serve the potatoes with the German Green Sauce.
Prep Time:

10

Cook Time:

45