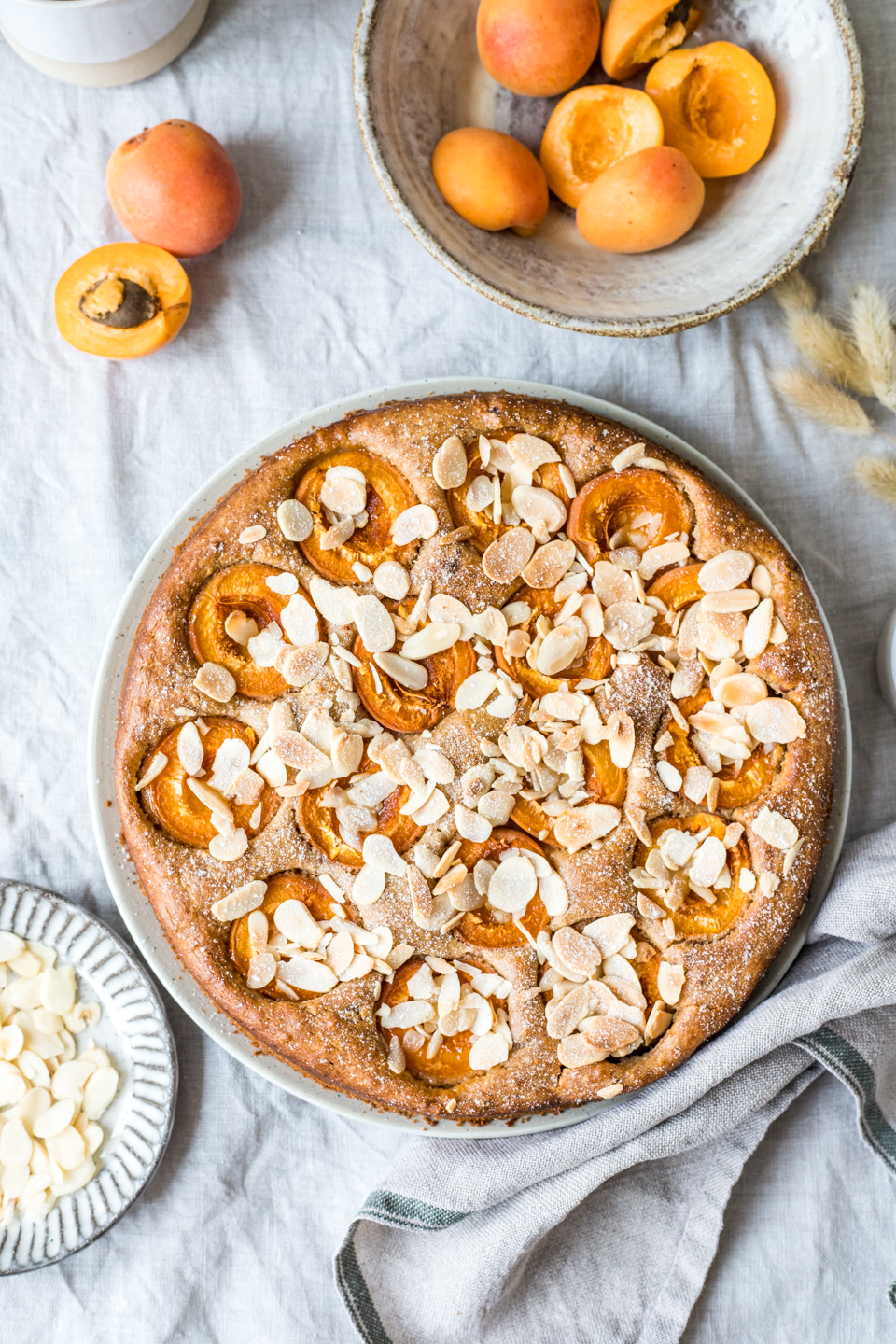 Sunday 'coffee and cake' (Kaffee und Kuchen) is a thing here in Germany. While it has become less common to invite people over for "coffee and cake" on Sundays, I still love this tradition. 'Coffee and cake' has a "hygge"-character, which means that it creates a cozy environment. It's a nice way to cherish the last day of the weekend by spending time with lovely people, and enjoying a nice piece of cake and a delicious coffee at the same time.
Today's cake is perfect for a spontaneous late summer get-together with your loved ones. Obviously I'm writing this during the COVID-pandemic, but at least here in Germany, you can meet friends and family again.
Back to the cake. The ingredient list is short, and the ingredients are all pretty affordable. What I'm most excited about is the fact that it is only sweetened with dates. I wasn't sure if this would work, but it worked incredibly well. Another plus is that you don't even need a food processor, because it is possible to make a date paste with a fork only. The only fancy ingredient is soft, Medjool dates, that are necessary to make a creamy date puree.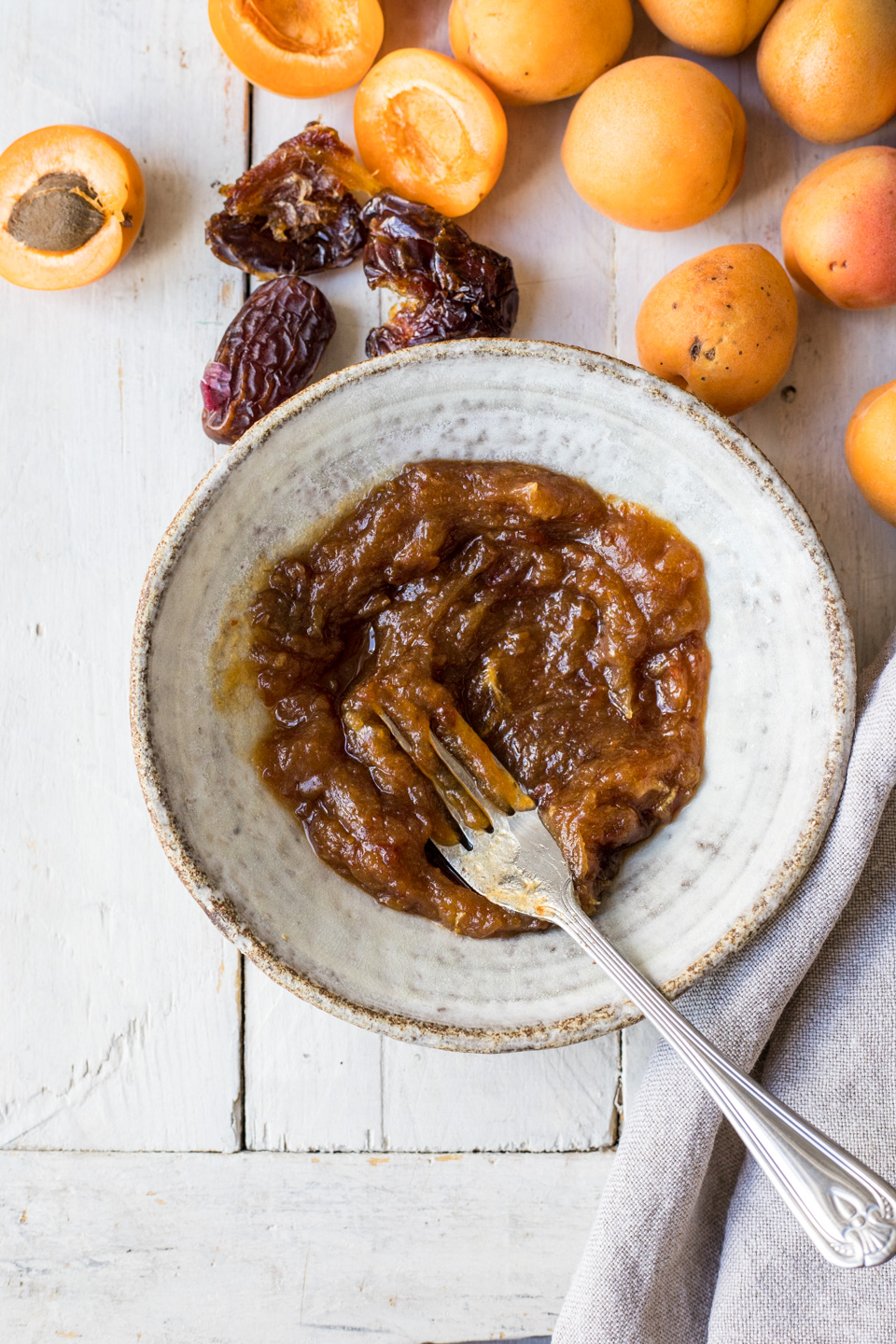 For the oil, I used the Swedish Alba oil. I know, this is a flavored oil, so it probably can't be considered healthy. But I always stress that neither I nor this blog wants to be perfect. My understanding of the word 'healthy' is that you eat a balanced diet rich in nutrients and flavor, but to never be restrictive. Healthy eating is not a diet, and it should always be pleasant and joyful.
When I made this cake, I happened to have apricots waiting on the counter, so this cake become an apricot cake. For the second attempt, I used damsons (plums), but you could probably also use cherries, peaches, or other stone fruit. Apricots are not super sweet, so if you prefer sweet cakes, I suggest using plums.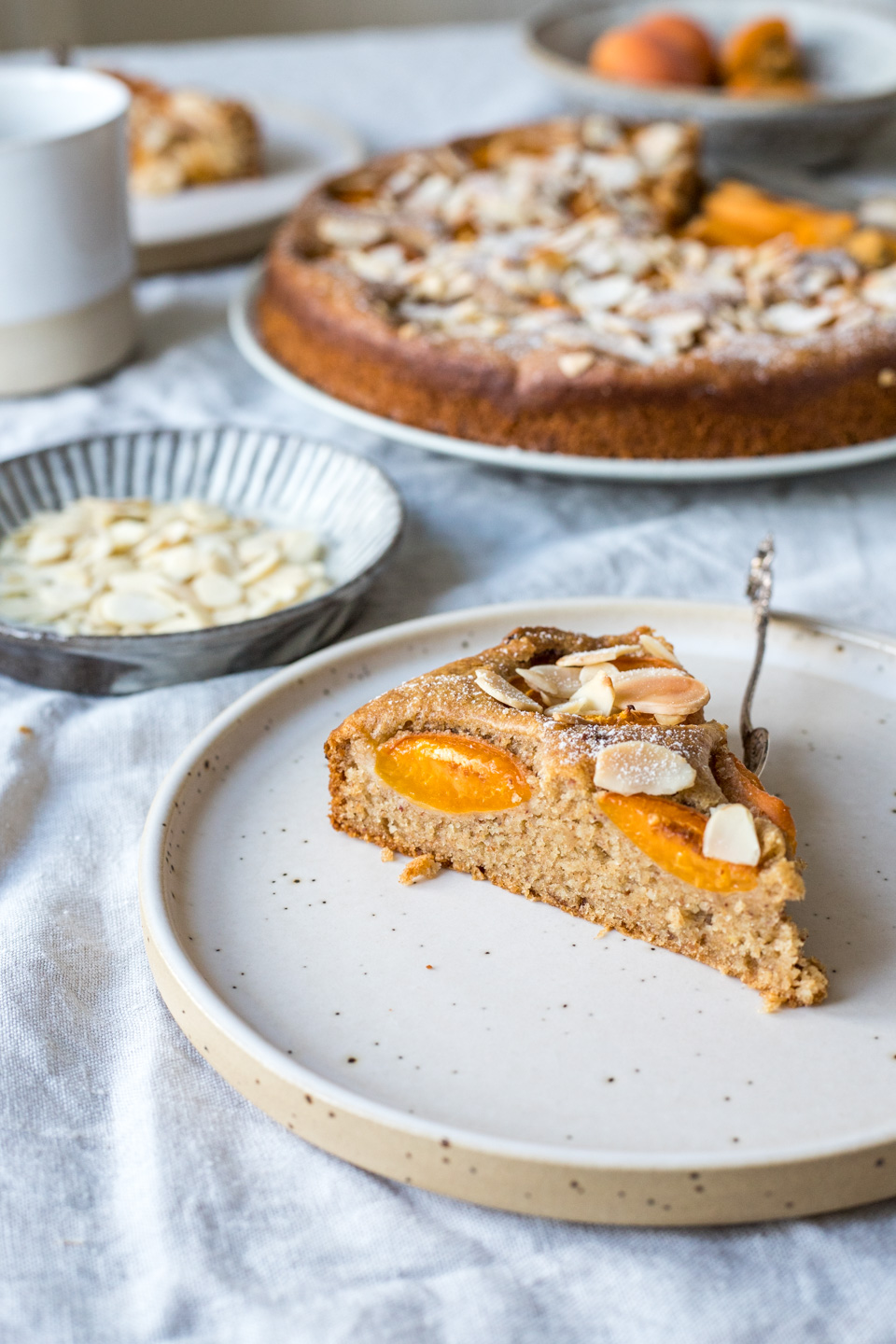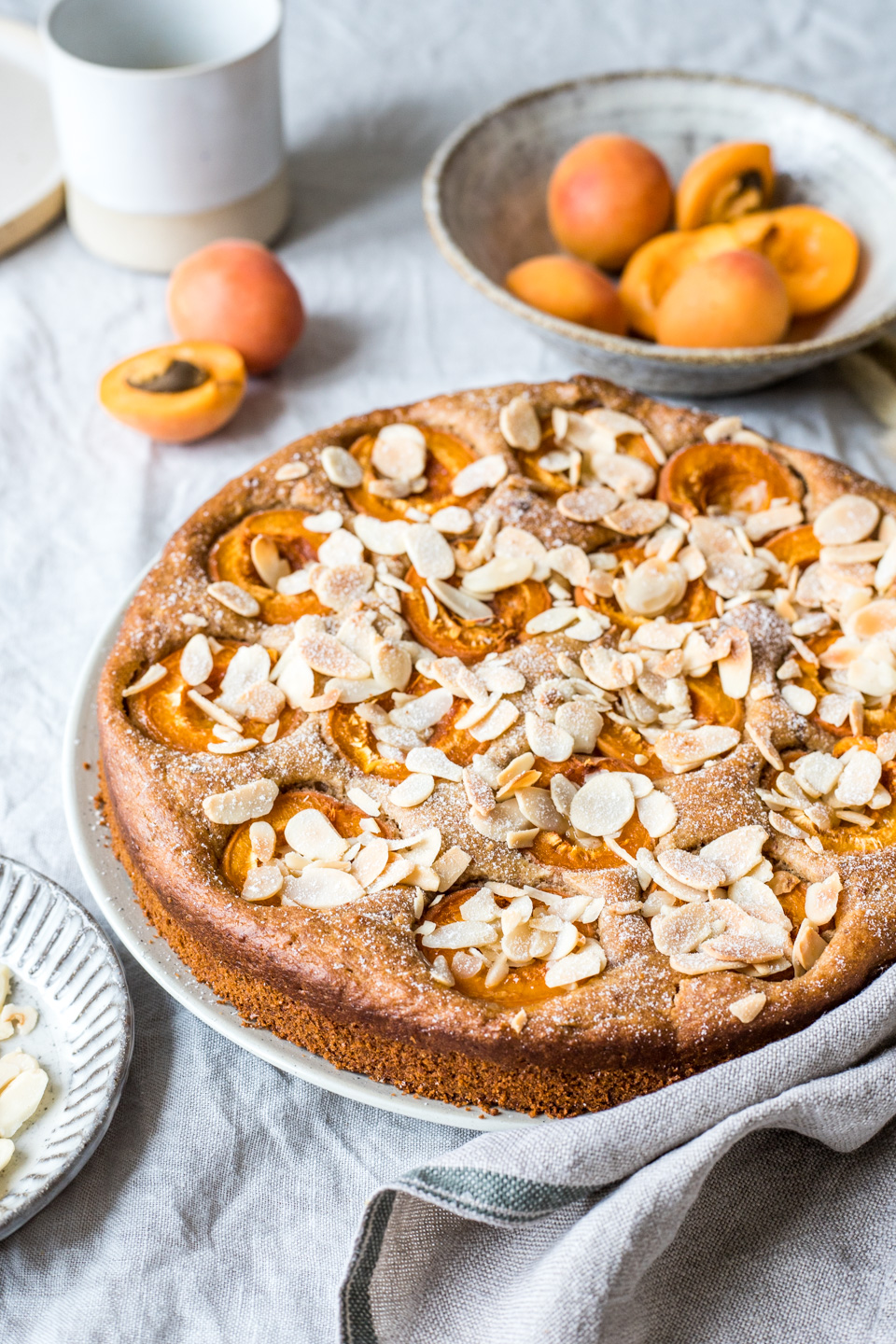 Heavenly for body and soul, because …
… this cake contains zero refined sugars. Of course, it is not sugar-free, as it contains dates and apricots, but these are natural sweeteners that still contain fibers and even minerals. The flour mix consists of light and wholegrain spelt flour as well as ground almonds, which contains a lot more nutrients than white wheat flour. Of course, this is still a cake, not a meal, so treat and enjoy it as such.
I haven't made this cake in a gluten-free version yet, but I've included some suggestions down below in the recipe card. If you've made a gluten-free version of this cake, please let me and the other readers know in the comment section below.
Have a lovely weekend!
xx
Lynn
Print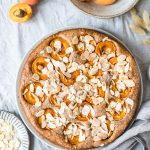 Healthy apricot coffee cake
---
Author:

Total Time:

1 hour 5 minutes
120 g

soft Medjool dates, pitted

120 g

hot water

500 g

apricots (or plums, apples, or other st

one

fruit)

120

ml neutral rapeseed oil (e.g. Swedish Alba oil or mild olive oil), more for greasing

1 teaspoon

organic lemon zest

200 g

light spelt flour (type 1050)

50 g

wholegrain spelt flour

50 g

ground almonds

2 tablespoons

(

10 g

) aluminum-free baking powder
a pinch of sea or rock salt

120

ml sparkling water

30 g

flaked almonds
some powderes xylit for decorating (totally optional, and definitely not necessary)
---
Instructions
Cut the dates into small pieces. Place them in a bowl and add the hot water. Leave to soak for at least 10 minutes.
Halve or quarter the apricots.
Mix the soaked dates into a paste using a fork. Place the date paste in a mixing bowl, add the oil and lemon zest. Whisk well with a hand mixer or a whisk.
Preheat the oven to 180 °C top and bottom heat (160 °C fan setting).
In a second bowl, mix the flour, ground almonds, baking powder and salt.
Add the dry ingredients to the wet ones and mix well. Then quickly, but carefully fold in the sparkling water.
Transfer the batter to the prepared pan and flatten the top of the batter. Press the apricots gently into the batter.
Bake the cake for approx. 40-45 minutes. After 30 minutes, spread the almond flakes over the cake.
The cake is done when you can pull a wooden stick out of the center of the cake clean.
It tastes best when eaten warm, but you can still enjoy it a day later.
Notes
Unfortunately, I have not yet tested this cake in a gluten-free version yet. I would either use a gluten-free organic baking mix (I can recommend these German brands: Alnavit, Spiegelberger Mühle, or Bauckhof). Or I would make the following baking mix myself: 190 g brown rice flour, 10 g psyllium husk seeds, 25 g potato starch, 25 g corn starch). Use this mix instead of the spelt flour. It may be necessary to use a shot more sparkling water since the gluten-free batter can become quite dry.
Mild coconut oil can also be used instead of rapeseed oil. But I only tested the cake with Swedish Alba oil, which is a rapeseed oil with butter flavor. I know, flavors are nasty, but I make an exception with Alba oil.
The cake is quite doughy (is that even a word?). In a second version, I used plums and quartered them. This makes the cake more fruity, so I would recommend quartering the stone fruit that you are using. On the photo, you can see the first version with halved apricots though.
The date paste only works with soft, juicy dates, such as Medjool dates. Dry dates, which you usually find in the supermarket near the nuts, won't work here. Medjool dates can be found, for example, in well-assorted supermarkets in the produce section. However, those from Turkish or Arabic supermarkets are the best. Medjool dates can also be found in organic food stores in the produce section. All recommendations are, of course, for Germany. It may be different in the country you live in.
If you have a food processor, you can also use it to finely puree the date paste. But it also works really well with a fork.
I decorated the cake with powdered xylitol. This is a natural sugar derived from birch wood. I am not too big of a fan of xylitol, and I do not use it in recipes. It can be ground to powdered sugar, however, and I do use this to decorate my cakes. Xylitol is poisonous for dogs, so keep it out of range of your pets.
Prep Time:

20

Cook Time:

45