While I am enjoying spring in Spain, I brought you a recipe that was inspired by my trip to Marrakech one year ago. If you're a frequent reader of my blog, you will probably have noticed how much I love the Moroccan cuisine. It's one of my absolute favorites, and I could eat it every single day (well, most days at least). If you have never had the pleasure to visit Marrakech, this magical Moroccan quinoa bowl will beam you right into the heart of the medina of Marrakech – I promise!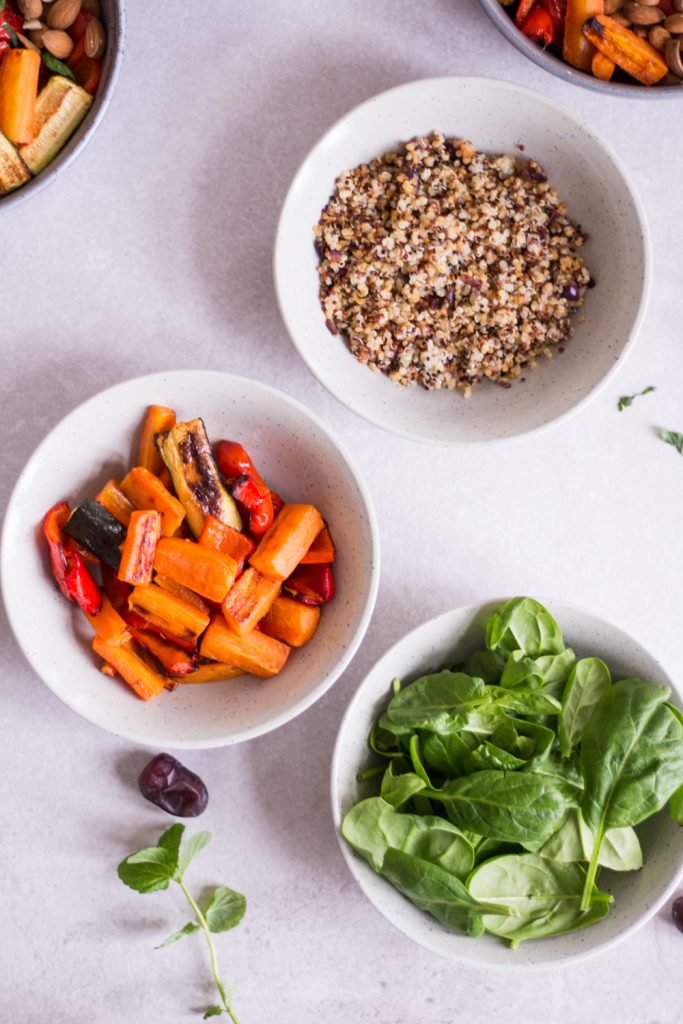 I have to admit that I certainly feel guilty blogging from this wonderful paradise island of Fuerteventura. Especially since winter has made a terrible come back in Germany these past couple of days. But then again, it feels so good to recharge and get new inspirations from the delicious Spanish cuisine. My travels definitely inspire most of my recipes, so this bowl brings back great memories from my girlsfriend's trip to Morocco. Has anyone ever been to Morocco? Perhaps some of you even visit my blog from this beautiful country? I know you do, because I can see it on my blog statistics. How amazing is that?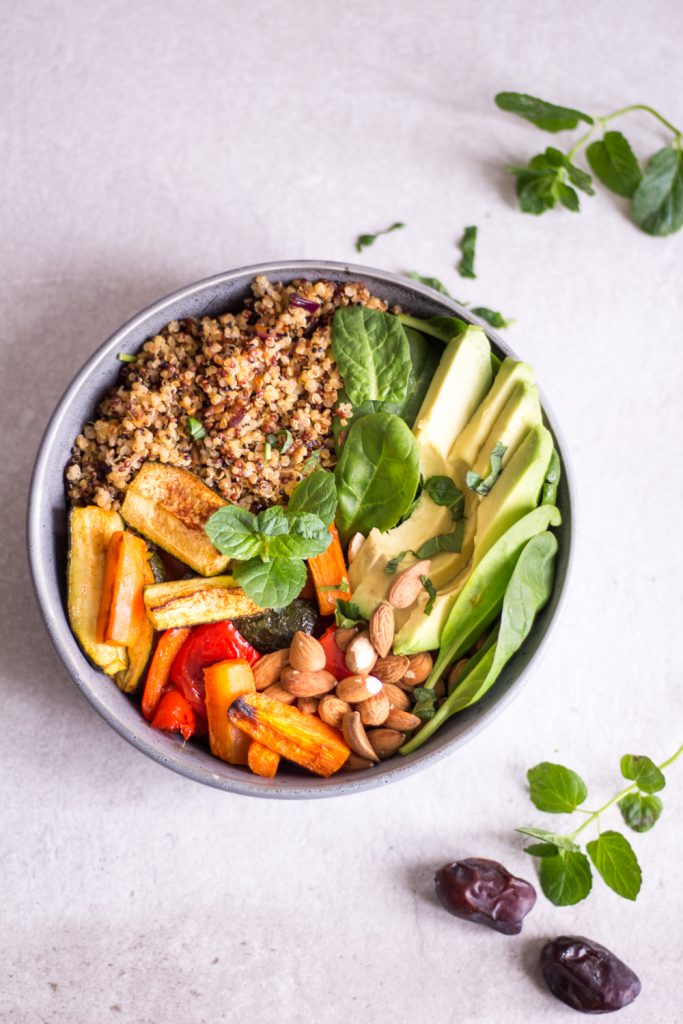 If you're Moroccan, then you will probably laugh at my attempts to cook Moroccan dishes. But hey, I do not own a tajine, so I got to work with what I have at hand. Obviously quinoa is anything but Moroccan, but a little bit of Freestyle never kills nobody, am I right? What counts is the vast abundance of goodness that you will find in this bowl. It's actually a real beauty bowl with the high quality plant-based protein from the quinoa, the vitamin E from the almonds which make our skin, hair and nails glow, and the nutrient-dense baby spinach, which is rich in vitamin K, which strengthens the blood vessels and remove dark circles below the eyes. Hello, how amazing is that?
I really hope you will love this bowl just as much as I do! Sending you lots of sunshine from Spain!
xx
Lynn

Magical Moroccan Quinoa Bowl
Ingredients
For the bowl:
3 carrots
2 zucchini
2 bell peppers
200g (1 cup) of quinoa
1 tablespoon of coconut oil or ghee
1 red onion
2 garlic cloves
1 teaspoon of cumin
½ teaspoon of cinnamon
½ teaspoon of paprika powder
the juice of one lemon
2 avocados
70g of almonds
5 dates
a few mint leaves
100g of baby spinach
For the dressing:
3 tablespoons of extra-virgin olive oil
2 tablespoons of apple cider vinegar
½ teaspoon of cumin
the juice of ½ orange
1 teaspoon of dijon mustard (optional)
Top it off with:
beetroot hummus
chickpeas
parsley
cilantro
spring onions
Instructions
Wash the vegetables, peel the carrots, remove the seeds from the bell peppers and cut everything into bite-sized pieces. Drizzle with a bit of olive oil and sea salt and black pepper and roast it for 20-30 minutes at 180°C.
Thoroughly wash the quinoa. Finely chop the onion and garlic. Heat the coconut oil in a pan and quickly sauté the onion and garlic in the oil. Add the spices and fry until fragrant. Now add the quinoa and 2 ½ cups of water. Bring to a boil on high heat, then reduce the heat and let it cook for 15 minutes.
Cut the avocado in half, remove the seed and scoop out the flesh with a spoon. Cube the flesh and drizzle with the lemon juice to avoid it from becoming brown. Roughly chop the almonds if desired. I leave them as they are.
Remove the stones from the dates, finely chop them and add them to the cooked quinoa. Finely chop the mint leaves and add them to the quinoa as well. Wash and dry the spinach. Mix all of the ingredients for the dressing.
To assemble, divide the quinoa, roasted vegetables, spinach, almonds, and avocado evenly on four bowls and drizzle with the dressing.
Enjoy!