As you have probably already noticed, I am addicted to basically three foods: beetroot, chickpeas and chia seeds. I add chia seeds to everything, and I am completely fascinated by their gel-like consistency when you add them with anything liquid. So naturally you can make pudding with them! This chia pudding is a simple breakfast alternative that will get you functioning for hours.
Chia pudding is one of the healthiest breakfast recipe you'll find. It's an absolute power breakfast recipe that will keep you satisfied for hours and hours and gives you so much energy. If I have a long and exhausting day ahead of me, I usually make a big portion of chia pudding the night before so I can provide my body with all the nutrients it needs in the morning. Of course you can play around with the flavors, and add all your favorite toppings like banana, apple, frozen or fresh berries and some seeds like pumpkin or sunflower seeds. It's also a great afternoon pick-me-up when you need quick energy to get you out of mid-afternoon holes. I also like to add some vanilla powder, some orange juice and some almond butter for an extra protein booster. Chia pudding is really one of the greatest things that I discovered since I changed my diet so drastically, and I am so glad that I found it.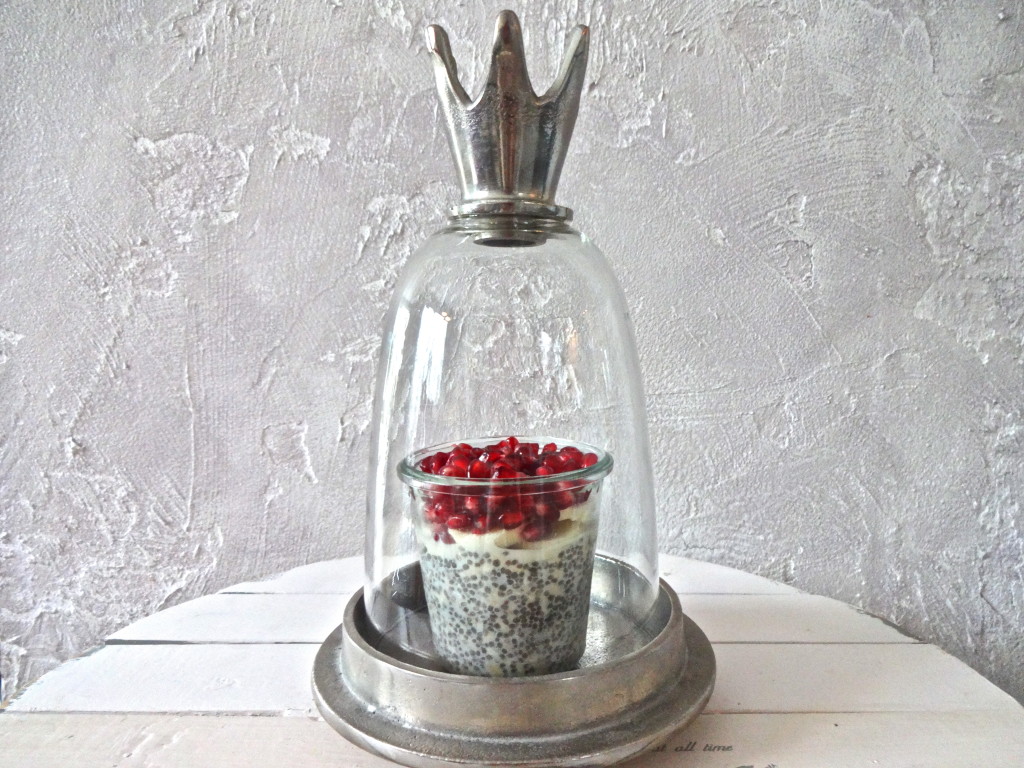 Chia Pudding
Ingredients
½ cup (120 g) almond milk (or any other milk at hand)
1 tbsp chia seeds
2 tbsp (gluten-free) oats
1 tsp agave
½ tsp cinnamon
½ banana, sliced, to top
pomegranate seeds to top
Instructions
Simply mix the almond milk, chia seeds, oats, agave, and cinnamon in a glas or breakfast bowl.
Let it soak overnight and top with the banana and pomegranate seeds in the morning.
Enjoy!