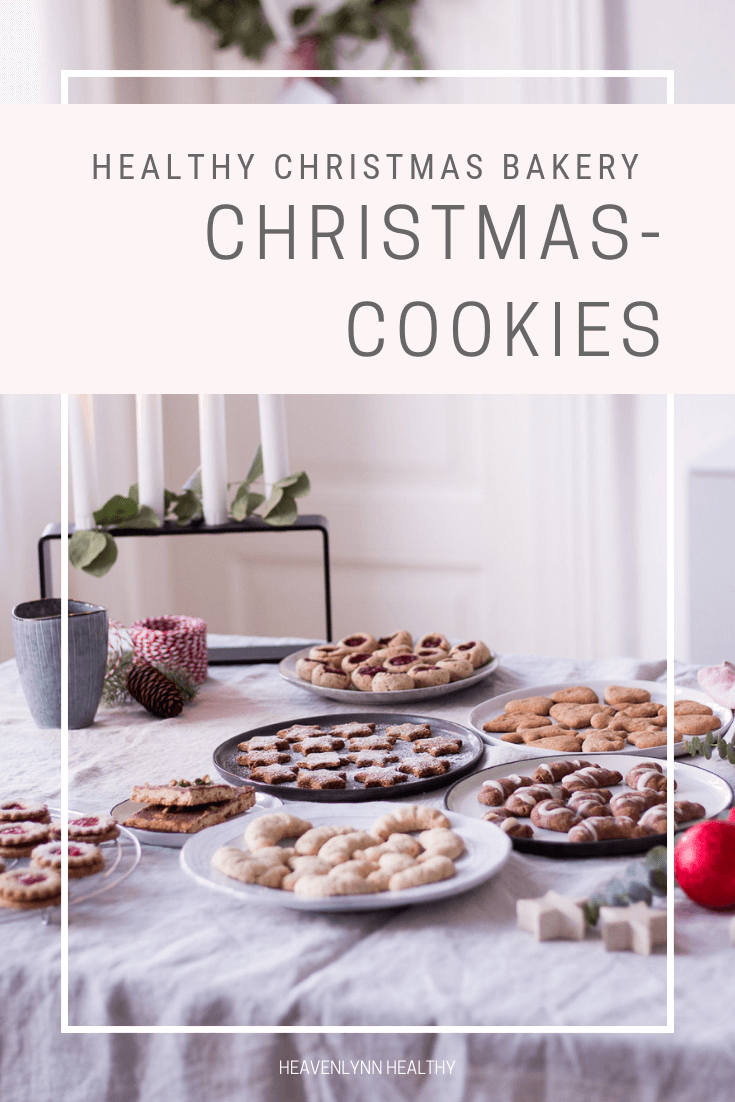 "It's beginning to look a lot like Christmas." Don't you think? Oh man, how much I love Christmas, Christmas baking (Germans go all out), Christmas songs, Christmas carols, Christmas movies. I'm the bigget sucker for all things Christmas. In fact, as I'm writing this, it's the end of November, I'm sick on the couch and have already watched two of Netflix' Original Christmas movies.

If you look around the web, there are countless of vegan cookie recipes.
What most of them have in common is that they are basically nothing more than regular cookies made with margarine but no eggs.
This works great in most cases and tastes pretty much like the original.
However, if you want to bake healthier, then you should go for less sugar, use wholegrain flour varieties and nuts and look for alternatives for margarine as this is a highly processed fat.
This is not always easy and often results in a different taste than the original.
I've been baking "differently" for many years now, so I thought I'd share with you my most commonly used ingredients for a slightly healthier Christmas bakery. Please note that the word "healthy" shall be regarded with a grain of salt. Whenever I publish sweet recipes with alternative sweeteners, I note that with "healthy" I mean: not using commonly known industrially processed ingredients. A cake will always remain a cake, a cookie will always remain a cookie. No matter what different sweetener you use. So please understand that having a few of my gingebread cookies, or one of my almond and cinnamon stars is absolutely fine, but just because they contain healthier ingredients than other cookies, does not mean that you get a free pass and eat them all at once. Ok, so now that we got this covered, let's continue to the fun part: the baking!
Healthy Christmas Bakery Swaps:
Coconut blossom sugar: to be used like normal sugar but with a slightly caramel taste. Coconut blossom sugar is not per se healthier than other alternatives, but it does not allow the blood sugar level to spike as quickly as regular sugar does.

(Whole Grain) Rice Syrup: The best choice for fructose-intolerant people and for others, rice syrup is a good choice because it does not raise blood sugar levels that much.
Maple Syrup: Maple syrup does not necessarily contain less sugar, but at least a few more minerals.

Its strong caramel note is e.g.

great for speculoos.

Birch sugar: great as a powdered sugar substitute (for example for decoration).

However, it works in larger quantities laxative and is not tolerated by all people.

Therefore, I use it only for decoration purposes.

Mashed banana or apple sauce: for me the healthiest of all sugar substitutes, as bananas and apples exist in their natural form in nature and do not need to be extracted industrially.

I like apple sauce and banana mush to sweeten cakes especially.
Cow's milk alternatives:
You can use any plant-based milk instead of cow's milk in Christmas recipes 1:1. I love the subtle sweetness of oat milk, but almond or hazelnut milk works especially well in Christmas bakings.
Butter alternatives:

Extra-virgin coconut oil: I love coconut oil and therefore use it in many recipes.

If you're scared of coconut oil because you've recently seen some particular video, then I recommend reading this article by Wellcuisine.

Coconut oil is not necessarily healthier than other fats, but it's also not damaging. As with everything: it depends on the quantity you consume. Chosing high-quality coconut oil is therefore of the utmost importance.

Nut butter: my favorite alternative for cookies.

Almond flavor tastes great in cookies.

However, it can only be used in recipes that contain soft butter in the original, as almond cream is relatively fluid at room temperature.
Why I don't eat margarine (vegan butter):
Wheat flour alternatives:
Ground Nuts: Traditionally, the Christmas bakery uses a lot of ground nuts anyways – which is great! Since nuts contain lots of nutrients and fiber, they are also my favorite alternative to wheat flour. Go crazy with almonds, hazelnuts, pecans or walnuts.

Buckwheat flour: Not everyone likes the taste of buckwheat flour, but I love it! Buckwheat flour is naturally gluten-free, contains various nutrients and is easy to process into cookies and cakes. Make sure to use certified gluten-free flour when purchasing, as some buckwheat flour is produced in gluten-processing factories and may be contaminated.

Brown rice flour: A fine flour that I always use in combination with arrowroot starch (or other starch) and other gluten-free flours.

Arrow root powder: Starch loosens up the gluten-free dough and makes it fluffier.

I like to use arrowroot powder because it is not as strongly processed as corn or potato starch.

Gluten-free baking mixes: due to the gluten-free hype, there are lots of ready-to-use gluten-free baking mixes on the market.

The problem with many of these is the high proportion of starch (starch acts like white flour in the body by causes the blood sugar level to rise faster).

I recommend buying from companies that do not have starch on first or second position in the ingredients list. My favorites are Alnavit or Bauckhof.

Whole-grain spelt flour: not gluten-free, but a better alternative to wheat flour. If you are not gluten-sensitive, whole-grain spelt flour is the best choice for baking Christmas cookies.
Egg alternatives:

Chia egg: one ground tablespoon of chia seeds mixed with three tablespoons of water replaces an egg in the vegan Christmas bakery. You need to let it sit for about 10 minutes before incorporating it into the cookies dough.

Flax egg: Just like with the chia eggs, mix one tablespoon of ground flaxseed with two to three tablespoons of water to make a flax egg. Personally, I find the binding power of chia eggs better than flax eggs, but flax is the more eco-friendly choice.

No egg: many recipes do not even need eggs to work. It all depends on the recipe on the texture of the dough.
Healthy cinnamon and almond stars
"What a fantastic recipe. Delicious and so easy and quick. My son loves these! I didn't have vanilla power so substituted with 1 tsp vanilla essence and the consistency was perfect. Love the chewy almond texture." Niki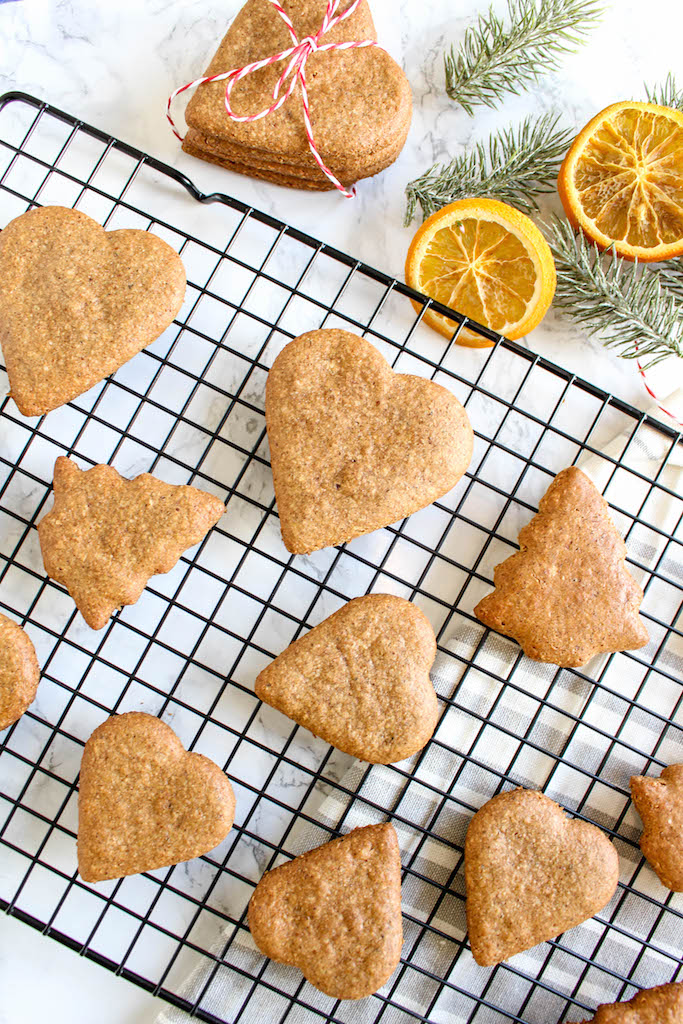 "Dear Lynn, thanks for this great recipe! I have a histamine intolerance and cooking and baking is always a special challenge. But I tolerate your healthy speculum excellently and even I have something to snack on during the Christmas season! And then they taste great too … I've already tried the cinnamon stars – but did not have enough almonds and then filled the rest with ground pumpkin seeds, which tastes really great! I'm really thankful for your many great recipes. Keep it up! Best regards, Alma"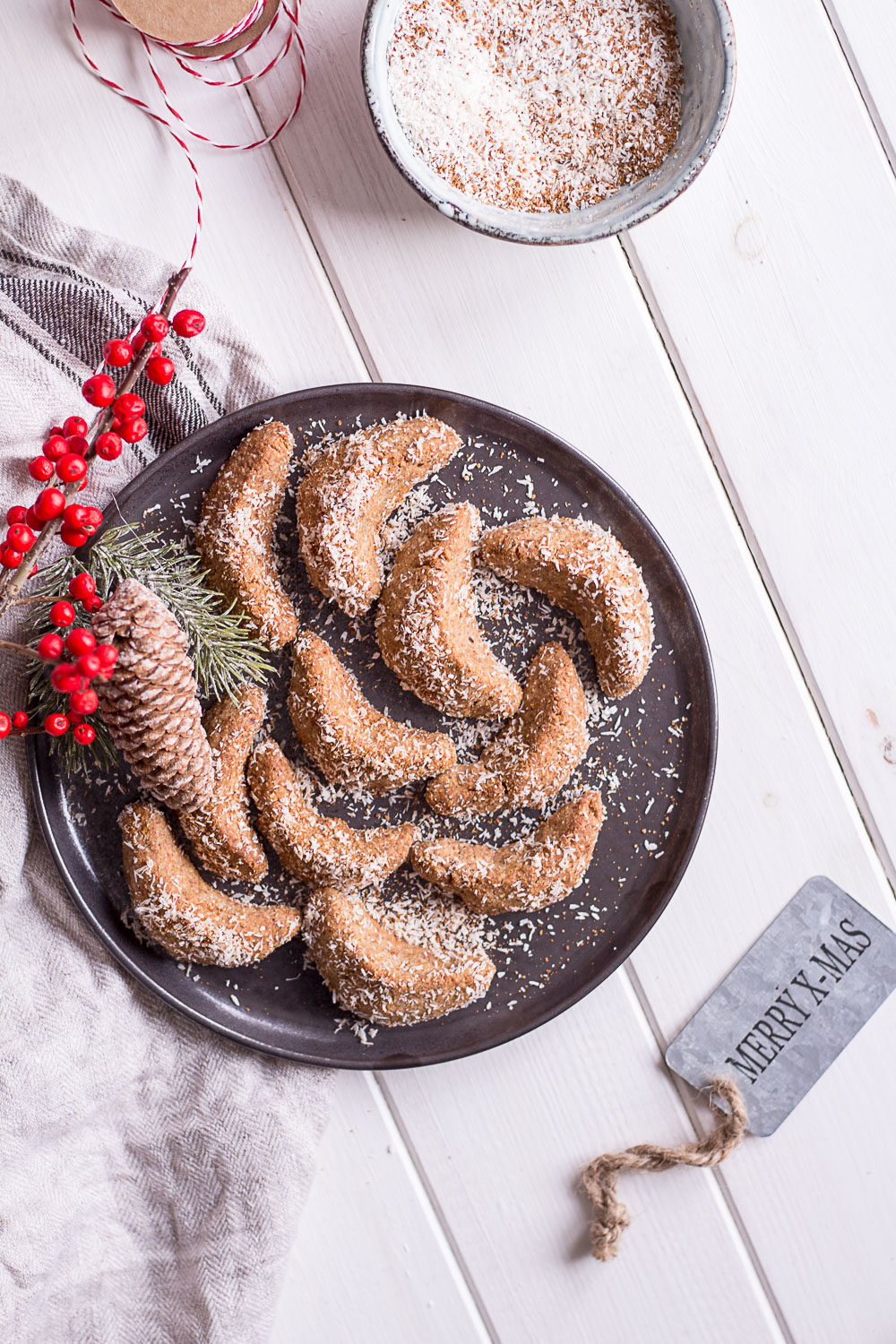 "Hi Lynn, what an amazing recipe. We've baked these cookies a lot last December with our kids. Thank you! Martina"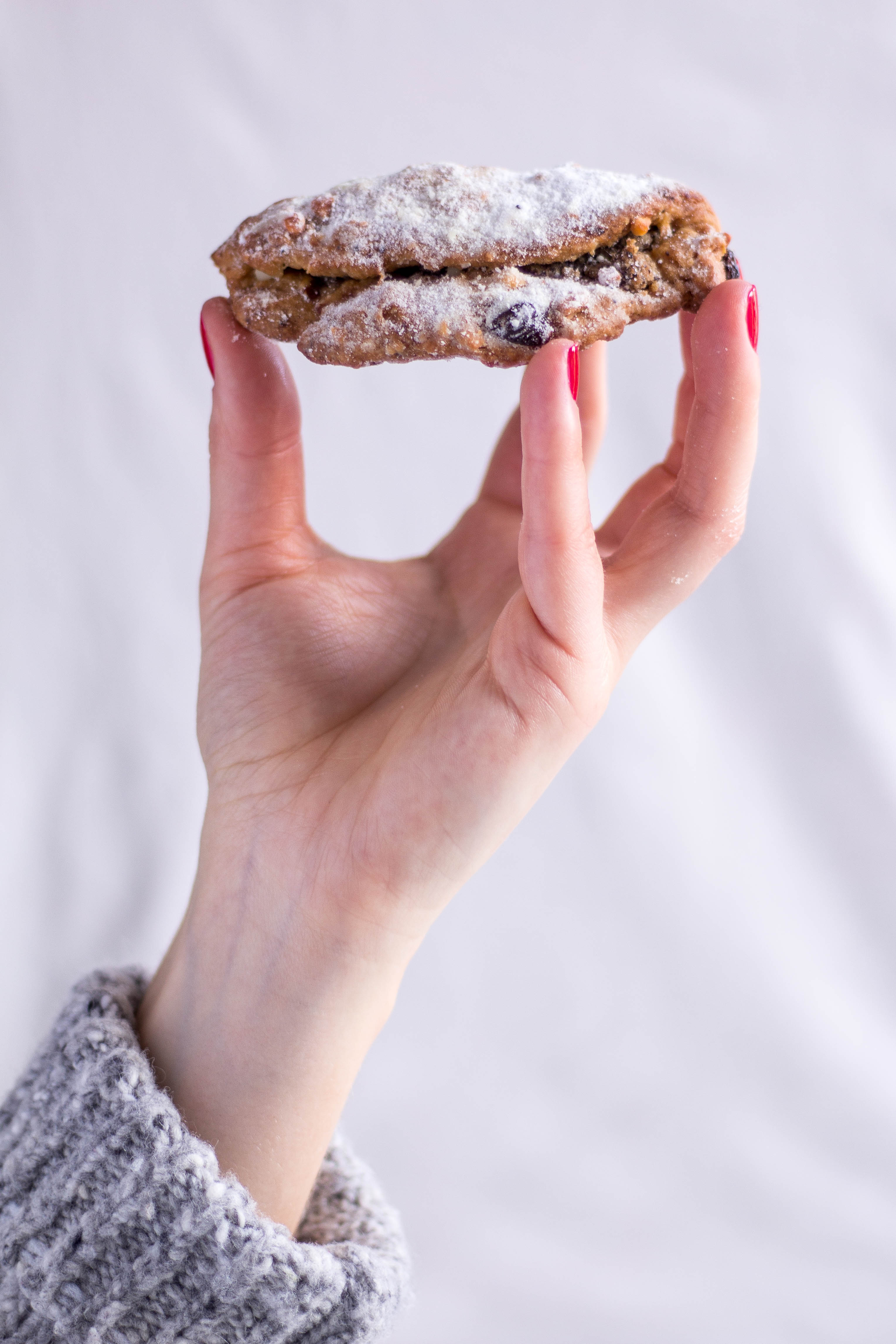 "Hello, I have one question..Is it possible to make one big stolen? I'm worried it would turn out too dry, because it is from whole spelt flour? But…I did made little ones a week ago and the recipe is just fantastic. We all love it. Thank you! " Nina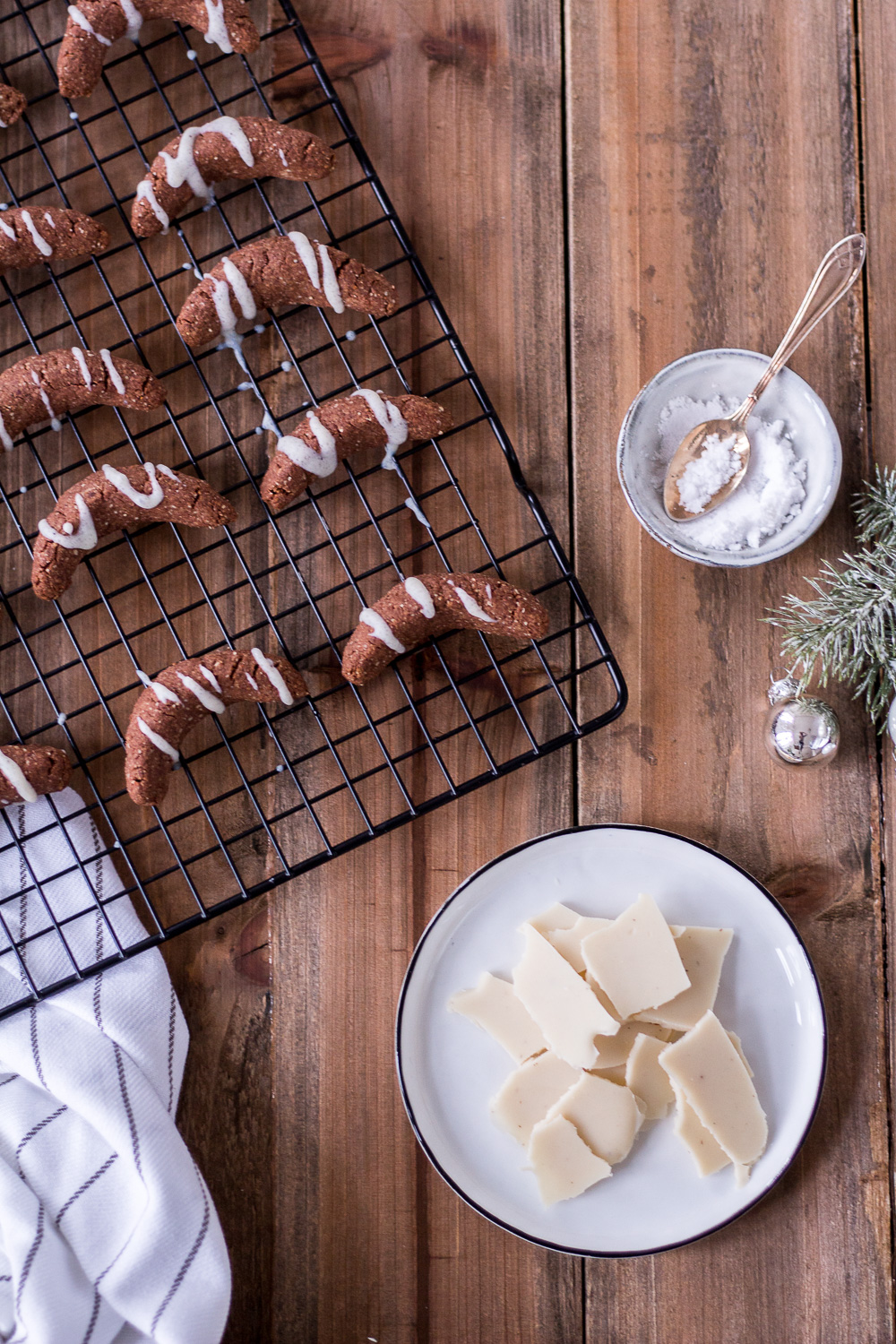 Healthy Christmas Peanut Butter & Jelly Cookies
Not really cookies, but these cakes are also Christmassy and delicious:

Chai Waffles