Asparagus Sandwich with Pea Basil Creme that will transform the way you think about asparagus.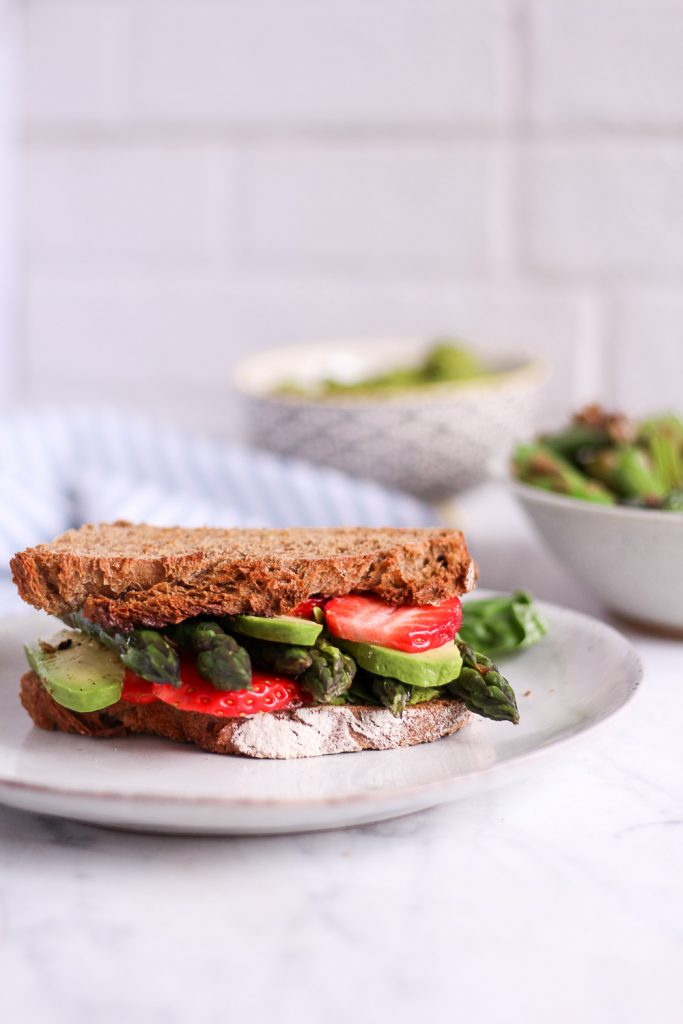 You guys have got to try this sandwich.
I'm serious – if you've never had asparagus on bread before then you've been missing out on a lot of fun. I don't know why I have never thought about it before, but asparagus and crispy sourdough bread go so increadibly well together. Since I love to cook seasonally, 'tis is the season for asparagus. I've already had asparagus soup this year, asparagus salad, plain asparagus with avocado hollandaise and another oriental asparagus chickpea salad (very delicious by the way!). Today's recipe is perfect for leftover asparagus, which is pretty common in my kitchen as my boyfriend is not the biggest fan of the green stalks.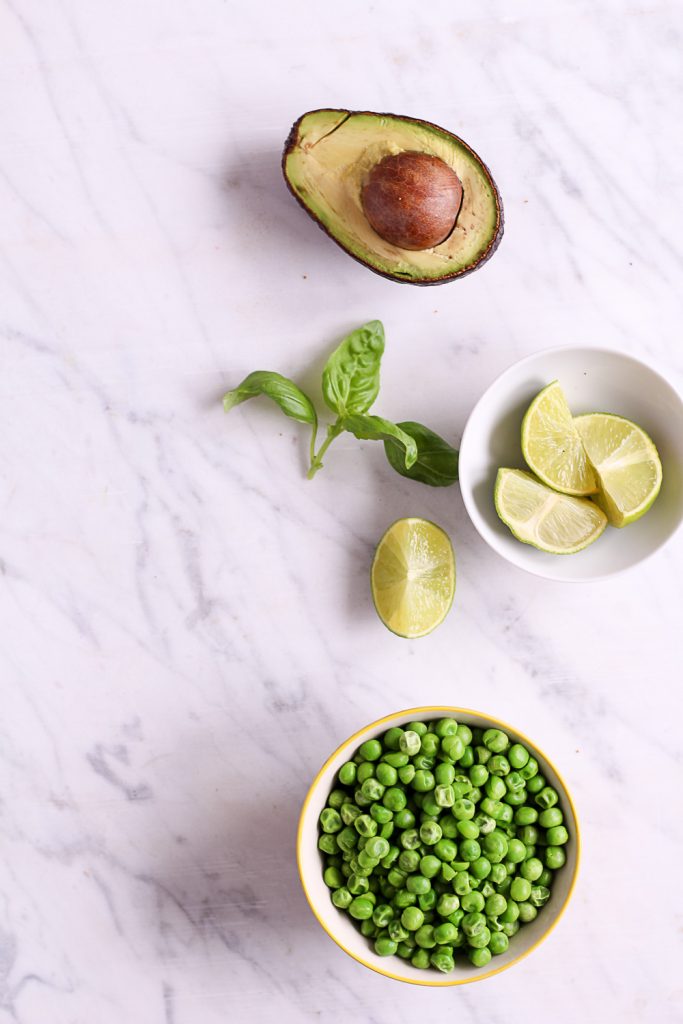 My love for asparagus goes pretty deep. So deep, that I even participate in the yearly "asparagus relay" in my hometown.
Yup. You heard right. I said asparagus relay. And it's everything you're imaging right now.
The asparagus relay has become a real event in my town, and tickets always sell within minutes of its release. Every team has five runners, each one having to run roughly 2 miles, so it's more a fun event than a real race. The winning team is drawn out of all participating teams, and they are all put on an XXL scale to measure – and the other side of the scale is filled with asparagus, strawberries, potatoes, sparkling wine and lots of other delicious goodies. What a win, hun?
So unfortunately this year, I won't be able to run, because we didn't get a ticket, but I will be cheering, eating asparagus and simply having a wonderful time. I think I should be suggesting that they add this recipe to the food booth lists, because it's just so delicious.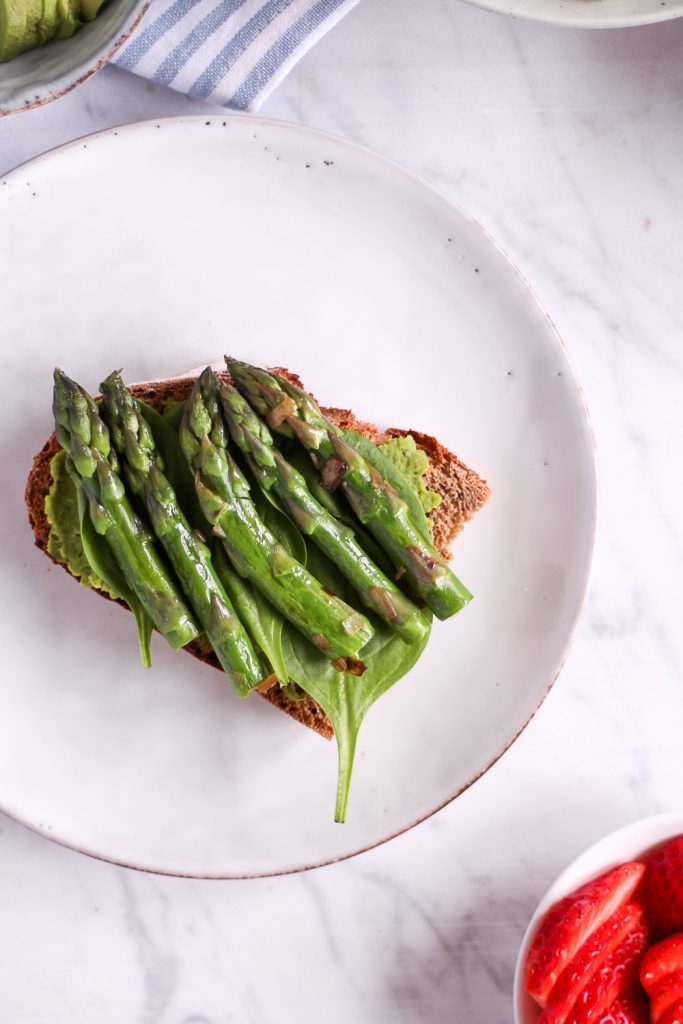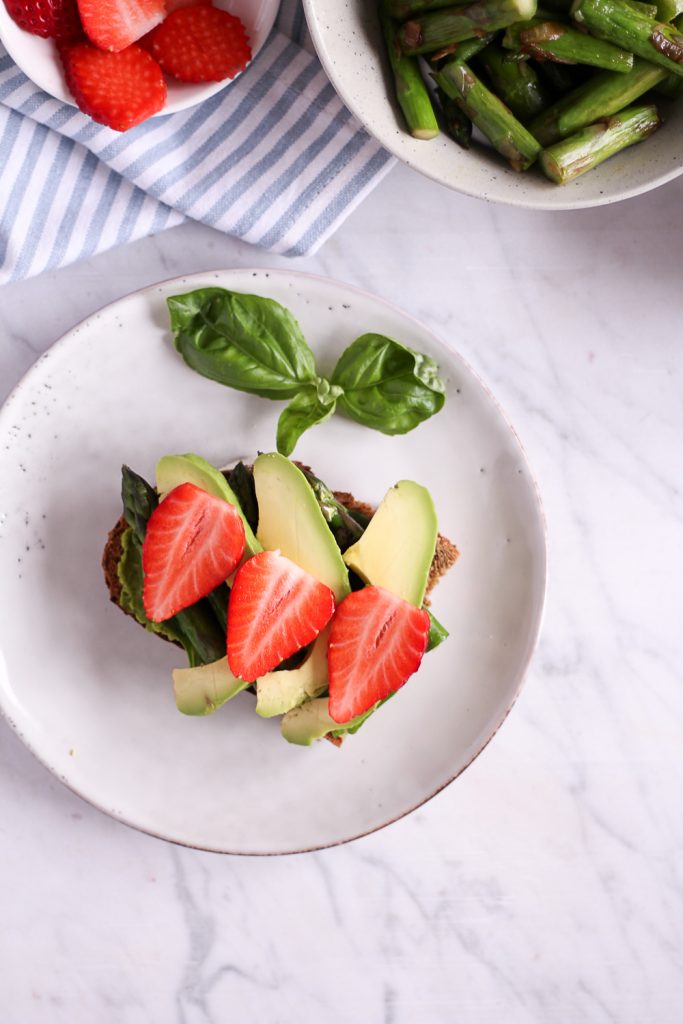 Apart from being delicious, asparagus is also incredibly healthy. 200 grams of asparagus already cover 70% of the daily requirement of folic acid. The b-vitamin is espeically important for cell division, so without folic acid, there would be no life! That's why pregnant women have an increased need of folic acid. The demand of folic acid increases the older we get, so it's never wrong to stock up on folic acid. Other sources of folic acid are green leaves such as spinach or kale, but also nuts such as walnuts or hazelnuts.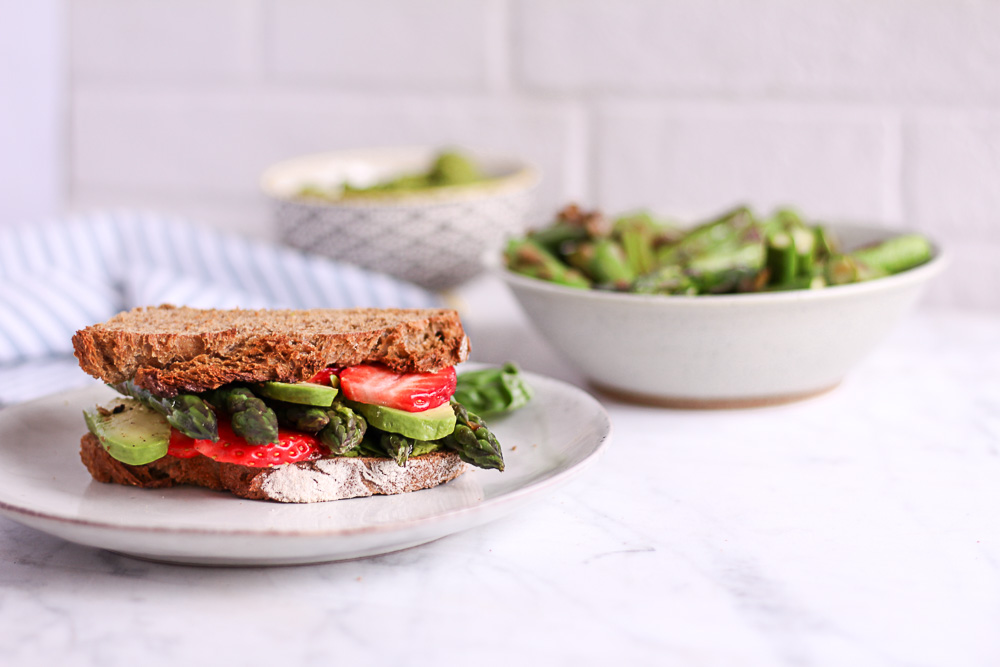 The real hero of this dish, however, is the super easy peasy pea and basil creme. It's basically just a mix of peas, basil, some lime juice and salt. Super basic, but super delicious. It definitely gives this sandwich an instant upgrade.
I also like it a lot with the date-dijon dressing from my quinoa salad, but it also tastes delicious on its own.
What is your favorite way to enjoy asparagus? Let me know in the comments below.
Asparagus Sandwich with Pea Basil Creme
Ingredients
1½ cups (200g) of frozen peas
1 lime
a handful of fresh basil
2 tablespoons of extra-virgin olive oil
5 cups (500g) of green asparagus
1 shallot
1 ripe avocado
4 – 5 strawberries
a good handful of fresh baby spinach or rocket
some coconut oil or ghee for frying
4 slices of whole-grain rye sourdough bread or gluten-free bread of your choice
Instructions
To make the pea basil creme, simply combine the peas, the olive oil, the basil, the lime juice and salt and pepepr in a blender or food processor. Add some water if your machine has difficulties blending it. It does not need to be a smooth creme, it can still be chunky from the peas.
Cut the avocado in half, remove the stone and scoop out the flesh with a spoon. Cut it into thin slices. Wash the strawberries, remove the green parts and slice it as well.
To make the asparagus, start by cutting of the ends of the asparagus. Cut the stems into two-inch pieces. Finely chop the shallot. Heat some coconut oil or ghee in a saucepan. Fry the shallots for a minute or two until golden brown. Add the asparagus and cook for 3 - 5 minutes, depending on the thickness of the stems. Set aside.
Toast the bread slices and spread a generous amount of pea basil creme on each slice. Layer with the asparagus, strawberries, avocado and strawberry slices and baby spinach or rocket.
Enjoy!
---
DID YOU MAKE THIS RECIPE OR HAVE ANY SUGGESTIONS, QUESTIONS OR COMMENTS?
Feel free to leave a comment below, and don't forget to tag your creations on social media using #heavenlynnhealthy.
I'd love for this blog to be a dialogue.
---
Merken