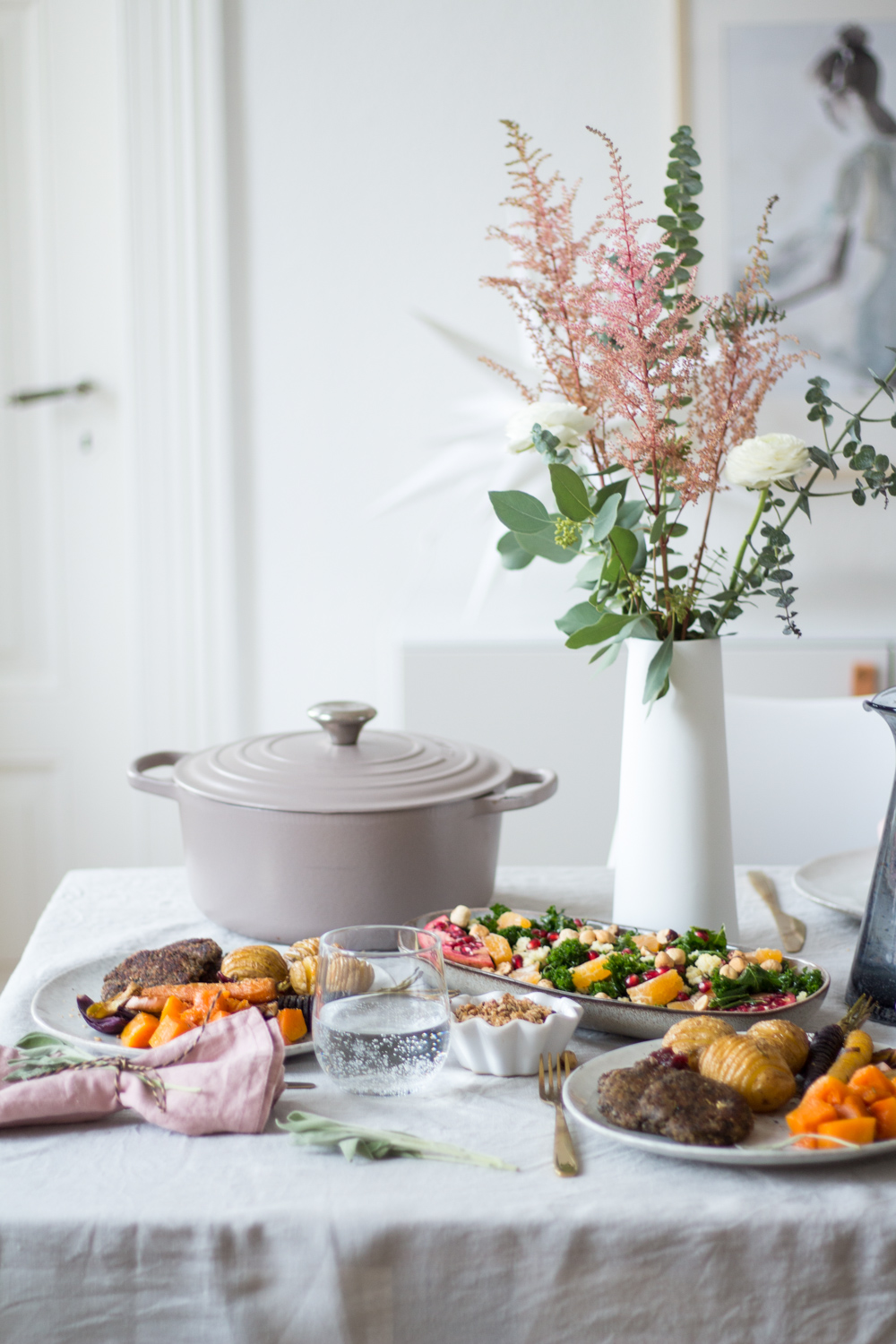 Do you take time to plan a new Christmas menu every year? Or are you more traditional with regards to the food you serve on Christmas Eve and the Holidays? My family definitely belongs to Type 1 and with four women and a man at the table, choosing the right menu is not always easy. It must be gluten-free for one of my sisters and preferably full of plant-power for me. My dad hardly dares to say it, but he would not say not to a little meat. Yes and one of the sisters has a bit of a sweet tooth, so dessert is a must in my family as well.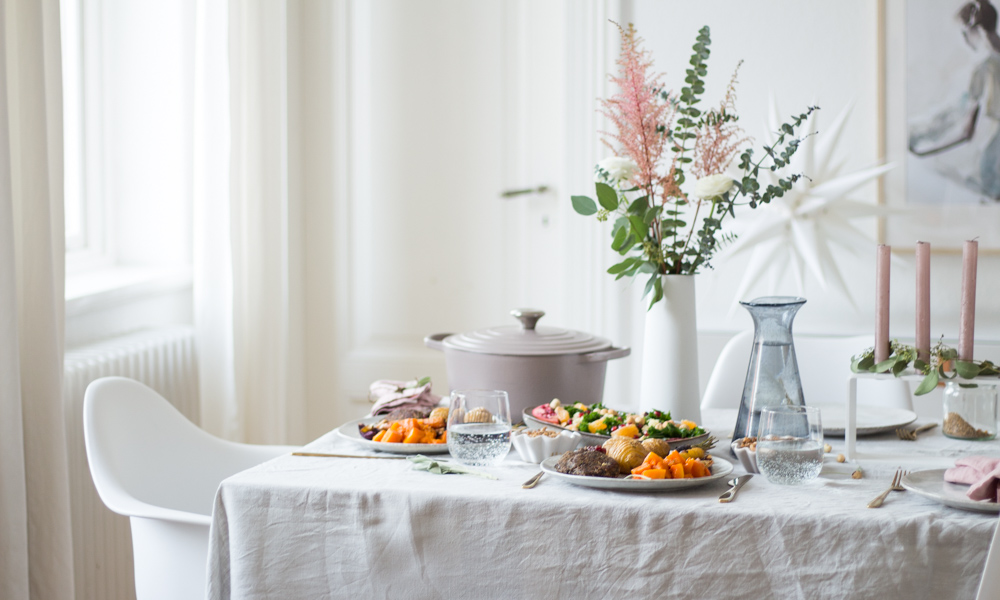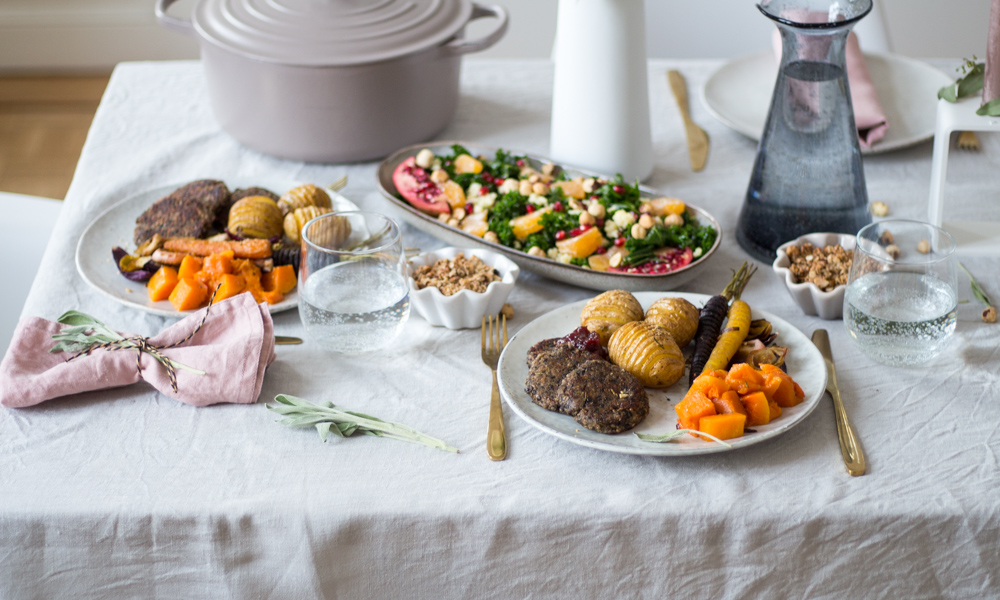 That's why our Christmas dinner on Christmas Eve consists of many smaller dishes, which we try to prepare already on December 23rd. Here in Germany, Santa already brings presents on Christmas Eve, so that's when all the magic happens. We also all love a big, fresh salad, as well as oven vegetables and some other vegetable side dishes. For dessert we usually keep it simple and classic with a fruit salad. But last year we had prepared small mini-crumbles, which we all enjoyed very much. That's why they are also part of today's Christmas menu.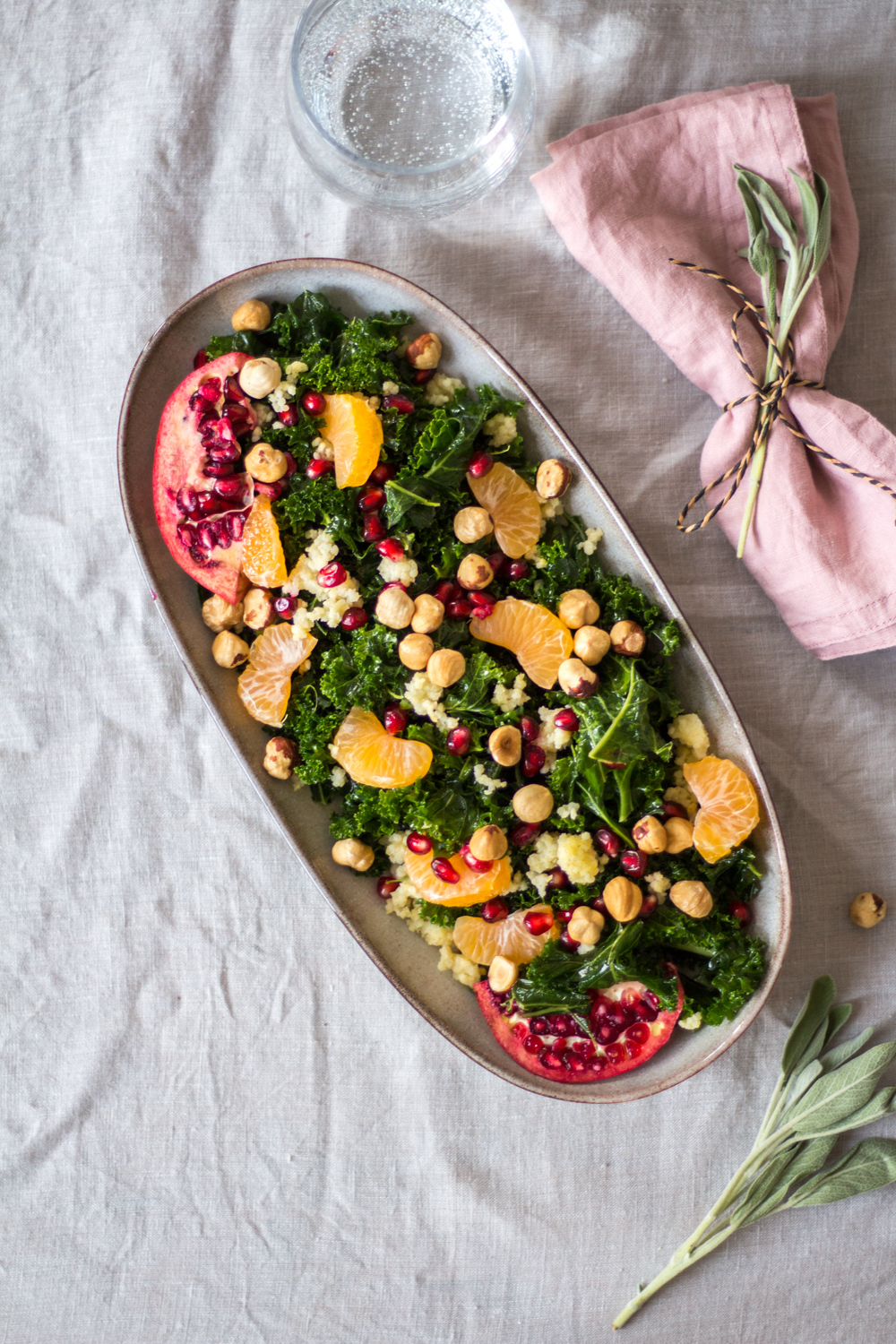 New this year are delicious lentil and millet patties. Of course they do not taste like meat, but the high proportion of fried mushrooms, red onions and spices such as rosemary and thyme give them a wonderfully festive aroma. Also, our oven vegetables will get a very special twist this year in the form of Swedish Hassleback potatoes. Maximal visual outcome with minimum input. That's 'ma Christmas jam, everyone. By cutting into the potatoes or vegetables, they absorb the aromas of the spices and roasting way better. With delicious olive oil, rosemary and sea salt, the oven vegetables remain simple, yet festive.
My secret favorite, however, is the butternut squash. I was inspired by the simple yet incredibly tasty side dish from my last trip to South Africa. On one evening we were served cooked butternut squash with cinnamon and nutmeg. No more and no less. And since this side dish is very juicy, it perfectly complements the patties and the oven vegetables in this menu.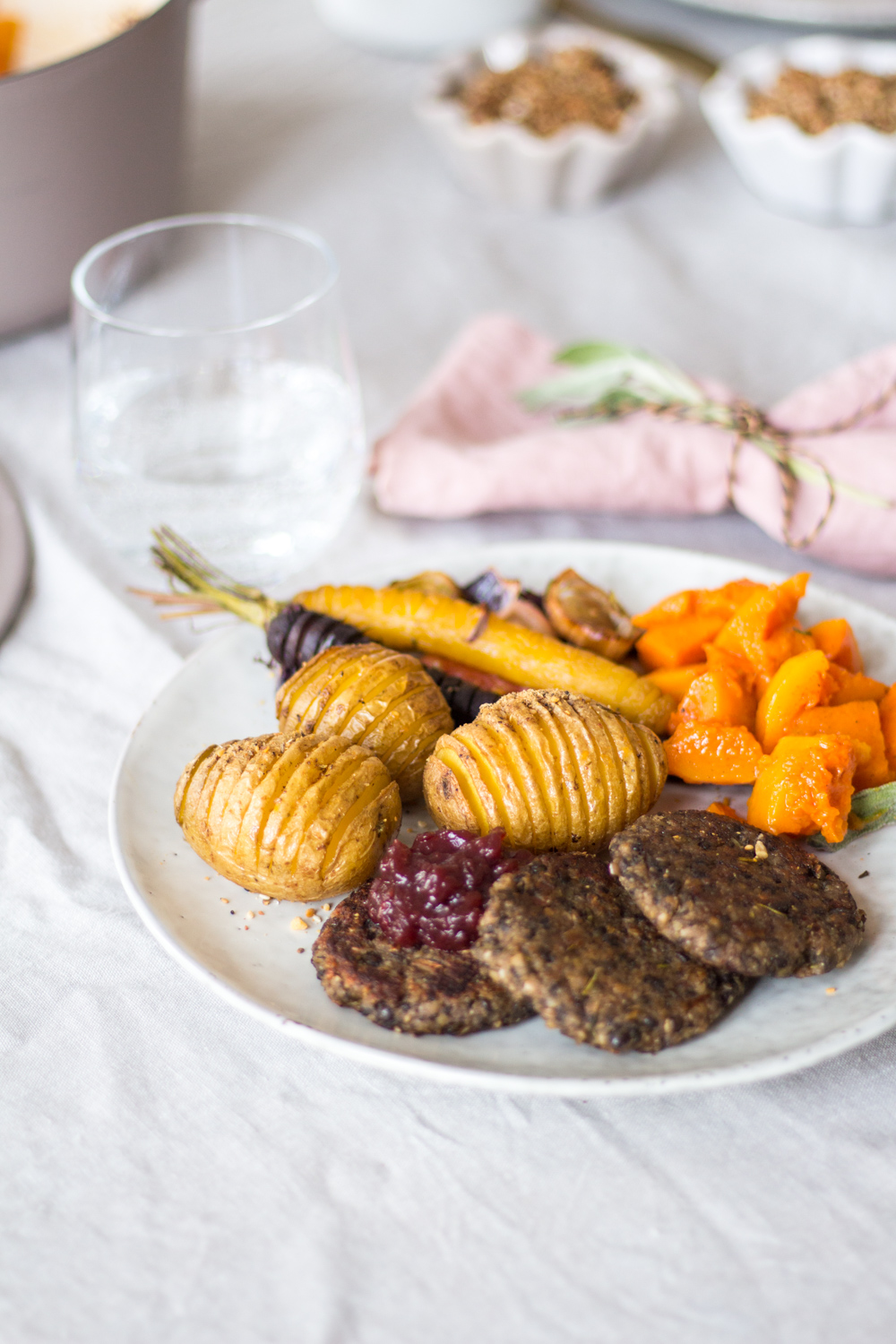 Heavenlyn for body and soul because…
… well, because it contains so much the concentrated plant power. The colorful salad provides plenty of vital substances such as vitamin K from the kale, which, among other things, ensures healthy bones. The butternut squash is a great source of beta-carotene, called provitamin A, which is converted into vitamin A in the body. Vitamin A is not only important for the eyesight, but also for an intact immune system. Like all lentils, beluga lentils contain a lot of plant-based protein as well as dietary fibers that keep us full for longer. Millet contains magnesium, which is important for our muscles and nervous system, but also iron, which is essential for oxygen transport in the blood. A little bit of vitamin B5 is also found in millet (4% in 100 g millet). The beauty vitamin B5 promotes, among other things, beautiful skin, hair and nails and counteracts stress.
Well, did you feel like a little different Christmas dinner? If you still need some inspiration, then I have the following ideas for you:
– stuffed butternut squash with lentils and kale
– sweet potato parsnip soup with truffled popcorn (so good!)
– festive roasted Brussels sprouts with pumpkin and pecans
– heavenly spiced apple red cabbage
– lentil loaf with cranberry sauce
I hope I could inspire you to try some of today's dishes this Holiday season.
Lynn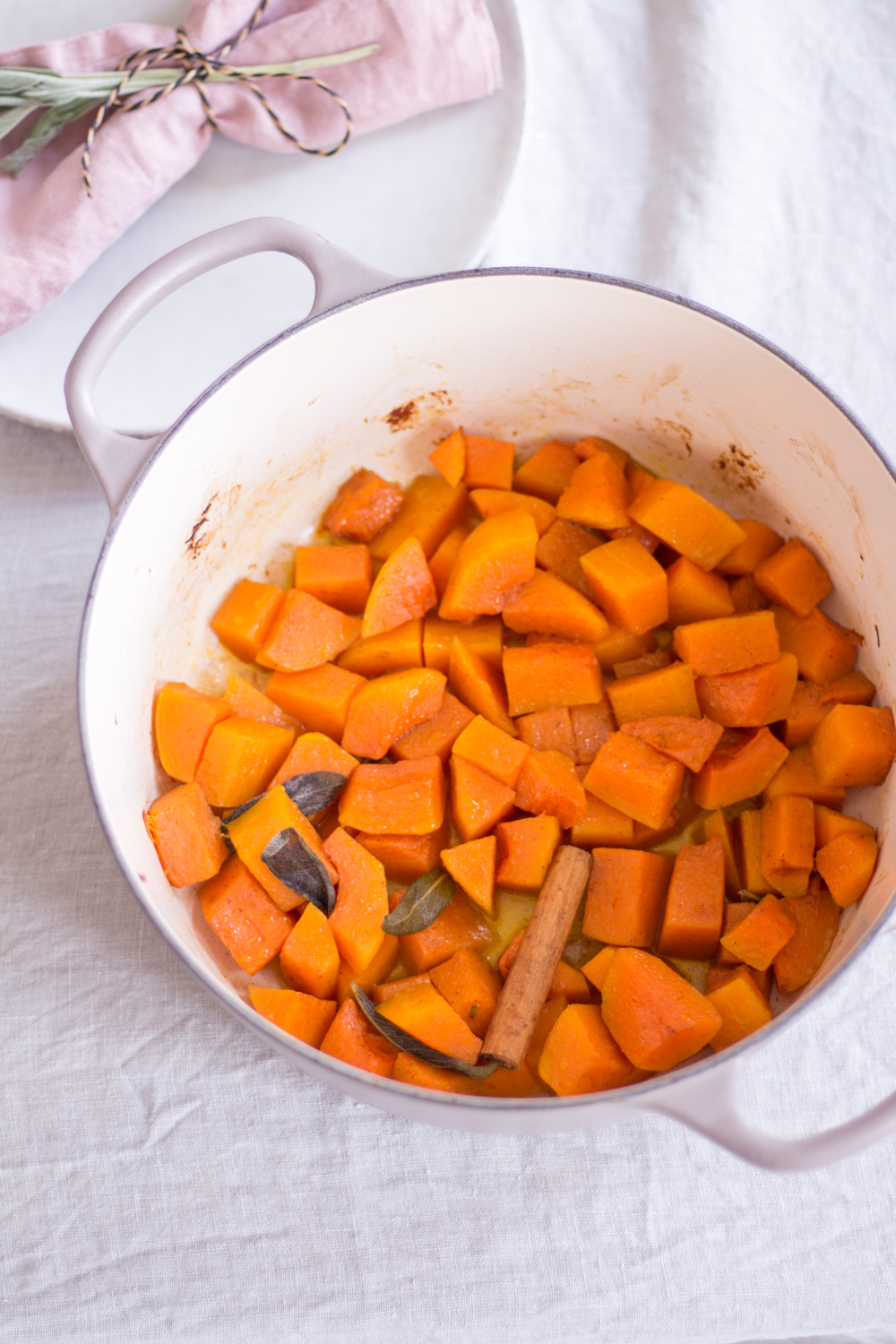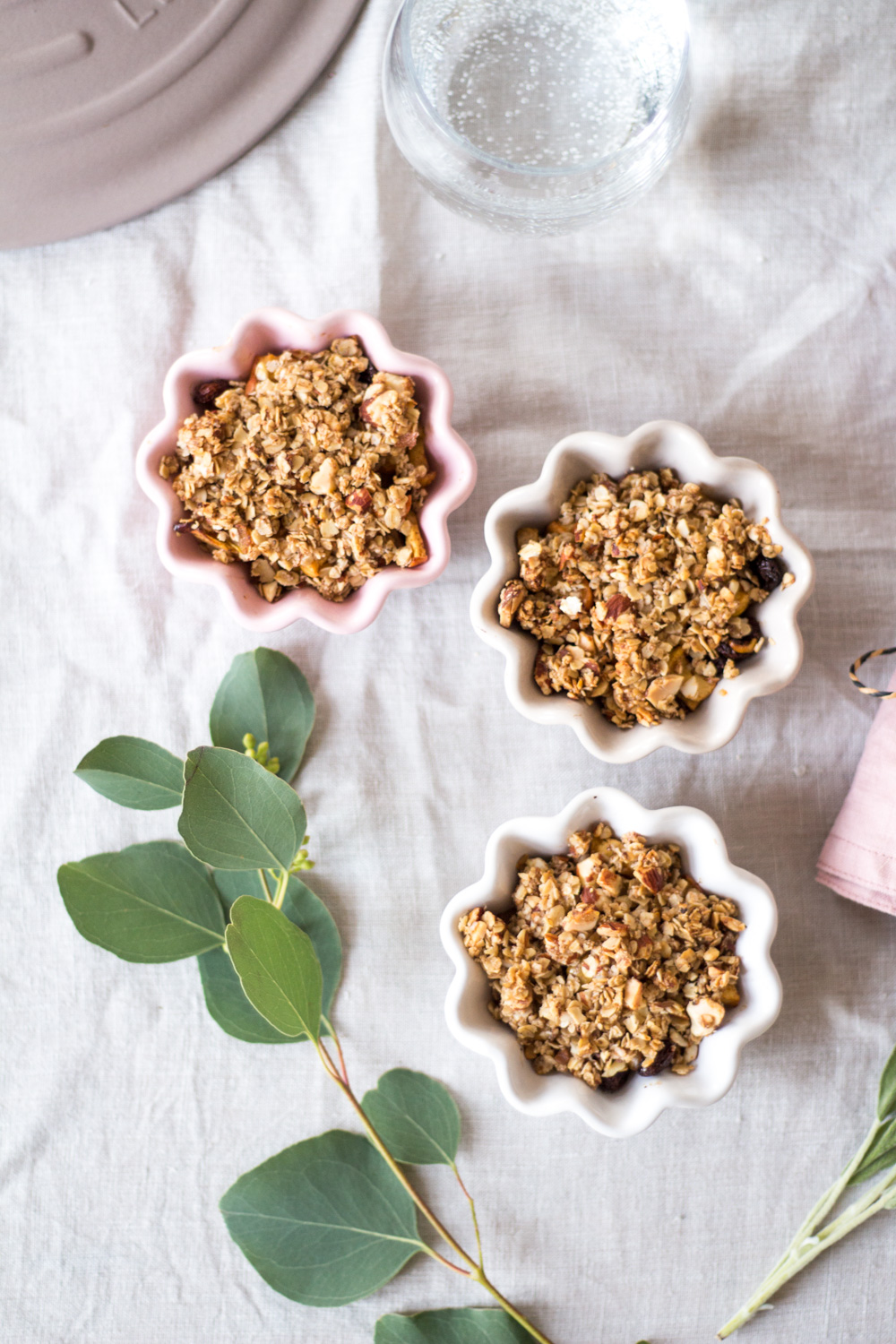 What to prepare the day before:
– the dressing for the salad
– roast the hazelnuts (or you can buy roasted nuts or almonds to save time)
– chop the almonds for the crumbles
– remove the seeds from the pomegranate
– cook millet and beluga lentils
– prepare the cranberry sauce
– free the kale from the stalk
For the winter mini-crumbles:
Tip:
I would not put the crumbles in the oven until the main dish is served. So they are still warm when they come out of the oven. However, they also taste very cold with some (coconut) yoghurt.
For the winter kale salad:
For the cinnamon-roasted butternut squash
For the Hassleback-style oven-roasted vegetables:
For the lentil-millet patties with cranberry sauce:
Bon Appetit and Merry Christmas!