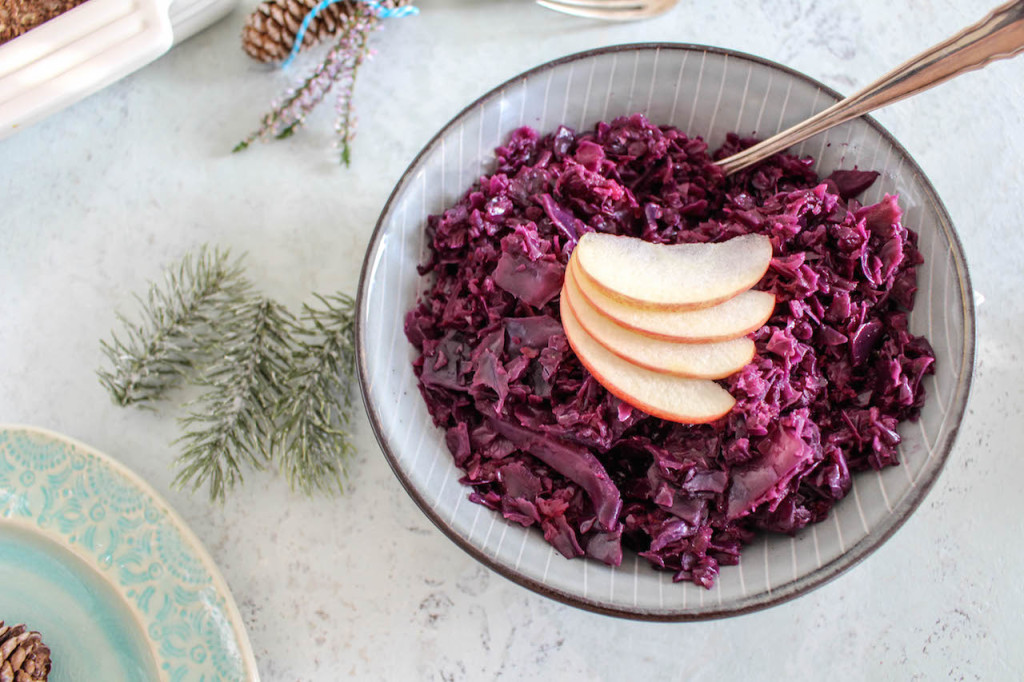 It's the most beautiful time of the year right now and I am all about Healthy Christmas choices this week. If you follow me on Instagram, then you might have noticed that some blogger friends of mine and I are looking for #YourHealthyChristmas meals. Christmas usually means lots of unhealthy (but delicious!) foods, lots of alcohol (Glögg!) and a pretty bad feeling on the days that follow Christmas. In order to prevent this, there are many healthy but still delicious meal alternatives, that you could try this Christmas. You may not have to be healthy on Christmas day, but why not try to be healthy the day before and after Christmas? Think about how awesome it would be if your Christmas meals actually gave you energy instead of taking it away from you, as most high Christmas meals do. That's why I am going to share some truly delicious healthy Christmas dinner recipes with you throughout the next two weeks.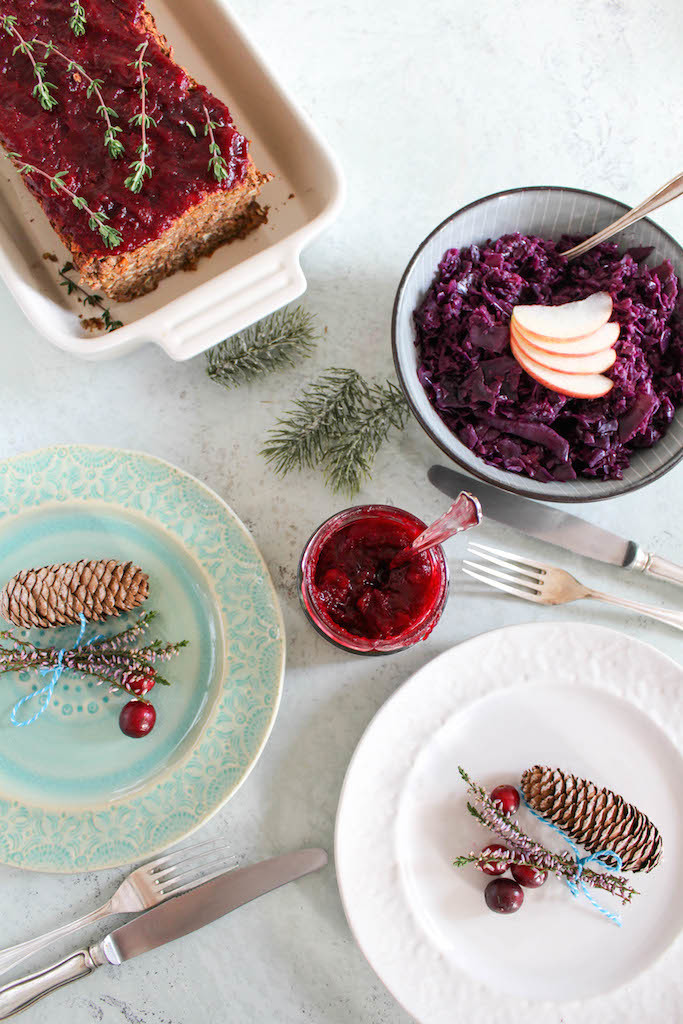 My first Healthy Christmas meal recipe is a German tradition: Spiced Apple Cabbage. It's one of those side dishes that you will probably find on all German Christmas tables. The traditional apple-spiced cabbage is usually sautéed in lard, however, I used coconut oil in my recipe and it turned out even better. For the apples I used a Braeburn, because they are my favorite of all apples and because they are so sweet and crisp at the same time. Making cabbage is actually easier than you think, and making it yourself is so much healthier and more tasty than store-bought alternatives. You won't even use a food processor to make it, although it would safe you quite some chopping time.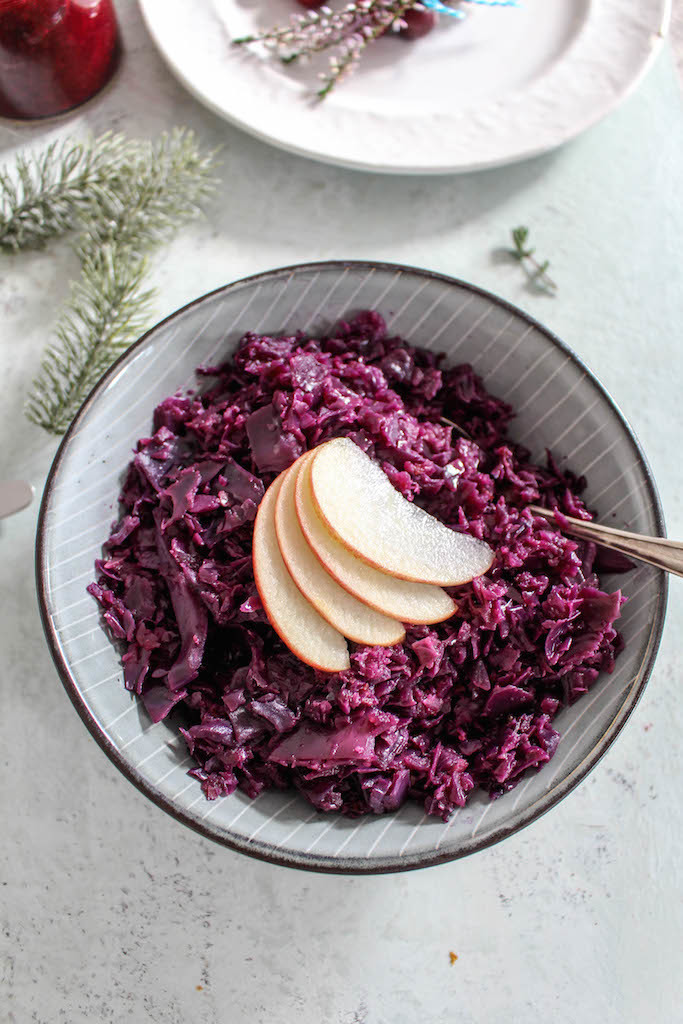 Red Cabbage is actually one of the healthiest kinds of cabbages, because it contains a lot more anti-inflammatory properties than green cabbage. Its antioxidant level is so high, that it helps prevent chronic diseases such as certain types of cancer. Red cabbage is also an excellent source of vitamin C and a great source of manganese, which help protect the immune system.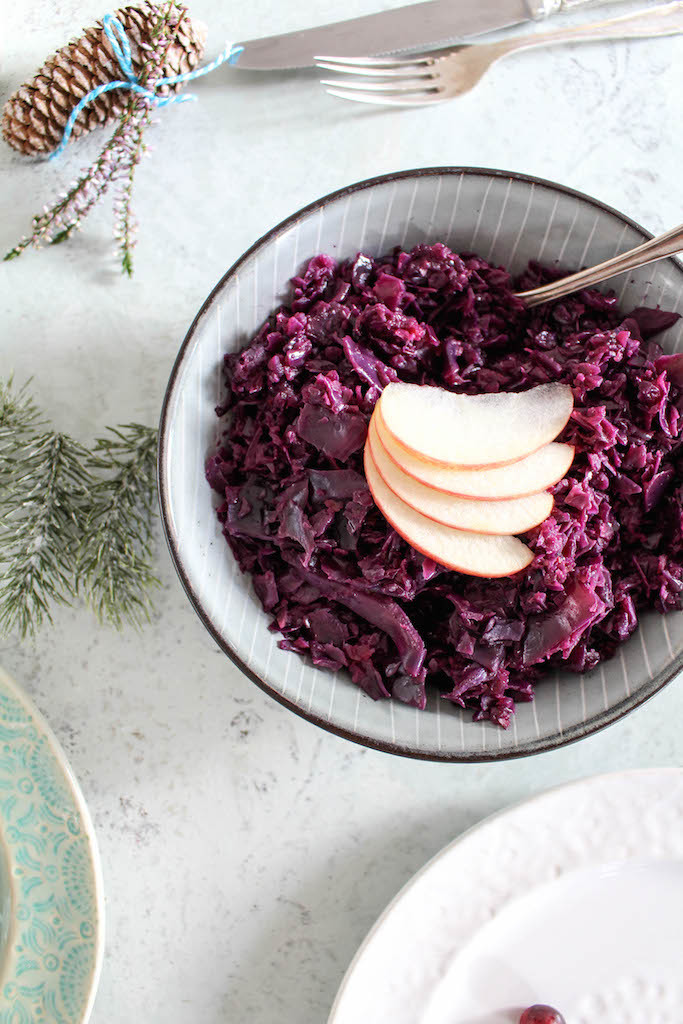 You can serve this apple-spiced cabbage with my lentil walnut loaf that I will share on Wednesday or simply eat it as it is. You'll be amazed!
INGREDIENTS
Serves 4:
– 1 small red cabbage (about 500g)
– 2 apples (about 200g)
– 1 onion
– 2 tablespoons of extra-virgin coconut oil
– 2 tablespoons of maple syrup
– 2 tablespoons of apple cider vinegar
– 2 ¼ cups (about 300ml) of water
– 1 tablespoon of homemade vegetable stock paste
– 3 tablespoons of cranberry sauce or chia jam (optional)
– 1 bay leaf
– 2 juniper berries
– a pinch of allspice (pimento)
– ½ tsp of salt
METHOD
Start by ripping of the outer leafs of the red cabbage and remove its hard stem.
Chop the cabbage into thin stripes. Peel and chop the onion. Remove the chore from the apple and cut it in small cubes.
Melt the coconut oil in a medium pot. Add the onion, red cabbage, apple cubes and maple syrup and sauté for about 5 minutes while continuously steering with a spoon to avoid burning. Add the apple cider vinegar, salt and pepper, bay leaf, allspice, juniper berries, water and vegetable stock paste.
Bring to a boil on high heat while covered, then reduce the heat and let it simmer on medium heat for about 50 – 60 minutes. You may have to add more water at some point to avoid burning.
Remove the bay leaf before serving.
Enjoy!