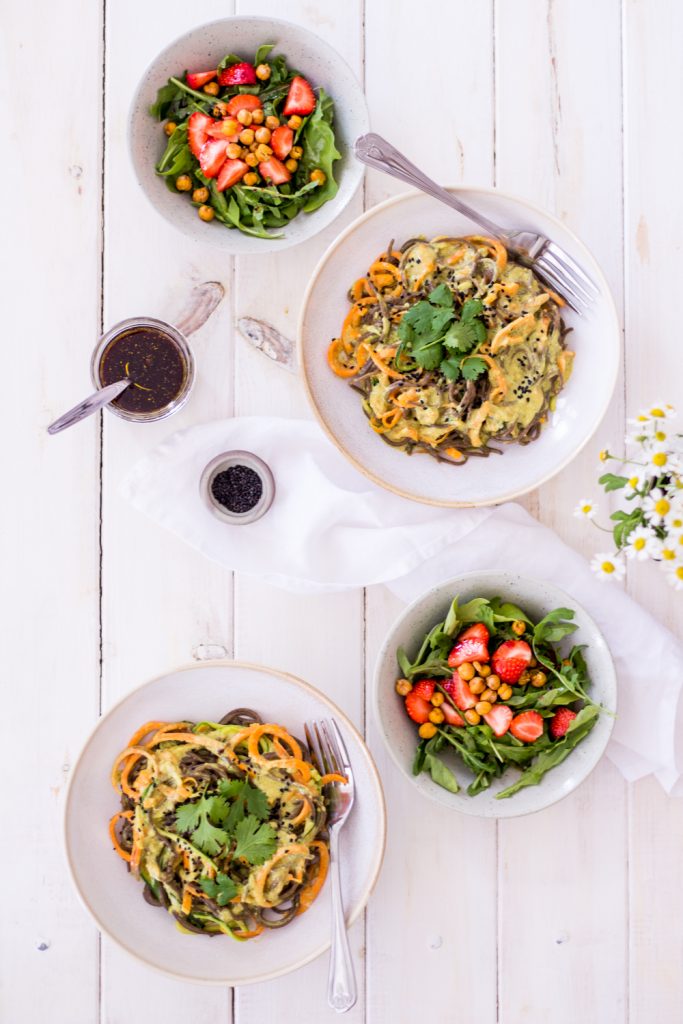 Two weeks ago, I held a workshop for one of my partner companies, Alnavit. We had a blast together cooking a three-course meal, which – I was so relieved – was a big hit with the crowd. The workshops that I hold are independent from the blog, so I do not tell you or bore you with them here on the blog. Just the other week I held a healthy snacking workshop with a bunch of ladies from a company, which was so much fun! I usually use already existing recipes for my workshop, but I also create new ones especially for them, just like I did in this case. And if a recipe is a real hit, then I would feel guilty not sharing it with you. The publication of this recipe was not part oft he workshop agreement I have with Alnavit, so I am not getting paid to post this. But I thought you might all appreciate this delicious recipe, so here we go.
Of course you can use any other kind of noodles or spaghetti for this recipe, but I especially love the buckwheat spaghetti in this recipe. I know buckwheat is not exactly indian, but I just love all of the health benefits associated with it. If you cannot find 100% buckwheat noodles where you live, try using whole-grain spelt (not gluten-free) or brown rice noodles. I know Germany is soooo way behind food trends, so if you live in an English speaking country, you'll probably thinking "what is she talking about – there are buckwheat noodles in every supermarket, where I live". Oh how I wish I lived in the UK or in the US sometimes. Really miss the variety of healthy foods there.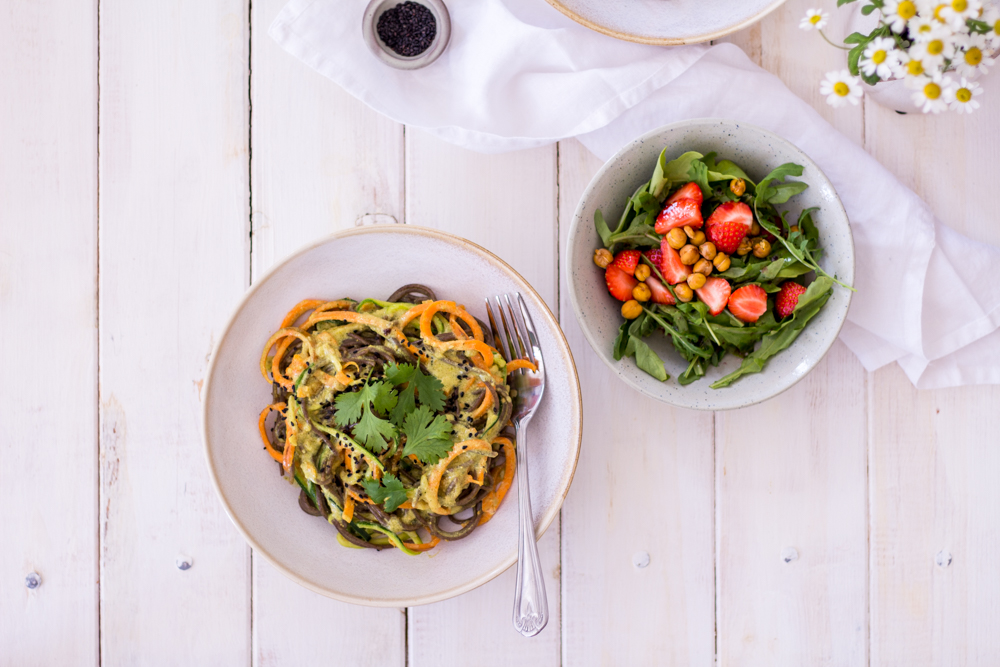 I also wanted to share a little story with you concerning buckwheat. I was at a wedding two weeks ago, and there was a buckwheat cake for dessert. Not a healthy dessert, obviously, but buckwheat is very popular in the area that I live. Even before the health scene made buckwheat a thing, this area has grown buckwheat and is known for their special buckwheat pancakes. Kind of makes me proud to say that. Anyways, we all sat on a long table, and suddenly this group of friends that I didn't know, started talking about buckwheat. Asking questions and basically guessing their way around the buckwheat topic. Oh man, I wanted to join their conversation so so badly. Wanted to say "did you know that buckwheat is actually not a grain, but related to rhubarb". Obviously, I didn't, first of all, because they were much older and way cooler than I am, and second, I did not want to stand out as a know-it all. So I thought that my readers might appreciate this knowledge, so here you go:
Buckwheat is a completely grain-free and therefore gluten-free pseudo grain that is related to rhubarb – I know, right! It lowers blood pressure, blood sugar levels, helps with varicose veins, and regulated cholesterol levels. Talk about local superfoods, you guys!
So enough with the talking, on to the recipe!

Indian-inspired curry noodles - 30 minute dinners
Ingredients
125g of buckwheat spaghetti or noodles of choice
1 zucchini
1 carrot
200 g of sugar snap peas
½ onion
7 g of ginger
3 tablespoons zucchini hemp spread, see notes if you have no idea what that is
2 teaspoons curry powder
1 teaspoon of vegetable broth paste (or an organic veggie broth cube)
1 tablespoon of coconut blossom sugar
1 can of coconut milk (400ml)
1 tablespoon of tamari
a bit of black sesame to garnish
1 spring onion to garnish
coconut oil for frying
1 lime for serving
cilantro for serving (optional)
Instructions
Finely chop the onion and ginger. Wash the vegetables and spiralize with a spiralizer. Or cut it into bite-sized thin pieces. Slice the spring onion. Cook the pasta according to instructions.
Heat the coconut oil in a large wok or pan. Add the onion and gigner and sauté for about a minute. Add the zucchini hemp spread (or spices, see notes) and the curry powder and sauté for another minute. Add the coconut milk and vegetable broth and bring to a quick boil. Reduce the heat and let the sauce reduce for about five minutes. Add the vegetables, and let it cook with the sauce for about 3-4 minutes, not too long or it will get too soggy.
Add the spaghetti, making sure they are completely covered in the sauce. Season with some tamari and lime juice or more vegetable stock paste.
Garnish with the black sesame and spring onions and some cilantro if you like.
Enjoy!