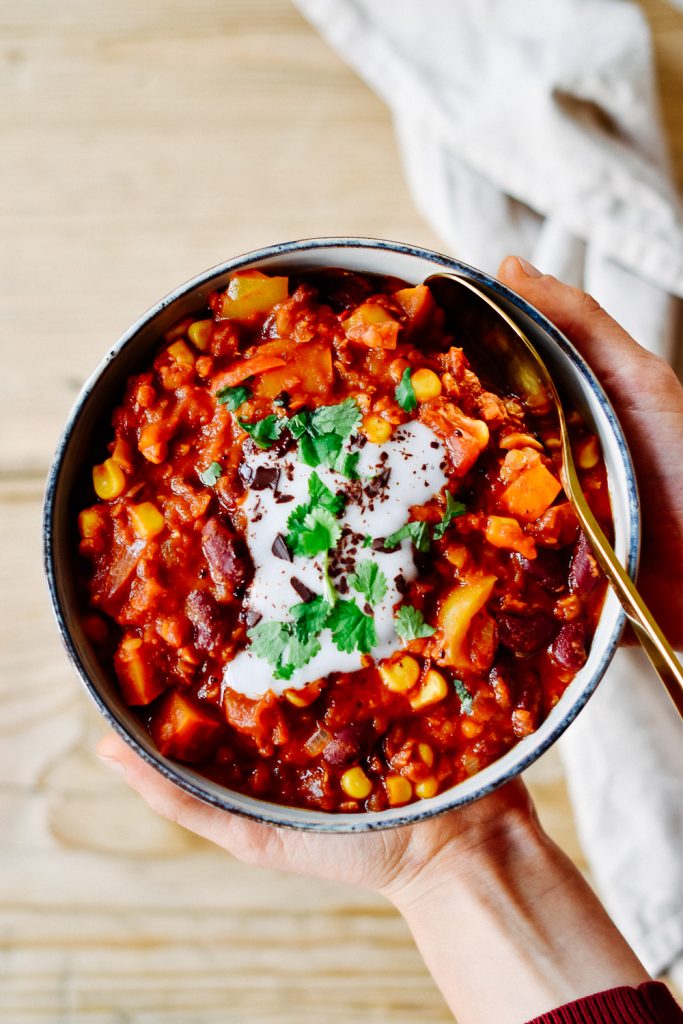 Today we're having chili.
Oh no, not chili. This always leaves me bloated and gives me flatulence. And don't even get me started on my husband/boyfriend/girlfriend. No, Lynn, not bean chili.
Alright, stop. Don't worry. Chili does not always cause flatulence. The secret is anti-flatulence herbs and spices. I'm talking fennel seeds, anise, dill, ginger, cumin, caraway seeds, garlic or parsley, just to name a few. They will allow for the unwanted gases to leave your body odorless and unnoticed.Uhhhh. She's talking about our guts and what comes out of it. Disgusting.
Well, come on. This is a health blog and one big part of a healthy body is a healthy intestine, or intestinal flora. It should not be a tabu topic anymore. Did you know, for example that the intestinal flora is a big part of our immune sytem? It is not to be neglected when it comes to health questions.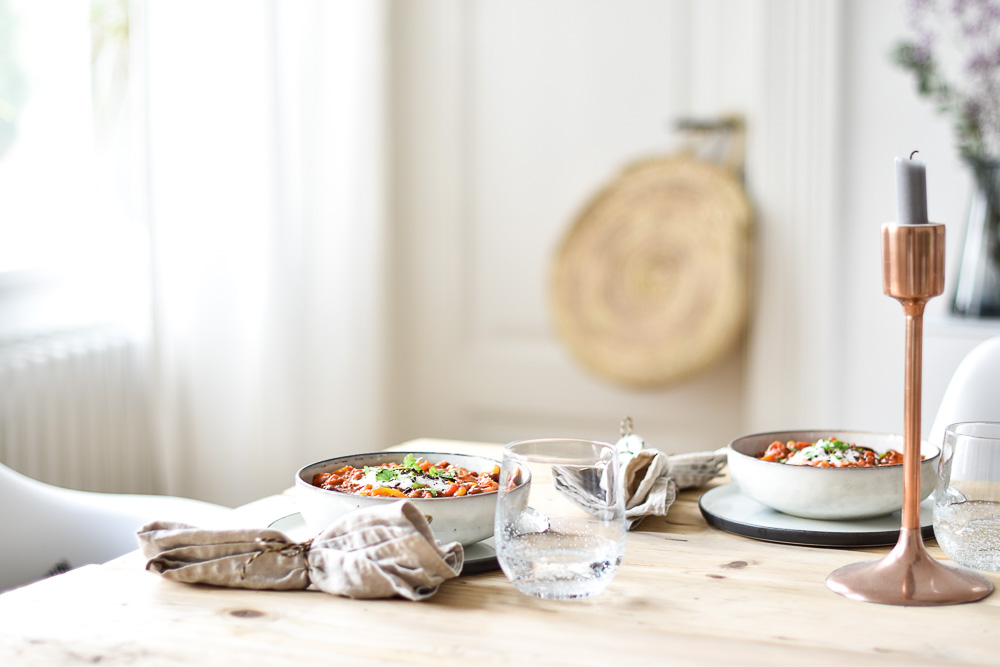 Now not everybody likes to chew on fennel seedes, so you can pick and choose your favorite anti-flatulence spices. Cumin is especially ideal for chilis, because it gives it its distinct flavor. But not everyone likes cumin either. I recon that garlic and ginger will be everyone's favorite in this recipe. Am I right? If you want to be on the safe side, just add a little bit of everything.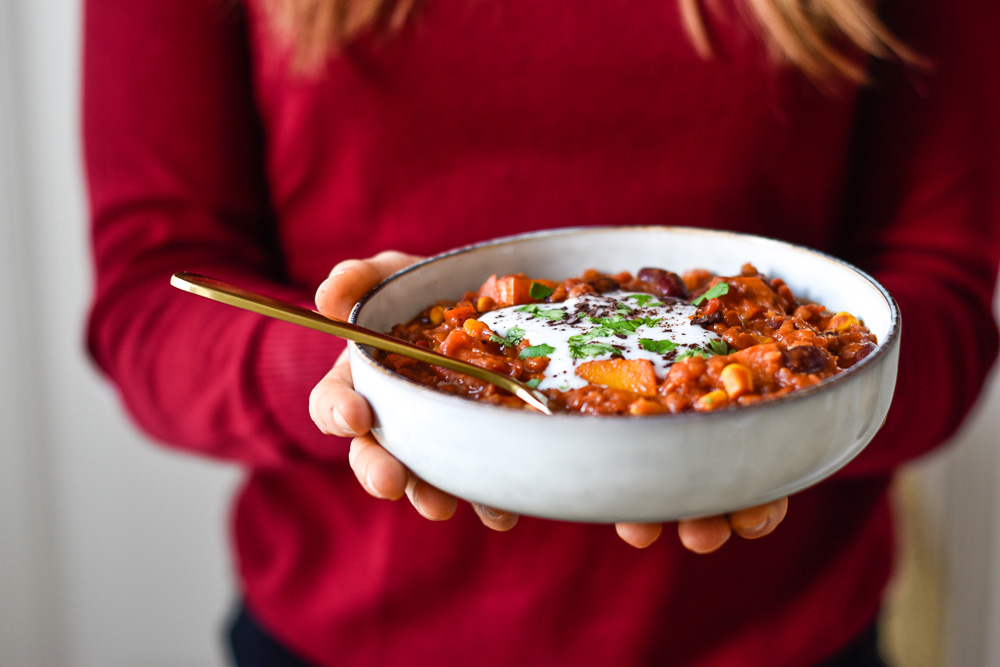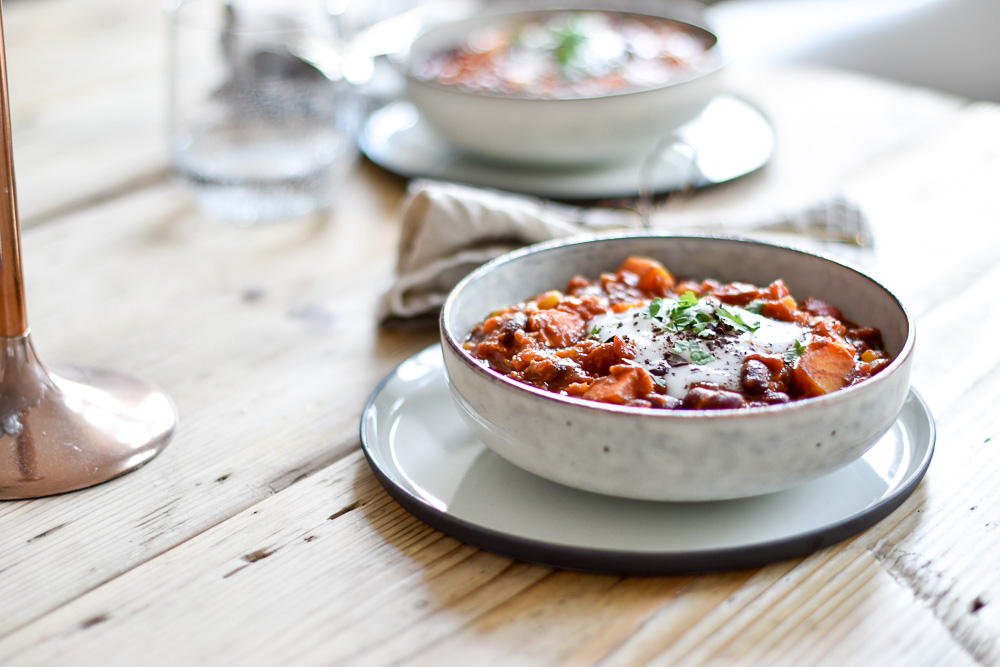 Like most of my recipes, you can vary the ingredients depending on what your fridge holds. Carrots, fennel, parsnip, leek, zucchini, broccoli, cauliflower – choose whatever you still have at home. If you don't have a pumpkin, just use carrots or beets. The chocolate in this recipe is also a nice gimmick, but it's not a must.
Finally, I brought a little video that will hopefully inspire you to give it a try. I made this with my first intern Jasmin the other day, and I think she did a fine job directing, don't you agree?

Anti-Flatulence Vegetarian Chili
Ingredients
2 onions
2 cloves of garlic
1 chili, 2 if you like it hot (alternatively ½ teaspoon chili flakes)
3 teaspoons of sweet paprika
80g of tomato puree
2 bell peppers
½ hokkaido pumpkin (about. 300g)
2 cans of kidney beans (à 400g)
3 cans of diced tomatoes (1200g)
1 can of corn (160g)
200g of red lentils
500ml (2 cups) of water
50g of dark chocolate, 70% cacao or higher
Anti-flatulence spices (pick & choose):
1 teaspoon of fennel seeds Fenchelsamen
1 tablespoons of cumin (ground)
1 teaspoon of ginger (fresh or ground)
Also:
2 tablespoons of extra-virgin olive oil
sea salt & pepper
1 tablespoons of raw honey
1 tablespoons of vinegar, such as apple cider vinegar or balsamic vinegar
a large dollopf of yoghurt (normal or coconut if vegan) for topping
Instructions
Chop the onions and garlic. Roughly chop the veggies and pumpkin. Heat the olive oil in a large pot or dutch oven.
Sauté the onions, garlic and spices (of your choice) for about a minute. Add the tomato puree and sauté for another minute or so until fragrant.
Add the kidney beans, corn, tomatoes, lentils and pumpkin and two cups of water. Let everything simmer for about 25 - 30 minutes. Stir frequently and add more water if needed.
While the chili cooks, roughly chop the chocolate. Add it to the chili with honey, vinegar and sea salt and pepper to taste.
Garnish with more chopped chocolate, a dollop of yoghurt or cilantro or parsely.
Enjoy!
Did you make this recipe? Share it with me on social media using #heavenlynnhealthy.
Merken
Merken