I have always been a pesto addict. Spaghetti with basil pesto used to be my go-to-comfort food until I discovered the amazing qualities of avocado pesto. Since I have been eating quite a bit of it lately I was looking for a little pesto change. This wild garlic pesto is simply heaven. It's so flavorful and makes your usual pasta experience so much more fun. The pesto also only takes a couple of minutes to prepare, so it's one of those dishes that you can easily through together after a long day of work. As most pestos, it is quite loaded with olive oil, so be sure to use high-quality extra-virgin olive oil for this recipe. As with most oils, you can really taste the difference between low and high quality olive oil. You will really be amazed by the difference in taste.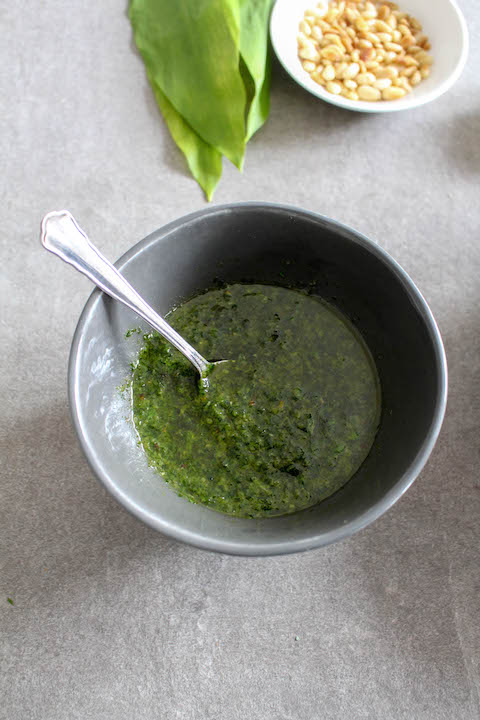 Wild garlic is related to the more commonly used garlic, and it tastes as such as well. The great thing about wild garlic is that your breath won't smell like you've fallen into a bowl of tzatziki – so you can indulge in this pesto without the fear of anyone noticing afterwards. Wild garlic is also extremely healthy because of its healing power. It is especially good for blood vessel related maladies such as high blood pressure or cholesterol. It is even said to lower the risk of heart attack and stroke. Beside it's healing powers it is also very delicious and makes every meal a bit special.
If you cannot get wild garlic in your country then you can simply switch it fresh basil.
I like to enjoy this wild garlic pesto over spelt or gluten-free pasta or quinoa. It is simply heavenly delicious.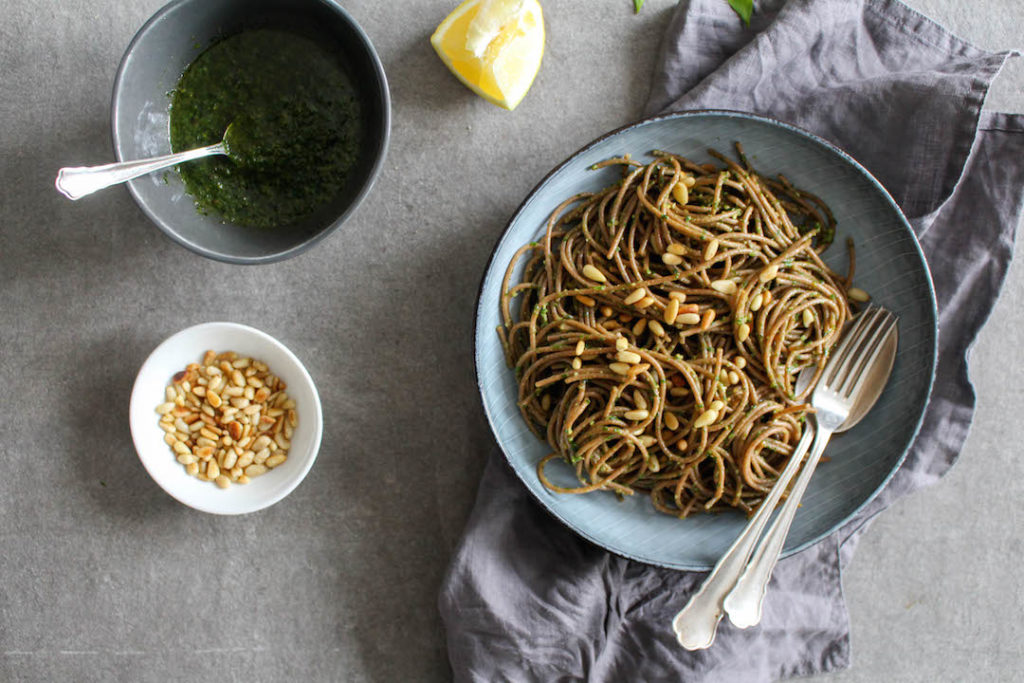 Health benefits in this wild garlic pesto:
– iron (important for healthy red blood cells that transport oxygen through your body)
– mono-unsaturated fats (decreases risks for breast cancer, important for heart health)
– protein (important for a healthy metabolism, immune systems; production of enzymes)
– vitamin C (good for your immune system, tissue health)
Wild garlic pesto with spelt pasta
Ingredients
For the pasta:
600g spelt or gluten-free pasta
4 cups (1 liter) of water
1 tsp salt
For the wild garlic pesto:
Serves 4:
2 handul (80g – 100g) wild garlic
2 handful (30g) rocket
⅓ cup (60g) pine nuts (or almonds)
⅓ cup + 2 tbsp (100g) olive oil
the juice of ½ lemon
1 tsp maple syrup
½ tsp salt
pepper to taste
Instructions
Start by cooking the pasta. Pour the water into a large saucepan and bring to a boil. Add the salt and the pasta and cook on medium heat for about 8-10 minutes or according to the pasta package.
While the pasta cooks, prepare the pesto: Start by roasting the pine nuts in a small pan. As pine nuts release oil when roasted, you will not need olive oil to roast them. This only takes a few minutes so stir them frequently to avoid burning. Once the pine nuts have a light brown color, remove the pan and set the pine nuts aside to cool. Now wash the wild garlic and rocket. Add all ingredients to the food processor and blend until you have a nicely smooth pesto. You may want to add more salt or agave to taste.
Once the pasta is ready, drain the water and serve immediately while hot. Once or two teaspoons of pesto should suffice per serving.
Enjoy!