This recipe is sponsored by Sweet Potatoes from North Carolina.
This recipe is also available in German. / Dieses Rezept gibt es auch auf Deutsch.
"What's for dinner?". I'm not gonna lie, I hate this question. Although my husband and I share all household tasks equally, more often than not, it's me who has to answer it. Part of it is due to my job, obviously. However, when I return the question to my husband, I always get the same answer: sweet potatoes. For him, sweet potatoes are not a side dish, but a main course.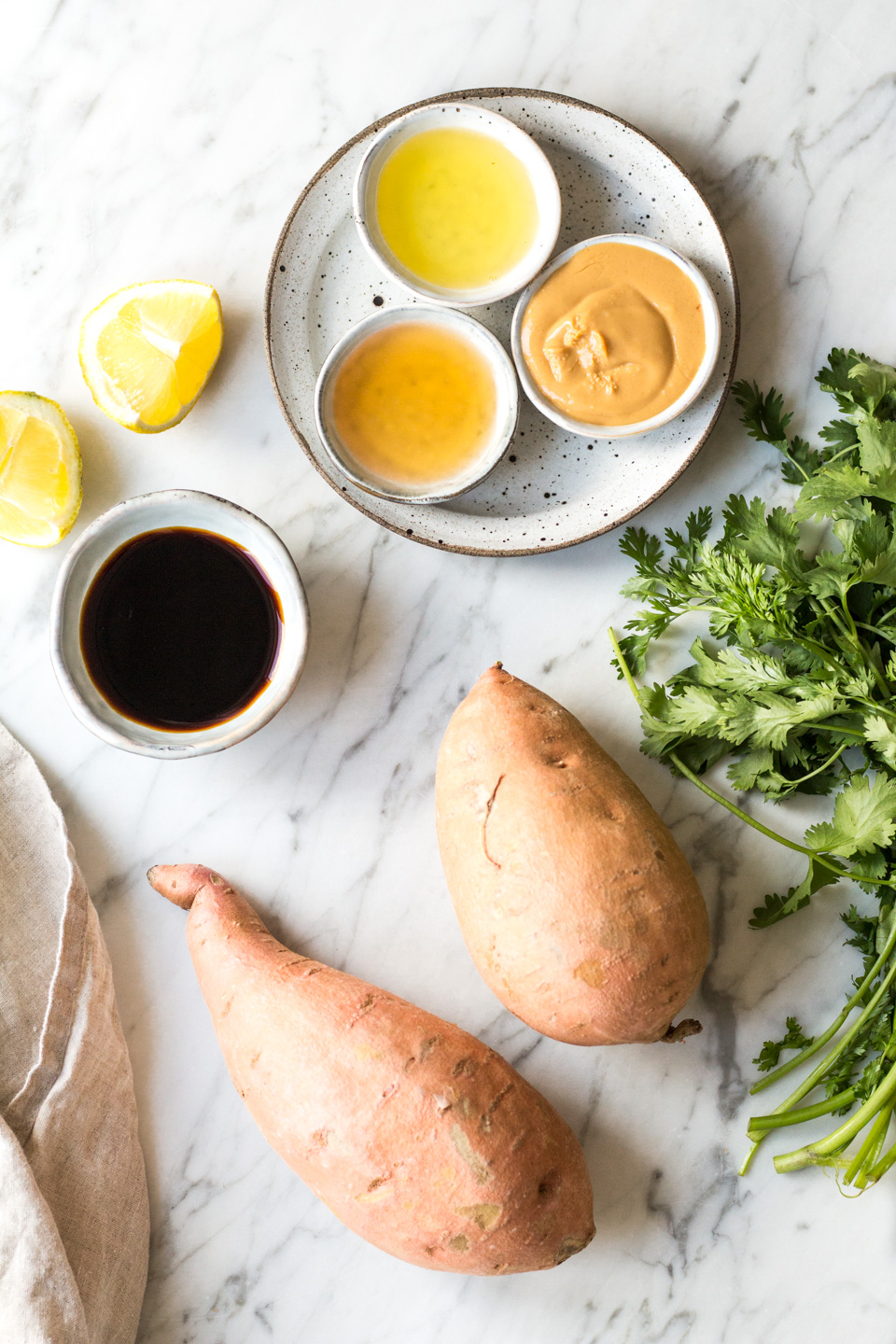 Sweet potatoes often form the center of our plates, just as it used to be the case with meat. When it comes to nutrients, the orange-colored tubers are also quite impressive. They are rich in antioxidants, which can protect the body from free radicals and thus may prevent heart disease, strokes, cancer, and even Alzheimer's disease. Sweet potatoes are also rich in potassium, which is important for healthy heart function. In addition, sweet potatoes are a very good source of fiber and keep you full for a long time. The high fiber content ensures that the blood sugar level is stabilized, which is why sweet potatoes are also great for diabetics.
On warm summer evenings we very often eat roasted sweet potatoes with a delicious dip and that's it. Well, from us on, there is also a green salad in addition, but it is made in a hurry.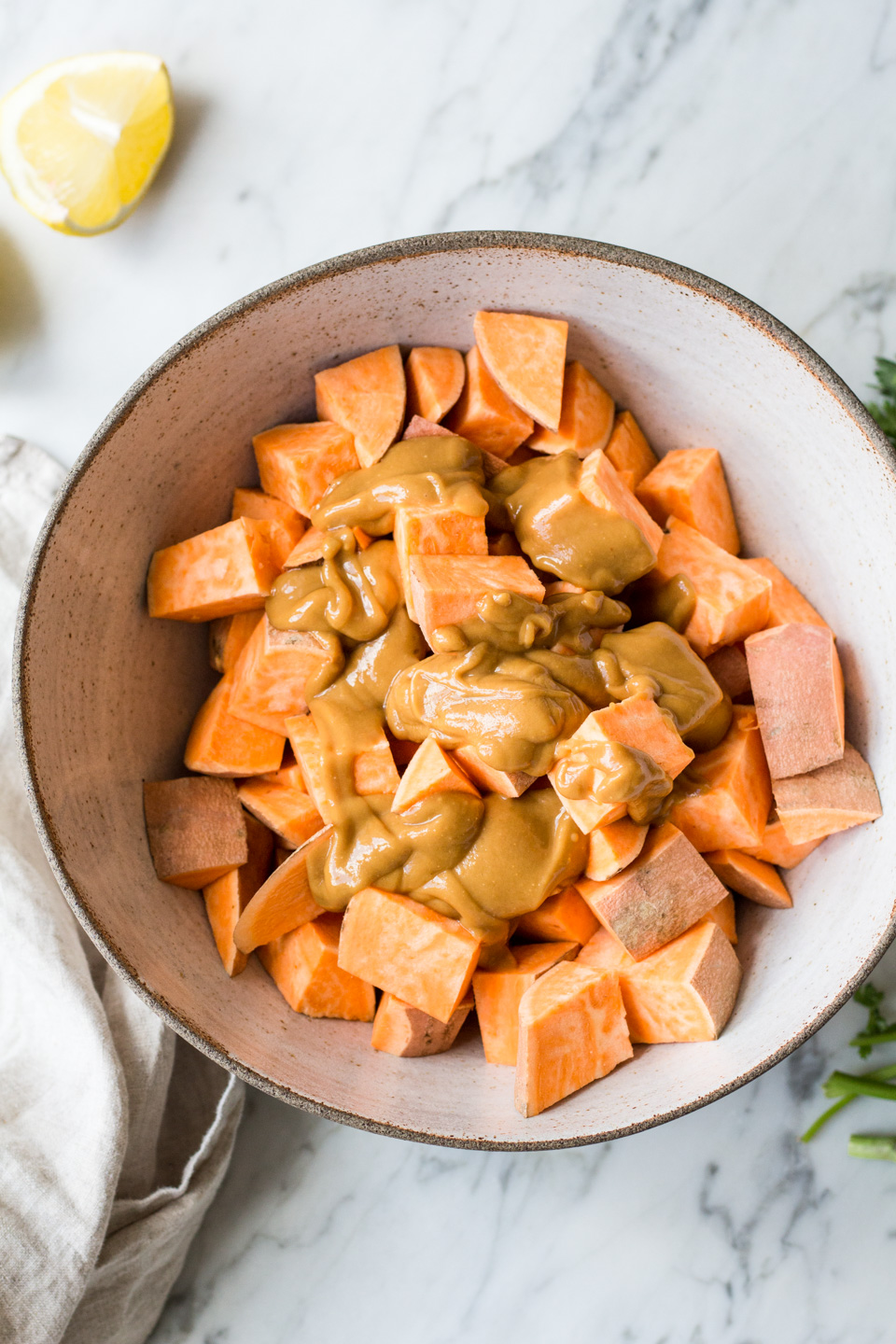 For today's recipe, I teamed up with my partner Sweet Potatoes from North Carolina. North Carolina still feels like my second home, and it is, interestingly, also one of the largest sweet potato-growing areas in the United States. I went to college in North Carolina from 2012-2014, where I got my bachelor's degree. North Carolina is also where my dietary change began, which was the cornerstone of this blog. Until recently, I visited the southeastern state and my friends in Raleigh every other year.  Let's hope that worldwide travel can resume sometime in the near future. If so, I can really recommend North Carolina as a destination in the United States. The coastal areas are a dream.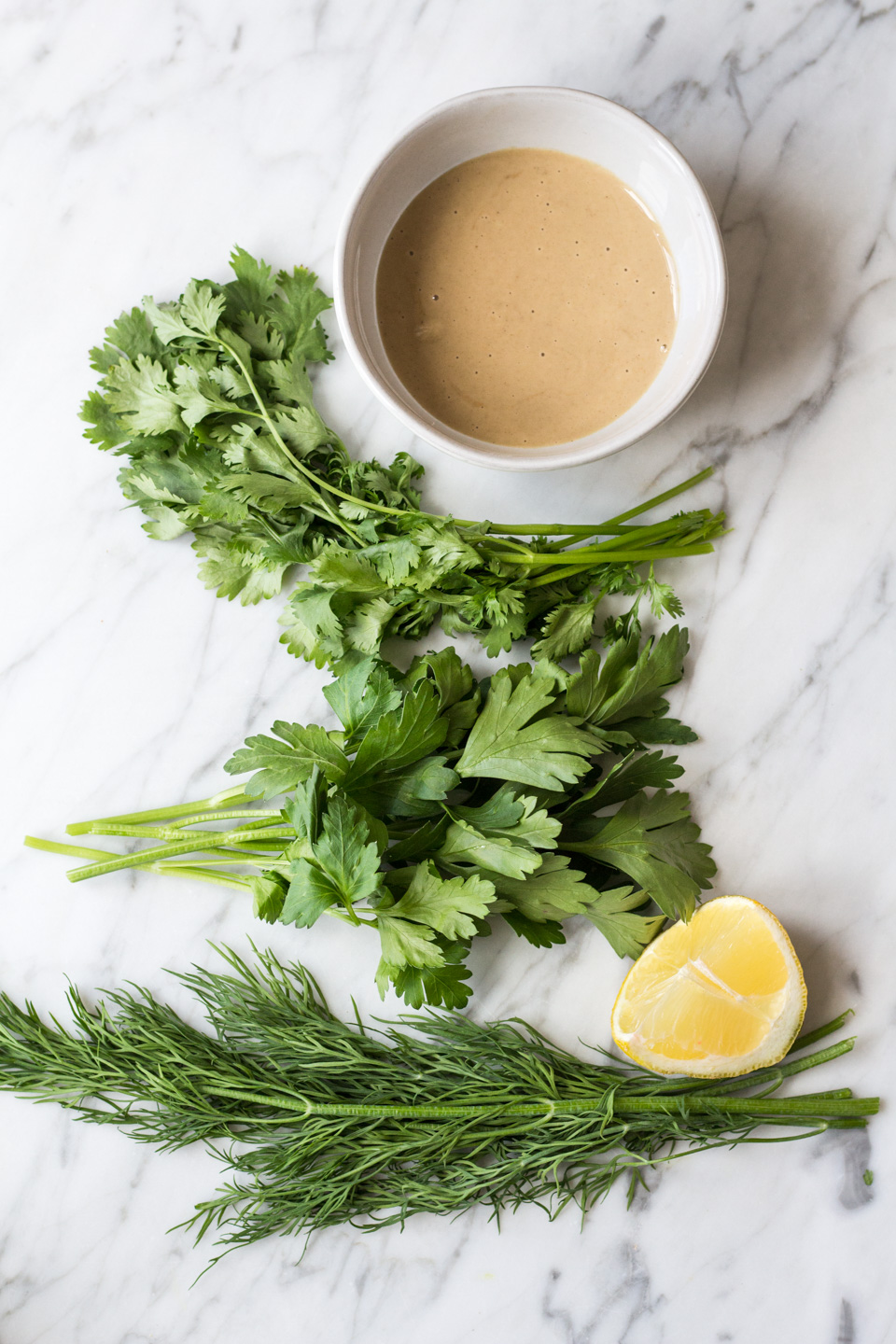 If you live in the United States, chances are high that your sweet potatoes come from North Carolina. The same applies to Germany, however. Most sweet potatoes in our supermarkets in Germany are also from North Carolina. In the Tar Heel State, the soil has a great texture, and the slightly humid, subtropical climate offers ideal conditions for growing the orange-colored tubers. The sweet potatoes from North Carolina can be recognized by their pointed shape, the light brown to pink skin and their orange flesh. They taste very sweet and slightly nutty, similar to pumpkin.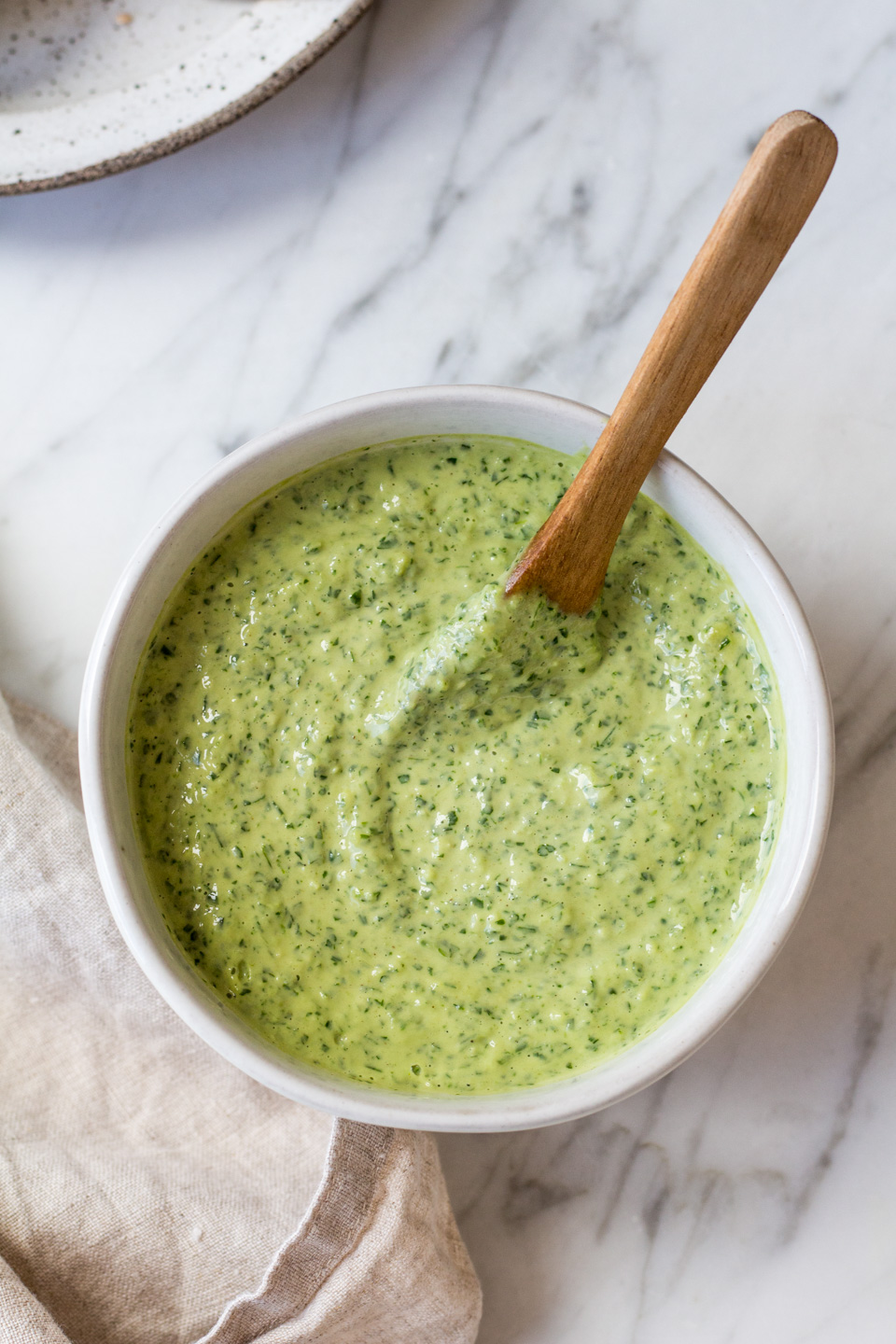 This time I roasted the sweet potatoes in a peanut marinade, which is really something different. The tamari (soy sauce) and apple vinegar harmonize perfectly with the sweetness of the sweet potatoes and thus create a completely new sweet potato taste experience. Since everything gets better with a dip, I also created a super simple green tahini dip. A blend of tahini and three fresh herbs – coriander, parsley, and dill. The combination may sound strange, but trust me. It's delicious. Alternatives to the herbs can be found in the recipe below.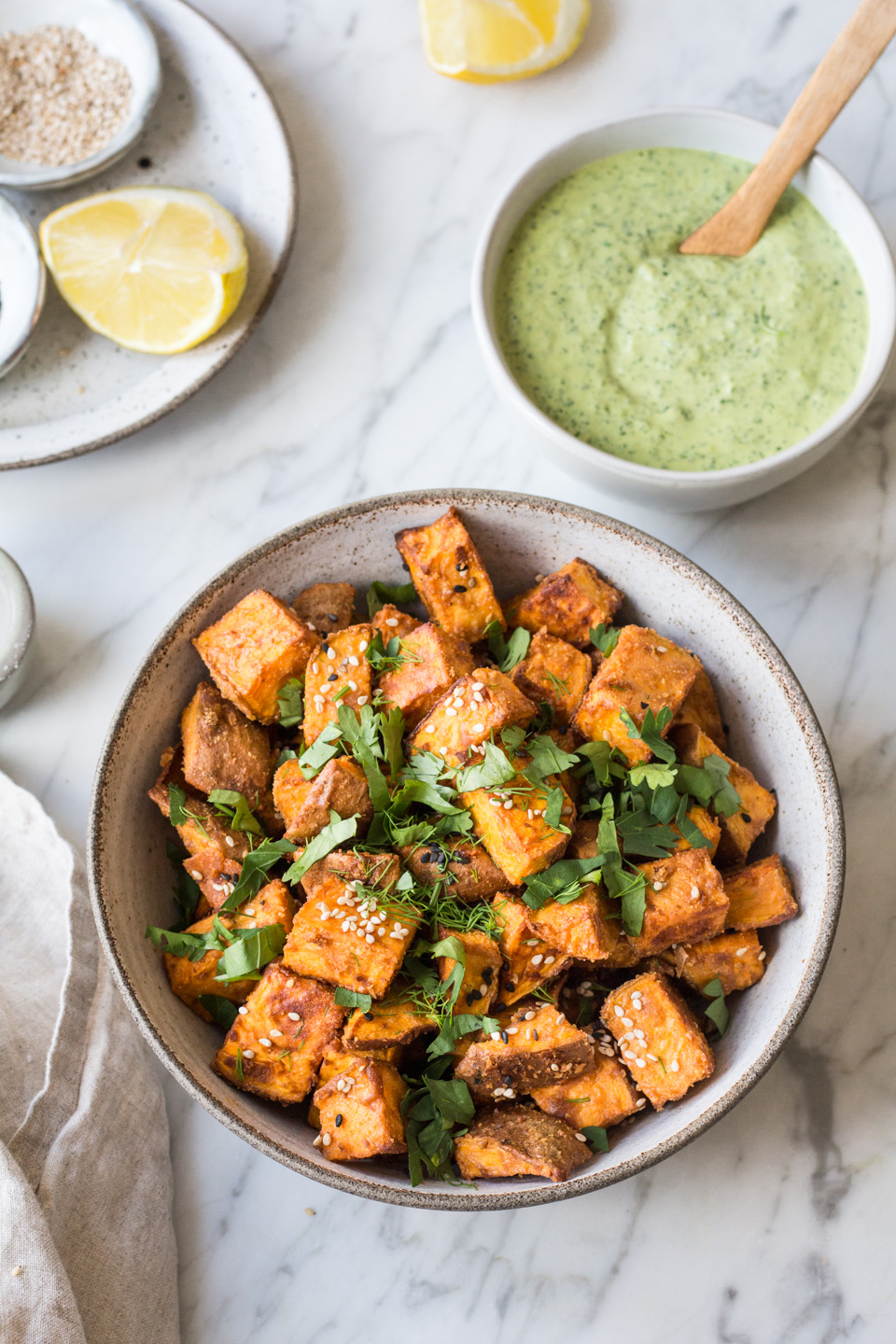 As the dip contains good fats, proteins, and even a good portion of herbs, today's dish can very well be considered a whole meal. After all, it doesn't always have to be a four-course meal, right? A green salad rounds it off perfectly. After all, you can't get enough greens in your system now, can you?
Enjoy these sweet potatoes!
xx
Lynn
Print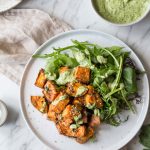 Tamari-roasted sweet potatoes with green tahini dip
---
Author:

Total Time:

45 minutes

Yield:

2

-3

1

x
For the sweet potatoes:
1

kg sweet potatoes

1 tablespoon

roasted sesame oil

1 tablespoon

cider vinegar

2 tablespoons

peanut butter (no additives, please)

2 tablespoons

tamari or soy sauce

2 tablespoons

sesame seeds (optional)
For the green tahini dip:
60 g

of tahini

35 g

mixed herbs (coriander, dill and parsley)

1

garlic clove
the juice

½

lime (or lemon)

30

ml extra-virgin olive oil

60

ml of water

1 tsp

of honey or rice syrup

¼

–

1

/2 teaspoon of sea or rock salt and pepper to taste
Optional:
---
Instructions
Preheat the oven to 180 °C fan setting (200 °C top and bottom heat).
Wash the potatoes, and cut them into bite-sized pieces. Mix the sesame oil with the peanut butter, apple cider vinegar, and tamari. If it is too thick, add a little more apple cider vinegar and tamari. Mix the sweet potatoes with the sauce and place them on a baking tray lined with baking paper.
Roast the sweet potatoes for approx. 30-35 minutes and turn them once in between.
In the meantime prepare the dip. Put all the of ingredients into a food processor or blender and mix thoroughly. If you use a hand blender you need to chop the herbs into small pieces first, and then mix them together. Without using any kitchen utensils, chop the herbs and garlic clove, and mix everything with a whisk. If the dip is too thick, add a little more water little by little. Season the dip with salt, pepper, and more lime juice.
Decorate the sweet potatoes with sesame seeds and serve with the dip.
Prep Time:

10

Cook Time:

35